During the month of March, as we celebrate Women's History Month, URI North America is spotlighting four exceptional women involved in Cooperation Circles in the North America region.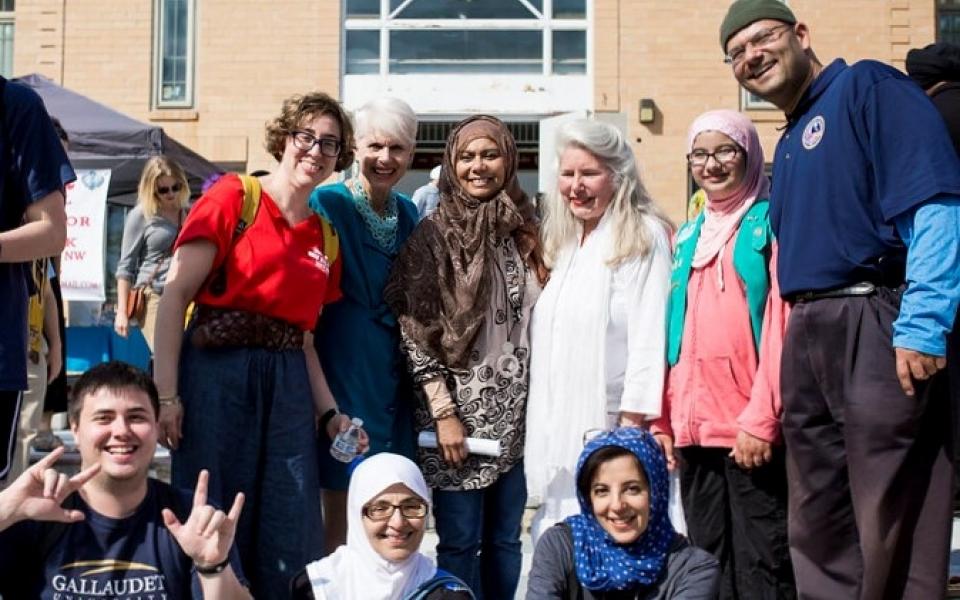 This is the fourth of our March series to honor women involved in Cooperation Circles in the North America region. Follow these links to read the profiles of Satya Kalra, Lisel Burns and Kay Lindahl.
__
Sometimes in life, an unexpected experience can cause a person's life direction to change. Many times, it happens without realizing that one's inner calling is also taking shape. This is what happened for Symi Rom-Rymer.
Symi is a phenomenal young woman that shows us that, it doesn't matter what your age is, you can make a powerful impact in the world. She is a freelance project manager and journalist who works with and writes about minority communities in the United States and Europe. She's been published in The Huffington Post, The Jerusalem Post, and The Christian Science Monitor, among other publications. She speaks three languages and has used that ability to take her interfaith and intercultural work to many different places in the world. Symi has also been working with the United Religions Initiative Cooperation Circle, The Unity Walk DC  since 2016.
As a child, Symi heard stories about her great-grandfather's 1911 journey from Russia to the United States, and those powerful stories stuck with her. But Symi really became passionate about multi-faith issues while in Paris for graduate school in 2005. A controversial new law was passed stating that Muslim women could no longer wear the burqa in public places.
There was a great deal of discussion in her classes, and it caused her to start thinking of the Jewish experience at that time in France. With both the Muslims and Jews being a minority there, she began to have a greater understanding of how "French people want to see their minorities versus how they are actually seen," she stated pensively.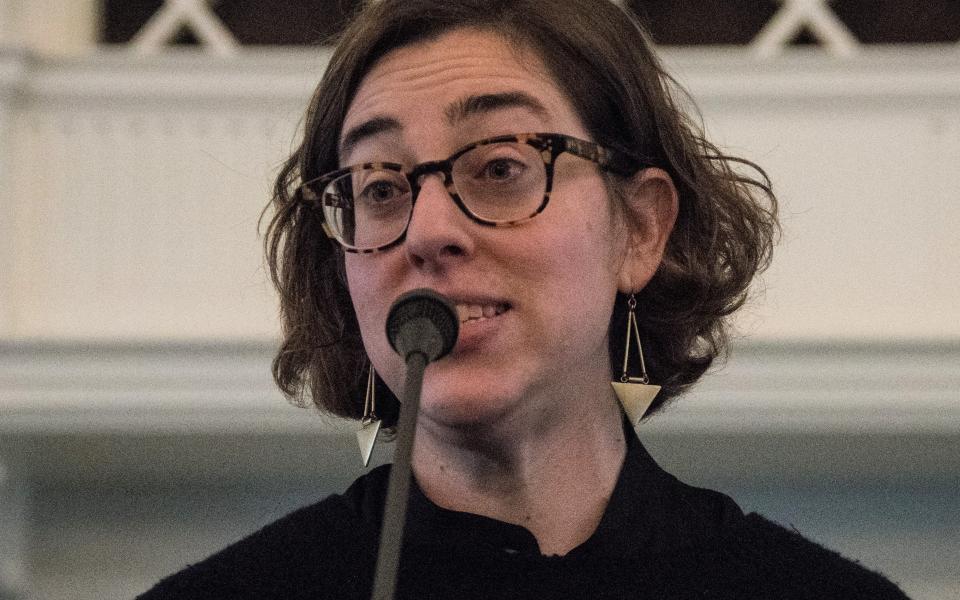 It was interesting and exciting to explore it in real time, Symi remarked, "I went in [to the discussions] already interested in the contemporary Jewish experience, but then you have this other major minority group -- [and I'm] seeing where the similarities are -- and where there is interfaith work happening." This experience was the first stage of Symi's transition from a journalist-observer to a personal participant.
Then, in July 2011, Symi attended the second annual Muslim-Jewish Conference in Kiev, Ukraine. It was an experience for young Muslims and Jews to come together and learn how to develop peaceful discourse. Seventy young Muslim and Jewish leaders came from 25 countries for the purpose of gaining an understanding of each other and to search for common ground. All in attendance wanted to "demonstrate that a new generation can overcome decades of mutual fear and demonization, to build a brighter future for both communities." The Muslim-Jewish Conference is officially endorsed by the United Nations' Alliance of Civilizations. (Read more)
As she traveled to the conference, Symi thought it would be an interesting journalism project. She was already interested in interfaith issues, and Muslim-Jewish issues specifically. "The strength of the conference was the fact that the founder was able to bring people from all over the world," she explained. That year, there was an exceptionally large number of Pakistanis, which fascinated Symi, as she had not previously had the opportunity to meet many peers from Pakistan. She also found that many of them had never met any Jews. But every person there had something in common: they were searching for peace. Symi reminisced fondly, "I went in with my 'journalist hat' on, thinking I was going to be more of an observer, but by the end, I was a full participant. It was hard not to [be]. I wanted to be a part of things, and get into it with people."
At the end of that inspirational event, the young leaders were challenged by one of the organizers, to find a way to continue the positive dialogue and interaction that was initiated there. So Symi took on the challenge and created a group called Global Muslim Jewish Friendship Forum, an interfaith Facebook initiative that brings together Muslims and Jews from around the world. The online discussions foster interactions that shatter suspicions and stereotypes among members of both groups, Symi said. Some Muslims have expressed criticism of dialogue with Jews – particularly because of the Israeli-Palestinian issue — but they're a minority, she added. "The majority don't feel that way. Muslims are not a monolith."
Because of this dynamic project, Symi was nominated for The New York Jewish Week's 2012 "36 under 36" Award, an annual recognition of emerging leaders under the age of 36, "who have demonstrated unique initiative, creativity and leadership."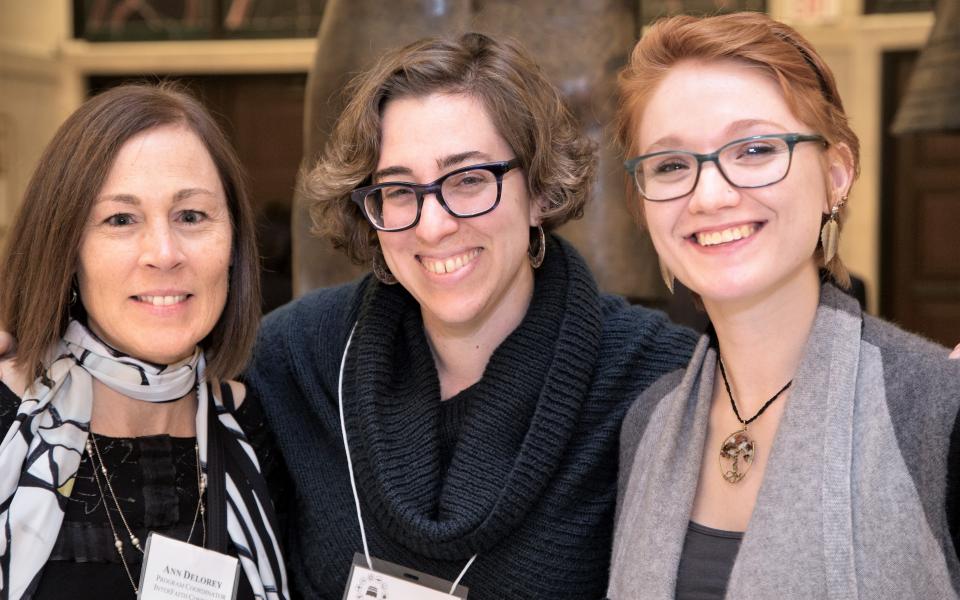 Since her experience in Kiev, Symi has continued to stay deeply involved in interfaith and intercultural activities. Since 2016 she has been the Lead Community Organizer for Interfaith Conference of Metropolitan Washington (IFC). She is very passionate about the work she does. According to their website IFC "works towards creating a just community through coalition-building, education, training and advocacy; by uniting diverse faith leaders to speak and act together; by publishing community resources; and by holding public events including concerts, award ceremonies, lectures, and public dialogues."
It was in 2016 that Symi first got involved with The Unity Walk DC, which is a Cooperation Circle of United Religions Initiative. During this annual event, which is held during the week of September 11, people gather together and walk down Embassy Row, which not only has many embassies, but also many houses of worship. Within each house of worship, the "walkers" are treated to various types of programs. Sometimes they have a cultural presentation, sometimes a tour of the facility or an educational question and answer session. It has been an event that people now look forward to every year.
This event brings together people of all ages, backgrounds and faiths to learn to respect each other through a framework of experiential education, compassionate leadership and intentional service. It seeks to create a world where people are united, rather than divided, by their many faiths.
The event is so compelling that Symi shared about people who were just walking by and just decided to join in, or examples of people who tried to get others to come because they had enjoyed the experience the previous year.
"There was a story about a young woman a few years ago that was so enthusiastic and kept encouraging others to go. She went to her boss, who was a conservative Christian, he said, 'I don't know...it doesn't sound like my kind of thing.' But she kept insisting. And he decided to come, and just loved it."
That's what Symi loves best about the walk. It tends to bring people in who wouldn't typically get involved in interfaith and gets them engaged in a non-threatening environment.
One of Symi's favorite moments of the Unity Walk every year is the langar at the Sikh house of worship, called a Gurdwara. In the Sikh tradition, Gurdwaras always serve food on Sundays to whoever shows up. During the walk, they are serving food to 700-800 people throughout most of the day.
She jokingly told a story about a photographer that came to the event, and seemed to have an inordinate amount of photos of the langar, "Once you get there, you're never going to want to leave...it's always a huge, huge highlight."
Symi is incredibly excited about a new initiative that IFC started called WIROC (Washington Interfaith Response and Outreach Coalition) initiative. The coalition provides grassroots, public demonstrations of support by and for individuals and communities throughout the Greater Washington DC Area and engages in proactive outreach opportunities throughout the year. They offer personal support to individuals who will respond to the needs of a community or individual who have been targeted through hate incidents. In addition, WIROC collaborates with other regional interfaith organizations for pro-active positive civic engagement.
In October 2016, they had a meeting with various faith and lay leaders to discuss their visions for their communities, to address ways of bringing people together and to be able to respond to "hate incidents' as well. They realized that there are many small groups that are addressing these issues, but they wanted to create a grassroots network, called "Solidarity Neighbors or Congregations" that smaller community groups can join. After becoming a member, groups have access to all the services and support systems available across the region.
Symi enthusiastically described one of the primary goals as "working with people-- working with congregations, who want to do something -- who want to create those connections -- but aren't sure how to get started [with interfaith] but are very new to it."
She went into the detail about an upcoming event with excitement in her voice. As part of the WIROC initiative this year, they are launching the "Washington Area Day of Unity", on June 10. They will be encouraging houses of worship in all the surrounding communities to meet together with at least 2-3 faith denominations to plan some kind of community event that would all happen simultaneously on that same day. They are hoping that this will engage many more people within the Washington region to get involved in building interfaith cooperation and understanding.
"Having like five different unity events in the region, all on the same day, would be pretty exciting," Symi added in a serious tone. "It gives people a sense that 'We're part of something larger; something positive' -- which I think we all need."
This being part of "something larger; something positive" is what fills Symi with excitement and drives her to keep working to change the world through interfaith and intercultural engagement. She is totally convinced that, working as part of a movement of people, she can make a difference.
__
This piece was written by URI North America Storytelling Intern Robyn Lebron. You can read more of her work here.