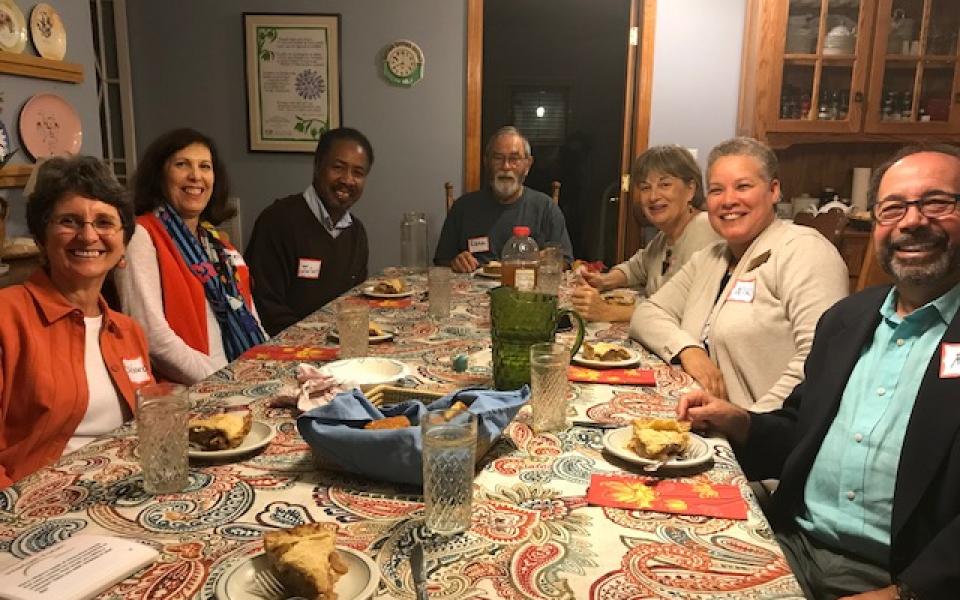 By Robyn Lebron
In a world that is filled with divisiveness and turmoil, people are reaching for peace and understanding through the search for common ground. The age-old practice of offering hospitality to your neighbor and the "breaking of bread" and conversation, brings strangers to your table that can leave as friends. By creating a safe and welcoming environment, people can open their hearts and minds to see that we are more the same than we are different. Three Cooperation Circles/Affiliates in the United Religions Initiative North America region have made a difference in their communities by doing just that.
Each of these group has taken a unique approach to using food to bring people together and we present their stories in a three-part series on this topic. Keep reading to see how a group in South Carolina that gathers for dinner and dialogue in each other's homes. Click here to hear the story of Super Suppers - how cooking and serving food to those who need it can bring people together. And click here to learn how a group in Florida is using a combination of engaging speakers and dialogue over coffee and tea to build community. 
Amazing Faiths Dinner Dialogue
In Greenville, South Carolina, the Interfaith Forum of Greenville (IF), a Cooperation Circle member of URI, sponsors an event every October called the "Amazing Faiths Dinner Dialogue." The idea originated at Rice University in 2008 and was adopted by IF which currently holds the event at various locations throughout Greenville County. This event brings people of diverse backgrounds together in private homes to share a meal and reflect on the role of faith, spirituality and shared values in their lives.
As Victoria Chance, coordinator for the Dinner Dialogues, elaborated about the event, it was clear that a lot of thought and planning goes into each annual gathering. Participants share a meal, and then engage in a structured question and answer period with a specific list of questions that are prepared in advance. "Over the past two years, [the] board has reviewed, revamped, and redesigned the questions for neutrality," Chance explained. The board is also actively involved in the planning and hosting of the event every year.
In an effort to keep the conversation safe and congenial, JoAnn Borovicka, from the Baha'i faith, recently redesigned the questions with peaceful discourse in mind. The dialogues also have a trainer/moderator, Hy Small, of the Jewish tradition, who is intricately involved in keeping the discussions flowing smoothly.
Chance is convinced that, with a moderator, everyone feels safe to express their feelings and that leads to more openness.
With this format, they have been able to reduce people's fear of the unknown and achieve more understanding of other religious traditions in their community. Participants in the dialogues are very diverse, including secular Humanists, Hindus, Baha'is, Jews, Muslims, Christians of various denominations, and agnostics. They have not had as many conservative Protestants involved as they would like, but in general, the Greenville community has embraced the event in a big way.
Chance expressed her experiences thoughtfully, "My favorite part is sharing a meal with strangers in a congenial atmosphere [and]making new friends. Creating and demonstrating deep hospitality is the key to safer, more congenial communities."
Since Chance has started with IF, she has gotten so much from the Dinner Dialogues that she and a small group of individuals started a group that meets several times a year with a slightly different twist. Amazing Dinner Dialogues "is the inspiration for my own, new nonprofit called My Neighbor's Voice (MNV) which brings various political points of view and tendencies together for a moderated civic conversation--not a political conversation," Chance enthusiastically shared.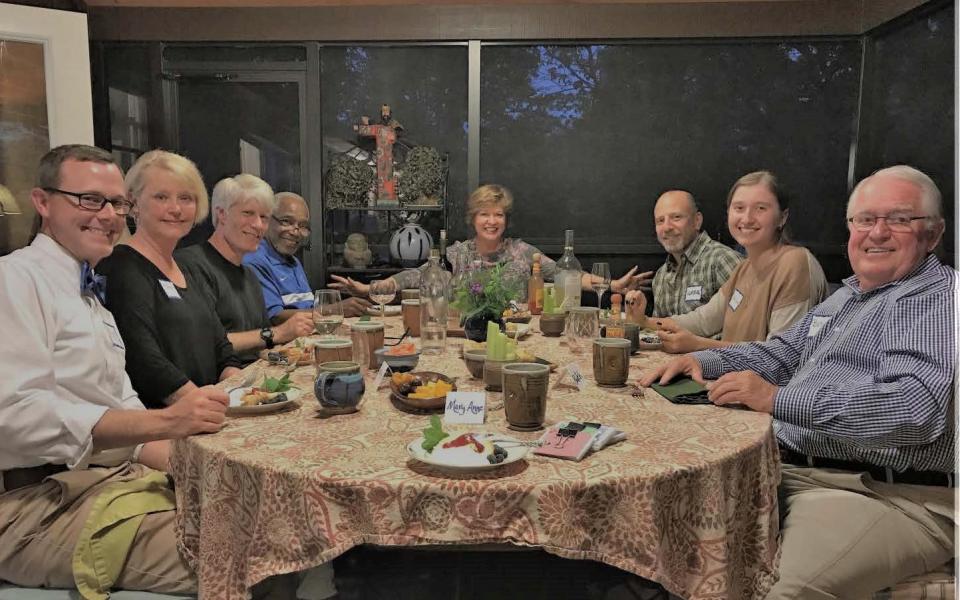 To clarify the difference between IF and MNV, Chance stressed the civic-minded approach to the MNV gatherings. Instead of reaching out to just faith communities, MNV also reaches out to schools and businesses to discuss difficult topics in a safe setting.
Both the Dinner Dialogues and MNV are geared towards bringing diverse people together and becoming better listeners in the process. Chance added graciously, "Christian teaching is to love your neighbor -- and loving often looks like listening."  She feels that IF and MNV are working for the same cause. "I guess the ultimate connection is our desire to heal our false divisions and seek harmony and safety in our communities by coming together in an intimate and welcoming setting."
This piece is part of a three-part series on how food is used to bring people together. If you are interested in learning more about this approach, you can also check out the Dinner Dialogues program at Interfaith Works of Central New York and Abbey of HOPE, both of whom are also URI Cooperation Circle members. To read more about other approches to using food to build community, click here to read about Super Suppers - how cooking and serving food to those who need it can bring people together. And click here to learn how a group in Florida is using a combination of engaging speakers and dialogue over coffee and tea to build community. 
This series was written by URI North America Storytelling Intern Robyn Lebron. You can read more of her work here.