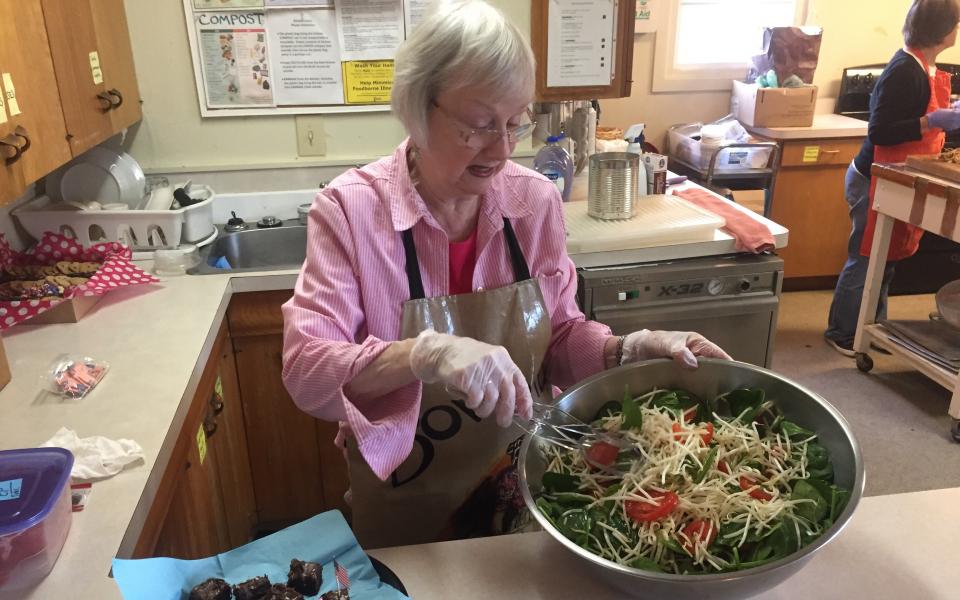 By Robyn Lebron
In a world that is filled with divisiveness and turmoil, people are reaching for peace and understanding through the search for common ground. The age-old practice of offering hospitality to your neighbor and the "breaking of bread" and conversation, brings strangers to your table that can leave as friends. By creating a safe and welcoming environment, people can open their hearts and minds to see that we are more the same than we are different. Three Cooperation Circles/Affiliates in the United Religions Initiative North America region have made a difference in their communities by doing just that.
Each of these group has taken a unique approach to using food to bring people together and we present their stories in a three-part series on this topic. Keep reading to hear the story of Super Suppers - how cooking and serving food to those who need it can bring people together. Click here to read about a group in South Carolina that gathers for dinner and dialogue in one another's homes. And click here to learn how a group in Florida is using a combination of engaging speakers and dialogue over coffee and tea to build community. 
Super Suppers
The Bainbridge Island/North Kitsap Interfaith Council (BINK), an Affiliate of United Religions Initiative, North America has been making a difference in their Washington community for over 30 years. What used to be called The Inter-Parish Council started a small meal at Helpline House with 10-12 people and over the years it has grown through the commitment and loving outreach of many faith communities on the island. What began very simply, without a lot of expense, grew into a regularly scheduled meal that is open to anyone who needs a meal or companionship. The program is now called "Super Suppers."
Martha Korslund, former BINK President, represents St.Cecilia's Catholic Church on the council, proudly described how the event has evolved over the past 30 plus years, "Different faith communities would take a night, and it would take place at Helpline, and so we would bring food [from home] and serve it to the people who came."
Reed Price, Marketing Coordinator and the Eagle Harbor Congregational Church representative, chimed in, "Now, many of the elements of the meals are prepared in a commercial kitchen at a local church," to support the space needed with the larger attendance. And between 30-50 people attend each night.  Then he added thoughtfully, "It's not only a value in terms of making your budget stretch at the end of the month, if you're living on a shoestring -- but it is also has proven to be a wonderful opportunity for community building."
Price enthusiastically described the event as faith based, but not faith oriented. "Some congregations might open the meal with a blessing, but not all of them do. Each group gets to set it the way they want to do it. It's more about community-building than a faith discussion. It's clear [however] that this is about compassionate action by faith communities."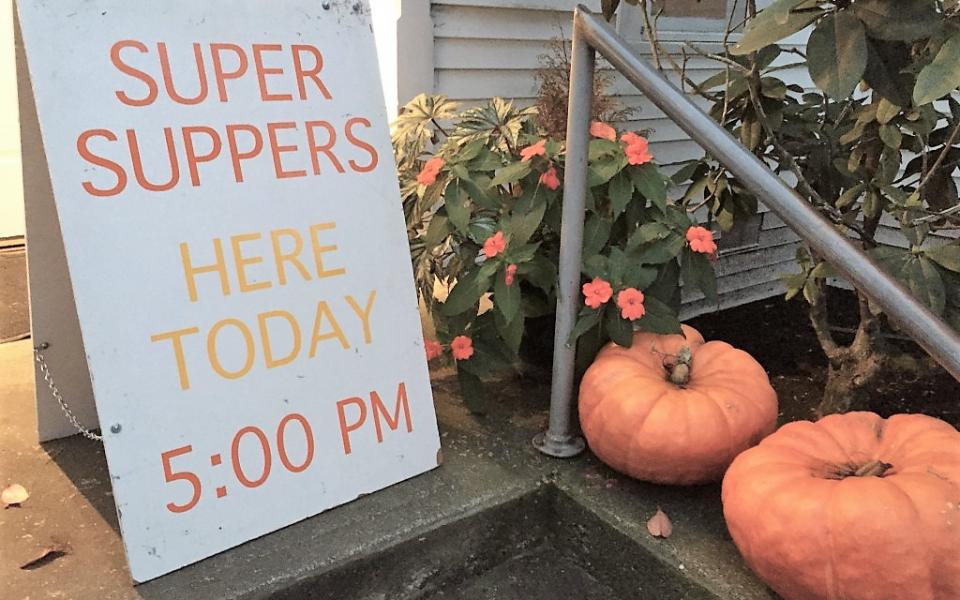 Astutely he added, "This is an 'open community offering' designed to help people stretch their budgets… some members sit at the tables and have a conversation -- it's not necessarily about religion, but about connections... and people who might not be associated with a faith community, or might not want to be participating in a faith community initially, can have contact with someone who is motivated by faith."
Participating faith communities include Seabold United Methodist, Chavurat Shir Hayam, Port Madison Lutheran, Cedars Unitarian Universalist, Congregation Kol Shalom, St.Cecilia's Catholic Church, The Church of Jesus Christ of Latter-day Saints, Rolling Bay Presbyterian, St. Barnabas Episcopal, Grace Episcopal, and Eagle Harbor Congregational (UCC). There are also Buddhists, Baha'is and The Dances of Universal Peace communities. Occasionally outside groups, like the Cub Scouts and Girl Scouts, take part in an event and help serve coffee or deserts. "[In doing so,] the younger generation can see another part of life than they normally do," Korslund reflected.
The program is too much for any single congregation to run alone. The smaller faith communities work together on any given meal, and the BINK supplies the compostable dinnerware that is paid for with Council dues. Congregations contribute in various ways, in some cases volunteers provide the food. Sometimes they raise funds through contributions at their church.
"Many hands make light the work," Price insisted.
What started as a few days a month has blossomed into a real social gathering that the community looks forward to. It is always held on the last seven days of each month. A full community meal is provided every night at one of three locations: Eagle Harbor Congregational Church hosts five nights, the LDS Church hosts one night, and the Catholic Church hosts one night. The meals and servers are supplied by rotating faith communities who provide everything free of charge to those who come to break bread together.
Korslund pondered about special moments she's had as part of the program, then smiled, "There are too many to count." But then she shared a touching experience of interaction with a multigenerational family, "I would see the people in their interaction...three generations coming together -- two young children, the mother and the grandmother, and they came every night. It gave me a different look at life...everyone has different circumstances, and it's not that I need to know about it, but [I need] to care -- to have compassion and understanding."
Price emotively shared, "I know that one of the things that has been very touching [to me] is when people say 'You don't have any idea how much this experience means to me' -- there is a gentleman who regularly talks about how warmly-received he feels and how grateful he is."
In addition to the Super Suppers, the Interfaith Council meets once per month to discuss business. Their meetings always include a meal, provided by the hosting member in their home, followed by discussions of faith issues and topics. Then these empowered members go out into the community and share their faith through actions and not just words!
This piece is part of a three-part series on how food is used to bring people together. If you are interested in learning more about this approach, you can also check out the dinner programs at the San Francisco Interfaith Council, Interfaith Council of Contra Costa County, and the Missoula Interfaith Collaborative, all of whom are URI Cooperation Circle members. To read more about other approches to using food to build community, Click here to read about a group in South Carolina that gathers for dinner and dialogue in one another's homes. And click here to learn how a group in Florida is using a combination of engaging speakers and dialogue over coffee and tea to build community. 
This series was written by URI North America Storytelling Intern Robyn Lebron. You can read more of her work here.