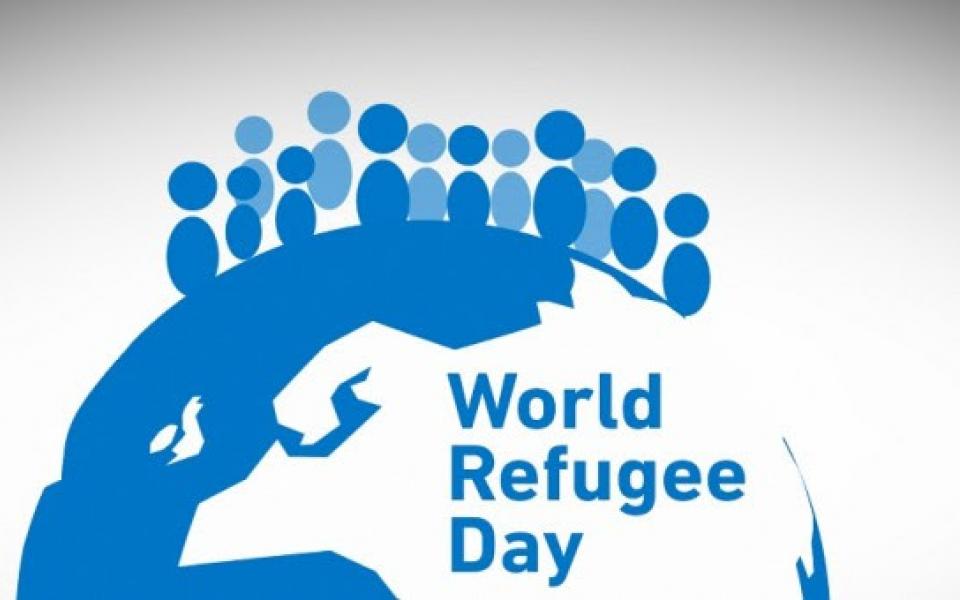 You,
you who appear so different from me
in background, belief, culture and language,
when I gaze upon your face,
when I look into your eyes,
when I see the rise and fall of your breath,
I see God.
I feel God.
I experience God
in you
and not just a partial reflection of my God,
but the Divine spirit of all life.
For you are I
and we are one.
- Victor H. Kazanjian, Jr.
---
URI = You Are I: A Call to Action on Behalf of Refugees
The religious, spiritual, Indigenous and humanist traditions of the world teach us to see the face of the divine in one another, to love our neighbors as ourselves and to reach out to those suffering in any way, especially from injustice, poverty, violence and war. We are taught to embrace all people with compassion, love and hospitality as we would a member of our own family.
In the past year, I have written numerous reflections on the beauty of the whole human family, a human family under threat from the destructive power of dehumanization being employed regularly as a political tool around the world. There is perhaps no more blatant or pernicious example of this than the dehumanization being used by world leaders towards refugees fleeing famine, poverty, violence and war.
Today, June 20 is World Refugee Day. According to the United Nations Refugee Agency (UNRA), more than 68 million people around the world are refugees or internally displaced as a result of conflict or persecution. UNRA has indicated that the situation had risen to an emergency level in Burundi, Central African Republic, the DRC, Iraq, Nigeria, South Sudan, Syria, Yemen, among the Rohingya, across Europe and on the border between the United States and Mexico. And there are refugees fleeing violence and seeking safety in additional places around the world. 
---
My grandfather was a refugee. As a young boy, I listened to him share stories of his escape from war, stories of family members who died or were murdered along the way, and stories of those who survived terrible ordeals. And I was struck by his deep gratitude for those who offered hospitality and assistance to him along the way. My existence is a direct result of that hospitality, generosity and love offered by strangers to my refugee grandfather. 
---
This past week in the United States, Attorney General Jeff Sessions, representing the President, used a passage from the Christian Bible to attempt to justify the inhumane cruelty towards refugees and, in particular, of forcibly separating infants and children from their mothers seeking immigration and asylum from Mexico to the United States. He misused this passage in the same way the same passage was misused by the Nazis to justify the Holocaust, and in the same way the South African government misused this passage to justify Apartheid, and in the same way prior racists in America have misused this passage to justify slavery. He neglected, of course, to read further in that same chapter of Paul's letter to the Romans in the Bible, which says, "You shall love your neighbor as yourself. Love does no harm to a neighbor. Therefore love is the fulfillment of the law [...]," thereby failing to mention the Golden Rule, which appears in the sacred texts of all religions. Philosophers, sages and wise elders of all traditions have taught us that it is this ethic of love sustains all human relationships, and calls us to action when our neighbors are dehumanized and threatened.
---
My sisters and brothers of URI, on this World Refugee Day our neighbors are threatened. Our neighbors are being dehumanized. Our neighbor's families are being destroyed. Our neighbors are dying. And the URI Charter calls us to action. 
---
In addition to URI's PPPs that specifically call for giving and receiving hospitality, welcoming the gift of diversity and practicing healing and reconciliation among all people without resorting to violence, the URI Charter also calls upon all members of URI to "seek to serve as a moral voice and a source of action grounded in contemplation." In particular, the URI Charter calls us to action in each of the following areas:
Sharing the Wisdom and Cultures of Faith Traditions
Actions to promote dialogue, education and kinship among the diverse religions and spiritual traditions of the world
Nurturing Cultures of Healing and Peace
Actions to develop cultures in which all people can live without fear of violence
Rights and Responsibilities
Actions to uphold human rights
Ecological Imperatives
Actions to uphold the welfare and healing of the entire Earth community
Sustainable Just Economics
Actions to bring a spiritual perspective to the tremendous gap between rich and poor
The Charter of the United Religions Initiative begins: "We people of diverse religions, spiritual expressions and Indigenous traditions around the world […]." URI's Charter presents a big vision: a bold vision of a peaceful, just and healed human community in which people of all beliefs, backgrounds and perspectives are connected heart to heart with one another, against violence of all kinds and in support of freedom of religion and spiritual expression and the rights of all people to lives of dignity and peace in America and throughout the world. We are a community that embodies the philosopher Martin Buber's "I and Thou" ethic in which he calls us to see and experience one another as interdependent, not separated by our differences, but part of a divine whole. URI's version of "I and Thou" is "You Are I."
---
May we reach out on this day and every day through our thoughts, prayers, words and actions on behalf of our sister and brother refugees around the world, as a way of putting URI's Charter into action. 
---
Peace,
Victor H. Kazanjian, Jr.
URI Executive Director