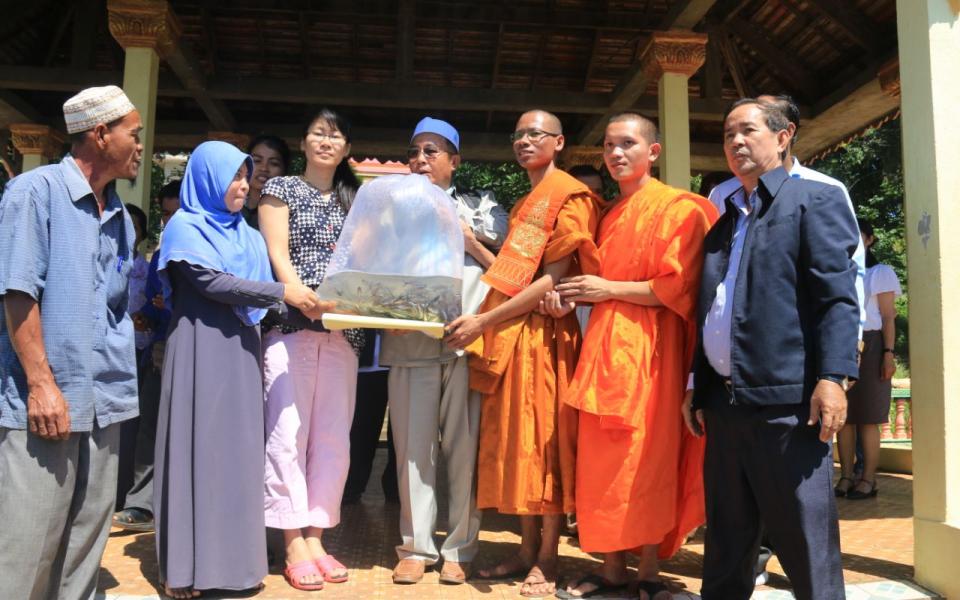 On 01 July, 2017, Interfaith Networks at Kampong Cham celebrated National Fish Day with the URI Cooperation Circle "Interfaith Peace Building and Natural Resource Management" (IF-NRM). The celebration took place at Toulov Pagoda, Tmorbeak Village, Svayteab Commune Chamkar Leu District, Kampong Cham Province.
There were 95 participants (including 35 female participants) with participants including religious leaders, teachers, students, monks, officers of DoRC Kampong Cham Province, and District Officers from Kamkaleu, Prey Chhor and Steong Trong Districts. People of Islamic, Buddhist, and Christian faiths gathered together for this celebration. Their goal was to use the occasion to motivate people to stop deforestation and to develop concern for natural resources. They released fish into the natural environment and planted trees as an interfaith group.
Welcoming the participants, Ms. Srey Sotheavy, Executive Director of ACT, talked about our group's background and our work through the present. The project of Interfaith Peace Building and Natural Resource Management (IF-NRM) was started in 2013, which provided capacity-building for interfaith religious groups, local communes, officers of DoRC, and community leaders for working related to NRM among interfaith groups in their provinces.
She also thanked the Department of Cult and Religion in Kampong Cham, which always cooperates with the Interfaith Network's and ACT's work. Interfaith work in this province was observed to be in a much better situation.
---
Click the yellow arrows to scroll through the photos in the slideshow below.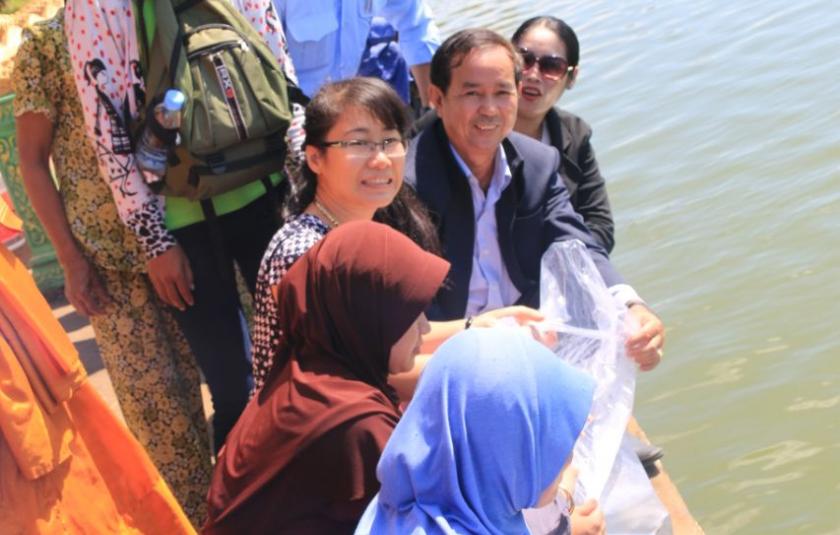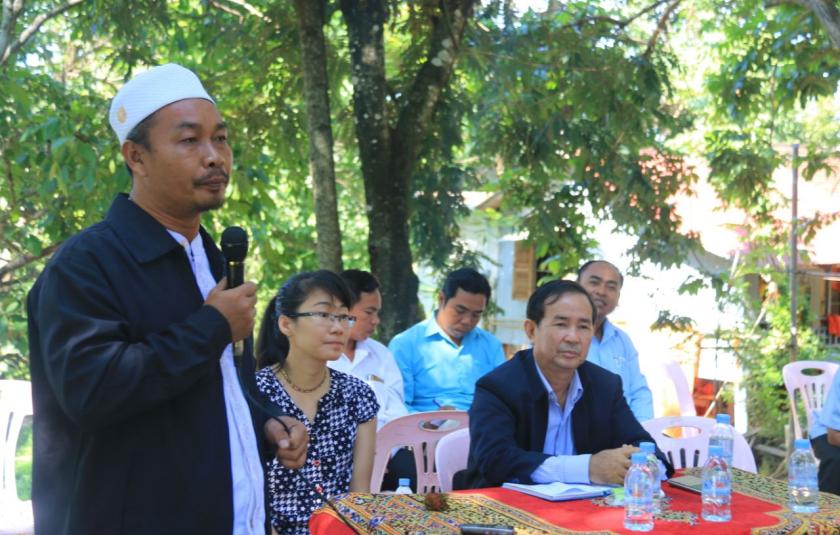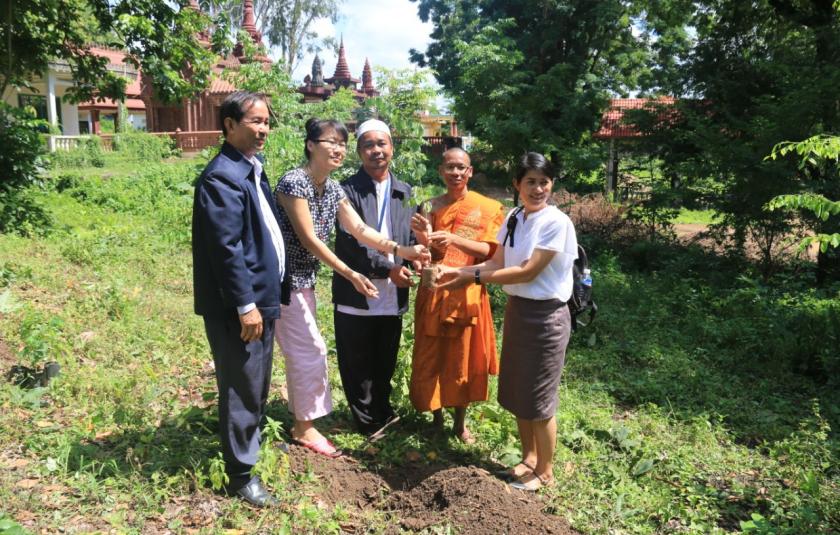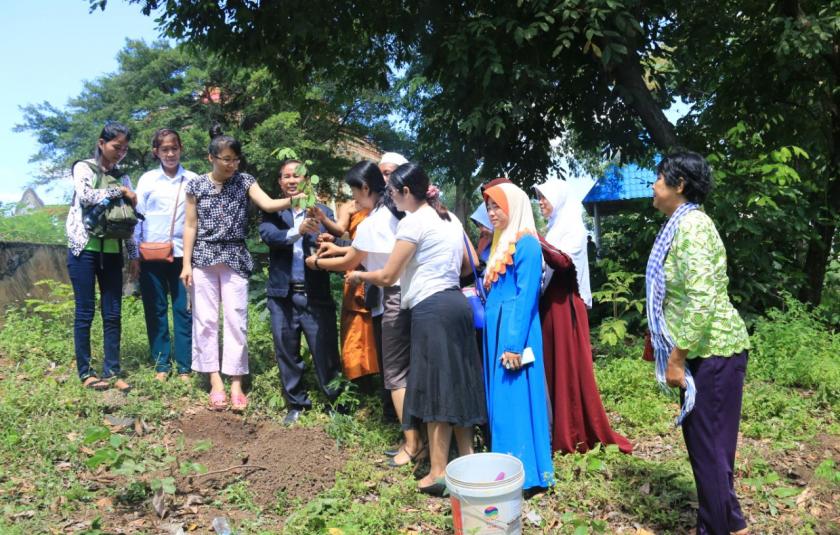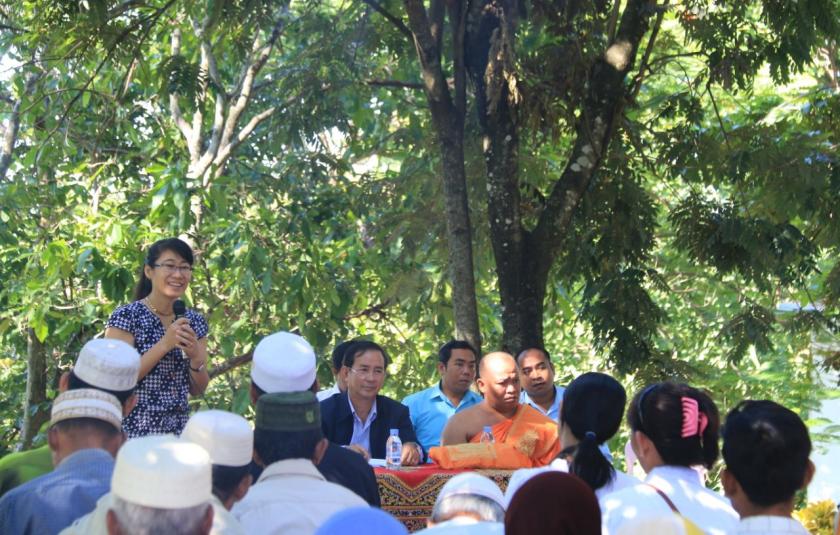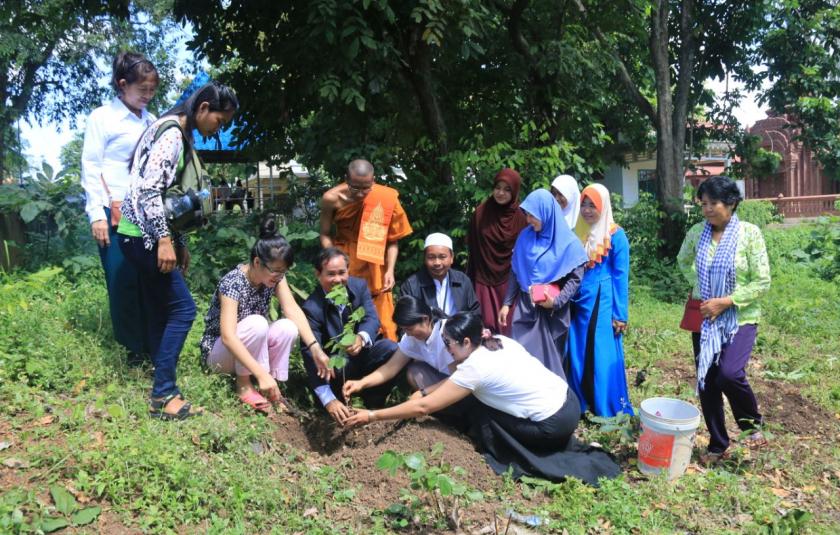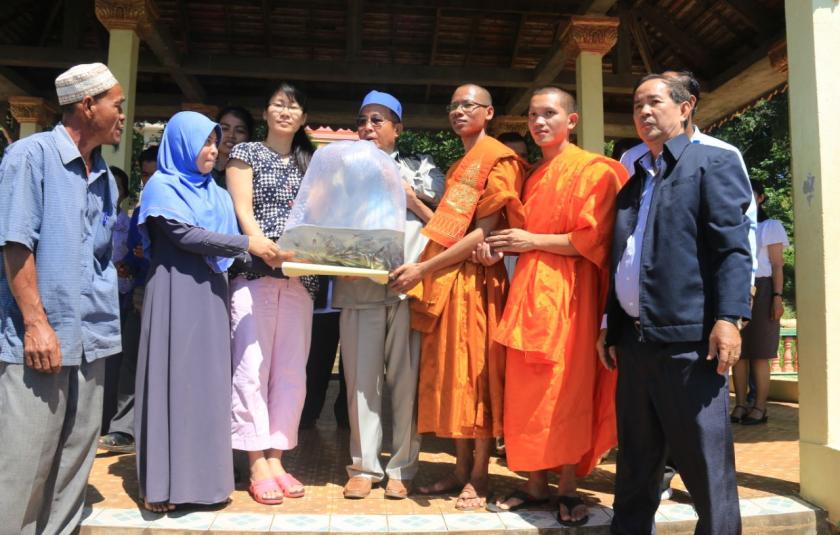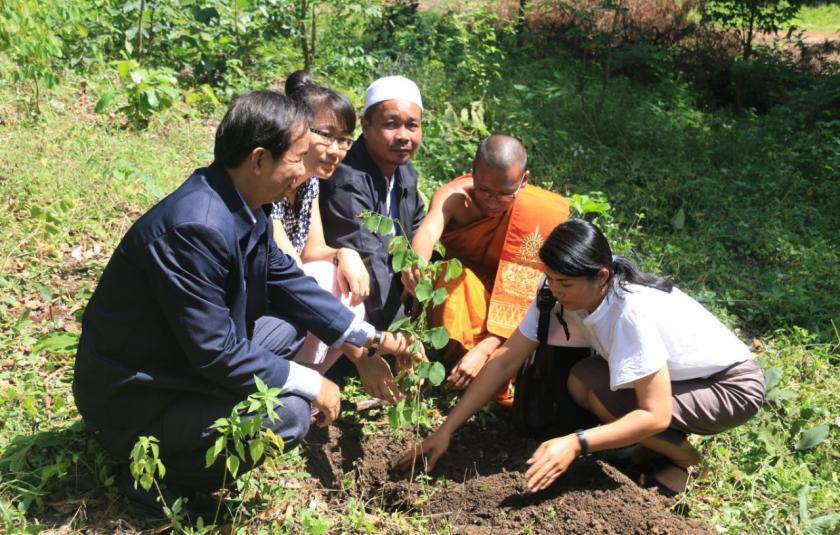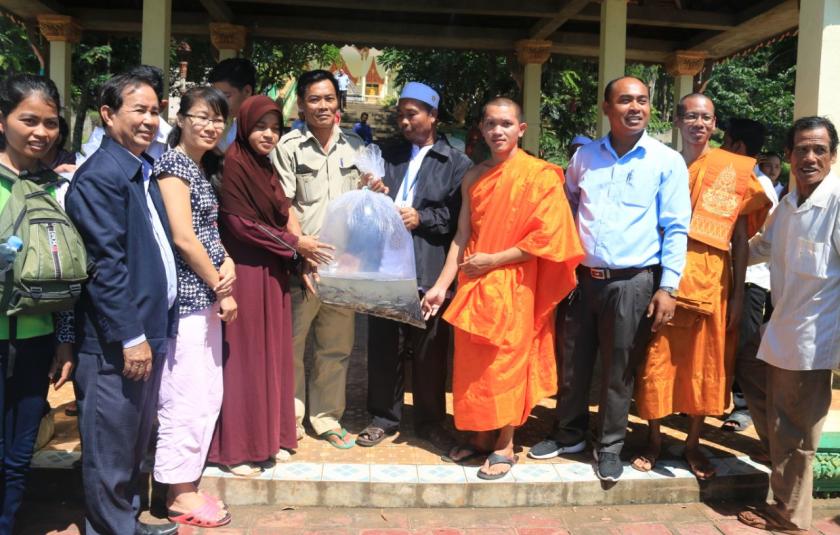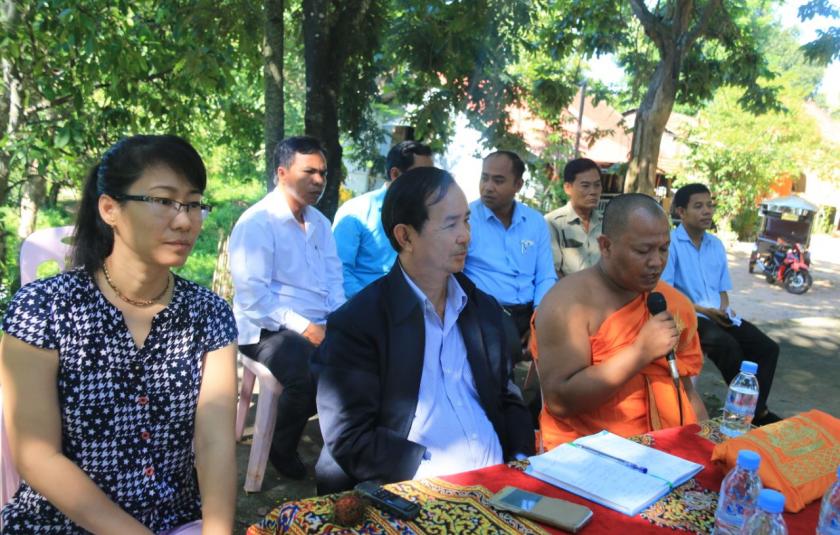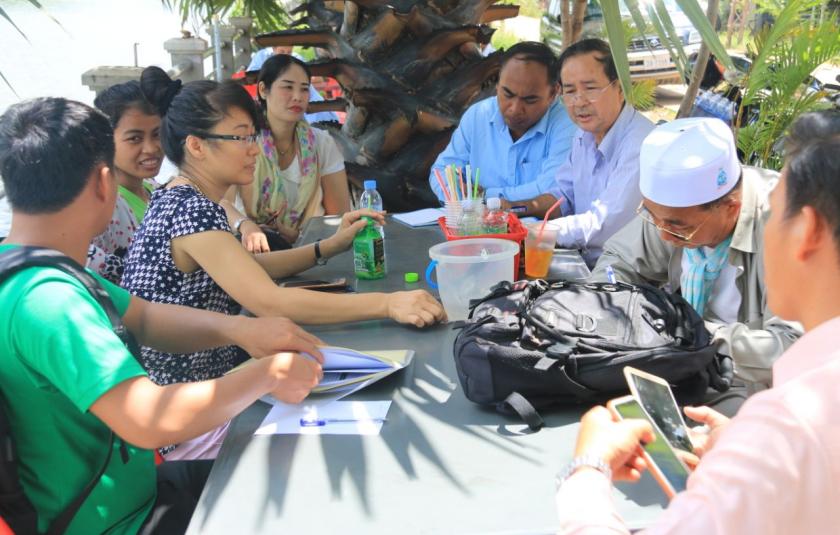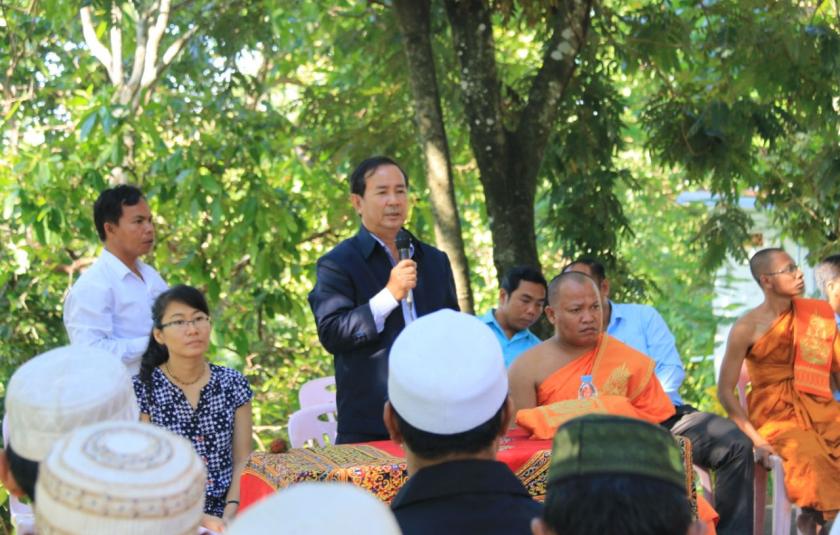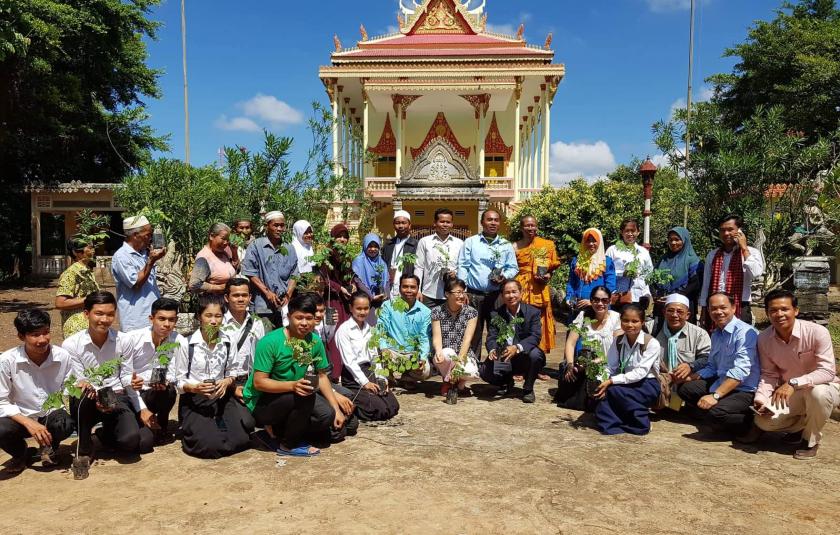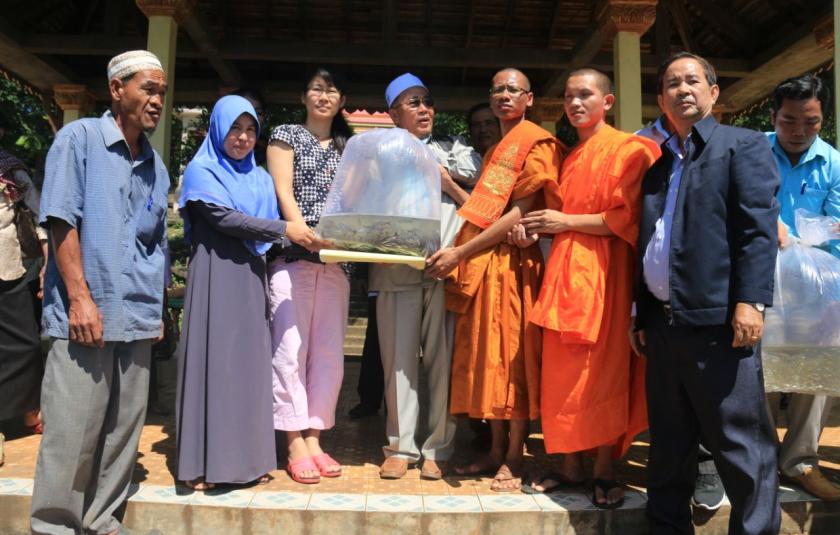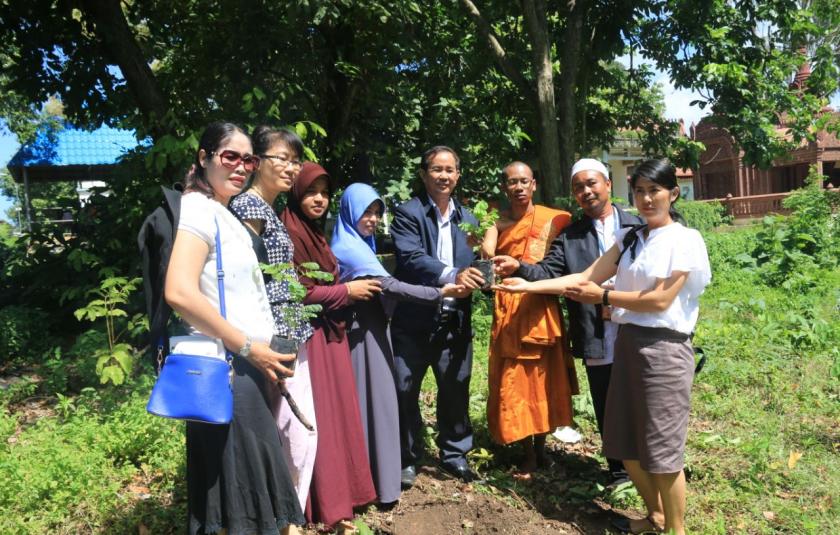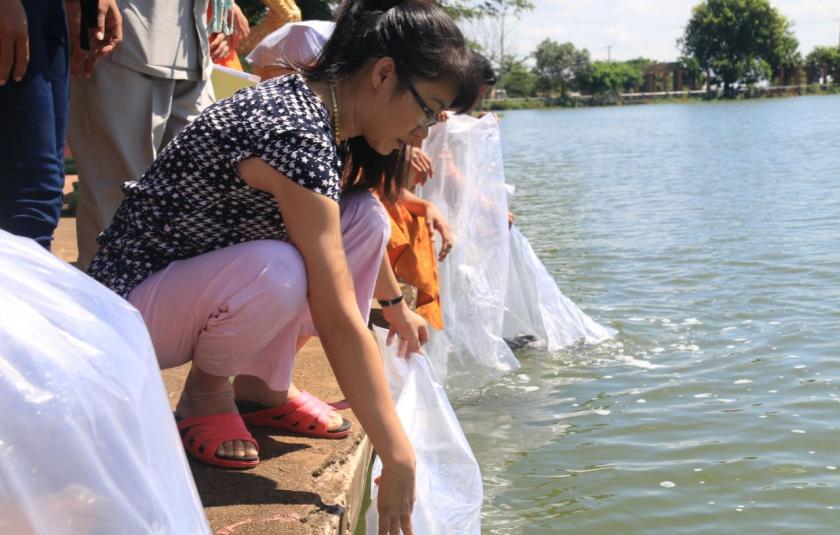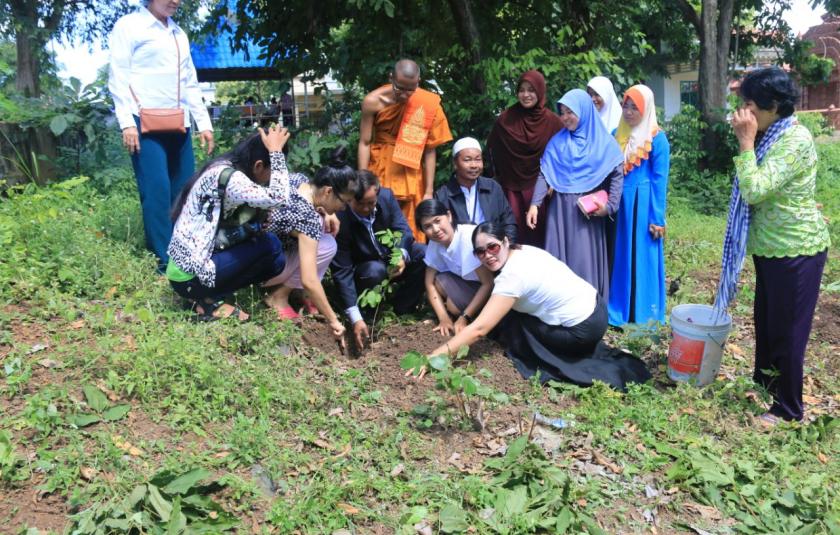 At the end of 2018, the project will end, so ACT hopes that the network and especially the officers of the DoCR will continue to work on encouraging coexisting work among people of diverse faiths. She thanked the donor Danmission, who always support ACT's work for the community. 
"Respect each other with compassion, do not persecute, do not hate one another, do not discriminate; these are the foundations of peace in the world." - Ven, Yi Seanghai
Ven, Yi Seanghai, Deputy Chief of Chamkar Leu district, said, "Thanks so much to ACT for making this interfaith program possible. Having participants from Buddhist, Islamic, and Christian faiths, this is the first program in Chamkar Leu District to have such a gathering to understand each other and do some good things together. Fish releasing, in Buddhism, is called 'give freedom.' Do not persecute other life, even nature or animals; this is the Buddhist teaching. Tree planting; the Buddha was born in the forest under the tree, was Enlightened, and died under the tree. In Buddhism, we value the environment, preserving the environment and forest. Please raise the heights of consciousness in environmental protection. Respect each other with compassion, do not persecute, do not hate one another, do not discriminate; these are the foundations of peace in the world."
Ptr. Ester, Christian Pastor District, said that in Christian teachings, God teaches people to follow the Bible that teaches us to love the trees, let us do good, help each other, and love each other. "This program I am very happy to participate in, as it is also the first time for inter-religious participation." For her, interfaith cooperation is very important for the country and the world. "Because the program makes each religion a community, and helps them to understand each other, it creates a relationship in the workplace in society. Working together to build peace among faiths is a lovely act. "
"Working together to build peace among faiths is a lovely act.​" - Ptr. Ester
Mr. Mat Saman represents Islam in the district, and said, "Thank for your solidarity between interfaith groups. There's been a lot of fun together so far, with the support from faiths to other faiths. In the Koran bible, it states that educated people do good and walk in good paths; this is the blessing. Keep away from evil things is Allah God's will. We must obey the laws of our living in this society, because we live in a lawful state. The three religions today are also stated by law and accepted by law. I join with peace building and taking care of the community. This way, we will have peace in the country and have education, growth and survival."
Mr. Sopal from DoCR explained the International Day for Fish. He said that fish release and tree planting are part of reminding us to take care of all nature around us. Ideas from faith teachings are good to learn and teach people to do well and love each other. "Today, we release about 15,000 fish and 50 trees with the three religions: Buddhist, Islam, and Christian. We show the example of good practice, not only this time and today, but let us keep doing it for the rest of our lives. We all have to stay away from drugs, at the temples and schools, and no matter where we are, we will get away from drugs."
"We live in one community even though we believe in different faiths." - Mr. Chea Saret
Mr. Chea Saret, member of interfaith group and officer of DoCR, shared about how interfaith means to love each other and support each other in the area of humanitarian work. "Today, we have made it possible for all religions to be together, to do such good deeds with each other in any time. Especially those who are students should have good practice, as you all are the next generation. In the past, we never saw Islam entering the pagoda, or Christianity entering the pagoda, or the monks entering the mosque or Christian church. But now we see it in our community. It shows that we all do not discriminate, but we live in one community even though we believe in different faiths. In 2017, we were in the church of Christians, inviting monks and Muslims to enter the church in Stung Trong District, Kampong Cham Province. What we did is to see the inter-religious program work out as a good example that we all want to see peacebuilding."
With an interview with Mr. Ho Chanthou, chief of Dam#5 February community said that: in this community we have 6 hectares, 9 committees and 200 people. This community has great benefits to members here, such as planting vegetables on community land, and fish rising or frogs rising in the pool on the surface of the water. So you can take some fish for family meals, and water the crops or paddie around the community's lakes. The lack around this community is the place for the fish eggs that increase the natural resources of fish life for people inside and outside the community. But the challenge here is that the community is less caring and involved in protection. I am really happy for this program because we are able to show and teach the community about the importance of natural resources for all people and to understand and know about the importance of people participating in protecting the environment and natural resources."