FOR IMMEDIATE RELEASE
INTERNATIONAL DAY OF PEACE CELEBRATION
HOSTED BY THE GALILEE MINISTRIES OF EAST CHARLOTTE
The UN International Day of Peace is celebrated on September 21 each year. Once again, Charlotte Red Bench Garden, The Galilee Ministries of East Charlotte (GMEC) and The Galilee Center partners are joining to make this year memorable. This year the Galilee Center is spear-heading a "BIG" project to mark the occasion.
The Galilee Center is an open door of servant leaders from GMEC, The Bhutanese Community Association  of Charlotte, Central Piedmont Community College, Refugee Support Services, Charlotte Community Kitchen, Catholic Charities, Loaves & Fishes Food Pantry, Cross Cultural Counseling, Residents of St. Andrews Homes, The Merry Oaks Community and the Charlotte Red Bench Garden Cooperation Circle driven to assisting with numerous services for immigrants, refugees and the greater Charlotte community in North Carolina, USA.
The Galilee Center utilizes large freight containers to assist in managing their physical space in the parking lot. Recently, they became aware from participants that these types of containers have been used as holding prisons in Vietnam. For some of our refugee friends, these containers hold painful and traumatic memories of being physically "stored" in containers just like these--hot, dark, and full of frightened people.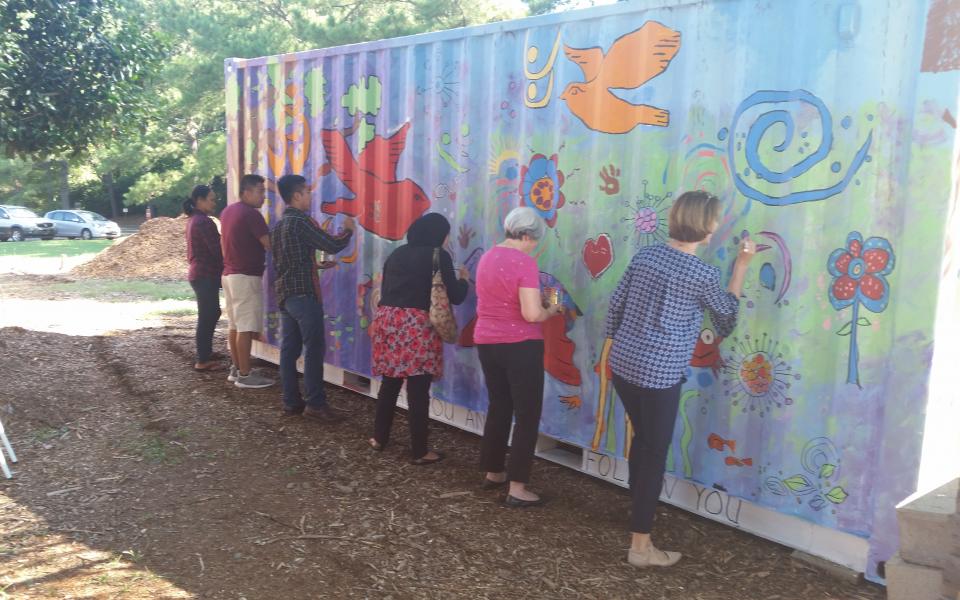 In an effort to transform these experiences, it was decided by The Galilee Center to move one of the containers closer to the Peace Garden and create it into a large visual expression of peace. The goal is to transform the container to become a vehicle to heal the memories, build hope for those who have suffered trauma and bridge understanding for the community as a larger body of support.
This artistic endeavor is being guided by artists from Saint Martin's Episcopal Church, Charlotte, NC who will prepare and outline the mural for peace on the container to be painted by the Charlotte community members during the week of September 17, 2018.  Special Thanks to Wendy Merrill, Moo Paw and her family for managing some of the logistics. The project will continue throughout the remainder of the month to its completion.
Last year at The Galilee Center, the International Day of Peace was marked with the erection of a Peace Pole inscribed with messages of peace in 17 languages, prayer stones and a chained link fence covered with prayer cloths.  This year's beautiful Peace Mural will be positioned near these other symbols of peace. The goal is to help heal some of those dishonorable memories and build a new agenda for hope.
For more information on how you can participate, please contact:
Adeola Fearon, Charlotte Red Bench Garden
or
Toni Hagerman, Executive Director
Galilee Ministries of East Charlotte
3601 Central Ave, Charlotte, NC 28205
704-900-5210