Marianne Horling of URI Germany shares a story of connection with her fellow URI members in Hiroshima.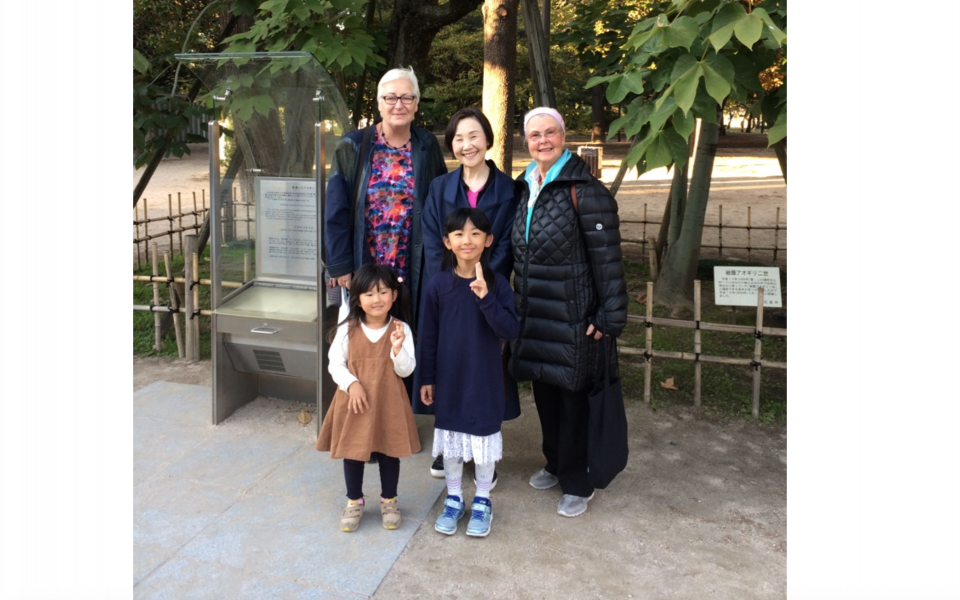 Since I was a child, the name "Hiroshima" was tightly connected with the atomic bomb. So it's no wonder that I was curious enough and wanted to visit this town on my visit to Japan, where I stayed from October 13 to 31, 2018, together with my friend Marie-Luise Salden, a German artist who makes woodcuts and paper works.
From my work in the URI Cooperation Circle (CC) Approval Committee, I knew that there is a URI CC based in Hiroshima, named "ANT-Hiroshima," and so I made contact. Very open and without any expectations from my side - only with the strong wish to do anything for peace - we arrived with the Shinkansen at Hiroshima main station, where Tomoko Watanabe, the Cooperation Circle leader, was awaiting us. She led us directly to the office of ANT-Hiroshima, which has become a URI member group this year. Here, she explained to us the amazing work of this NGO.
ANT stands for "Asian Network of Trust," and a little ant is their emblem. Tomoko-san, a daughter of "Hibakushas," (atomic bomb survivors), founded this organization so as not to forget and to learn from those who had survived this catastrophe. More and more of these people can tell their stories, which they preserve for the next generations on films shown in the Peace Memorial Museum we visited.
On August 6, 1945, an atomic bomb blasted away the whole city of Hiroshima and 140,000 people died at once. Thousands more died in the following days as a result of their injuries. Tomoko-san's mother was at that time a 15-year-old learning sister of the Red Cross. She worked in this chaos of blood and death without sufficient medical means, and at first not understanding what really had happened.
But not only the people and the houses - all the nature around was damaged.
And as an aftereffect, the radiation from the atomic bomb made the people ill and a lot of them died years later. Leukemia was called the "atomic bomb illness."
All this is documented in the museum.
With ANT Hiroshima, Tomoko-san wants to give a positive sign for the future and the next generations by enabling learning from history and keeping awareness alive. Besides the above-mentioned recording of the life stories of the A-bomb survivors, the group promotes peace education through A-bombed trees. They take seeds and saplings from trees who have survived, and they carefully nurture these and send them to many places around the world as a sign of hope. They cooperate with peacebuilding groups in Pakistan, Kashmir and the Philippines. And they organize a lot of educational activities.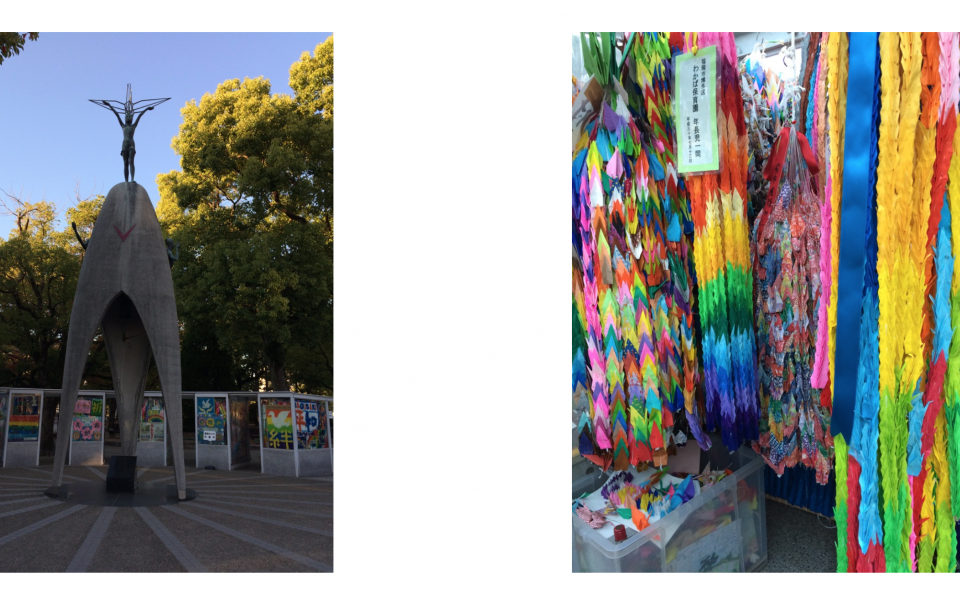 One of their projects is a book. "Sadako's Prayer" tells the story of the little girl Sadako, who died 10 years after the A-bomb explosion. She was only 13 years old, and during the time she spent in the hospital she made paper cranes because someone had told her that if she folded 1,000 cranes she'd have one wish. You can imagine which wish she had… Her friends and class-mates helped her.
After she had died, the fate of Sadako was told on broadcasting services and many children in Japan folded cranes and sent them to Hiroshima. Her friends started a collection for a memorial, and really, in the year 1958, on the 5th of May - the World Children's Day - the monument was unveiled near the Hiroshima peace park. On top of t he monument stands a girl holding a big, folded crane as if she could fly. The inscription says:
This is Our Cry

This is Our Prayer

For Building Peace in the World
Around the memorial, there are showcases of glass filled with thousands of paper cranes.
The book has currently been translated into 27 languages. It shall strengthen the children to work for peace. So, for the next generations of children, Hiroshima is no more a synonym for the A-bomb but for peace in the world.
Tomoko-san gave me a book in my native German language as a present. Now I read it together with a friend; a 9-year-old child from Pakistani immigrants.
May peace prevail on earth!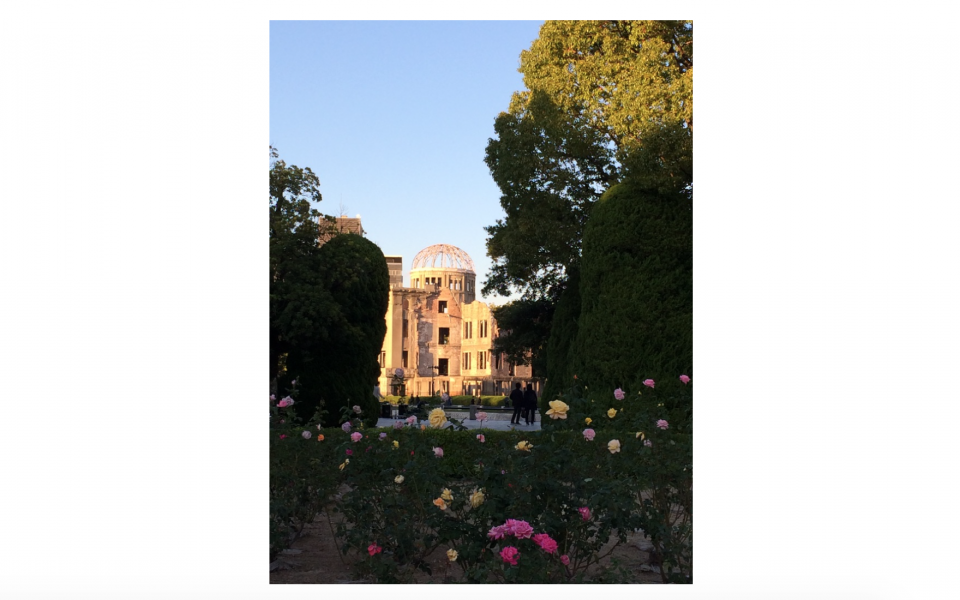 A big thank-you for Tomoko-san, who gave us such deep inside views.
She touched our mind and hearts!
Marianne Horling
URI Global Council Trustee
On the board of URI Europe and URI Germany
Convener of the Intercultural Circle Bonn CC