The following post is written by Laila Galarsa, a Counselor in Training with Camp Anytown Las Vegas, a Cooperation Circle member of the United Religions Initiative. Laila participated in a January 2019 trip to the United Nations led by URI North America. Click here to read reflections from her fellow participants.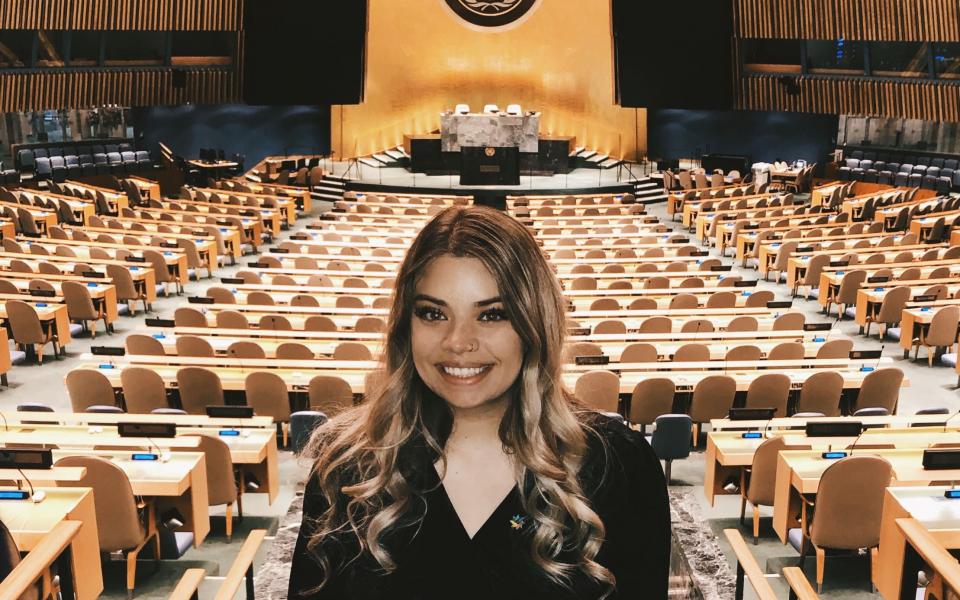 I came to the United Nations in New York in the search of how to teach advocacy. I have become so vocal in defense of others that I lost sense of how I was granted such courage and how to pass down the strength of words.
Within my Cooperation Circle in the United Religions Initiative, Camp Anytown Las Vegas, we educate high school students on the different levels of prejudice and the microaggressions and macroaggressions faced by people that society regularly tries to ostracize. At the end of our most recent camp, the delegates were full of this overwhelming desire to bring back the acceptance and celebration of their peers' differences into their own communities, but they didn't know how to specifically advocate in times of discrimination.
The unspoken, dreaded reality of discrimination seems to settle when they return to their respective neighborhoods within the city. At camp, delegates are always asked to speak in "I…" statements, to claim their actions and what they will do in the future to strive for peace in their communities. My fellow counselor asked, "Would you stand up if you saw someone being discriminated against?" We were stunned to have heard the reply "No, because I don't like violence." Violence? This is what my community thinks are the repercussions for standing up for their siblings of the human race.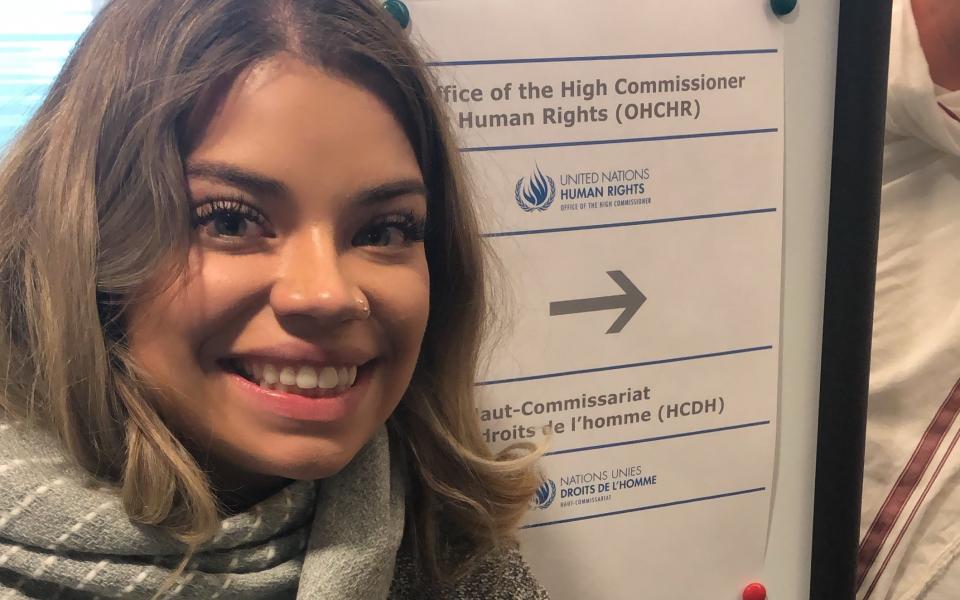 Nevada is one of the most diverse states in the country and its tendency to be a swing state is not creating an easier path to peace, but it is not impossible. When I was at the UN, we attended the Symposium on the Role of Religion and Faith-Based Organizations in International Affairs and Rabbi Diana Gerson spoke beautifully of how harmonious our interfaith communities should and could be. She recounted Baptist Minister Al Sharpton standing hand-in-hand with her after the tragedy that struck the Pittsburgh Synagogue last October. These religious communities are committed to interfaith empowerment and are the safety net in times of tragedy, but the bond must grown beyond our weakest moments.
The United Religions Initiative has given me the privilege of representing young people at the United Nations and the privilege of further developing my knowledge on the world of interfaith. As a young woman who hasn't even graduated high school yet, the UN building itself is quite intimidating. People inside seem to always be in a rush or on an important phone call and it was easy for me to feel out of place.
But in that moment, Regional Coordinator for URI North America, Sari Heidenreich stated firmly, "You belong here." And with just three words, I felt that I could instill the courage necessary for advocacy within the future delegates of Camp Anytown, Las Vegas. I was sent to the United Nations with a vision of how to improve my Cooperation Circle and how to progress the interfaith movement within Southern Nevada. The discernment that I was not welcome in such a prestigious space was just doubt. When I pass along these words to our delegates at camp, they will help create this impermeable wall and not let the fear of ridicule prevent them from standing up for their siblings of the human race.
The sense of belonging is ambiguous, which is why interfaith is such an imperative principle of our society. The relationships built between other faith associations are meant to empower our community, not draw lines between it. As the Honorable Hereditary Chief Phil Lane said, "The world is round for a reason. We were meant to be together." This not only articulated the theme of the Symposium beautifully, but it is a call to action I am taking back to my community.