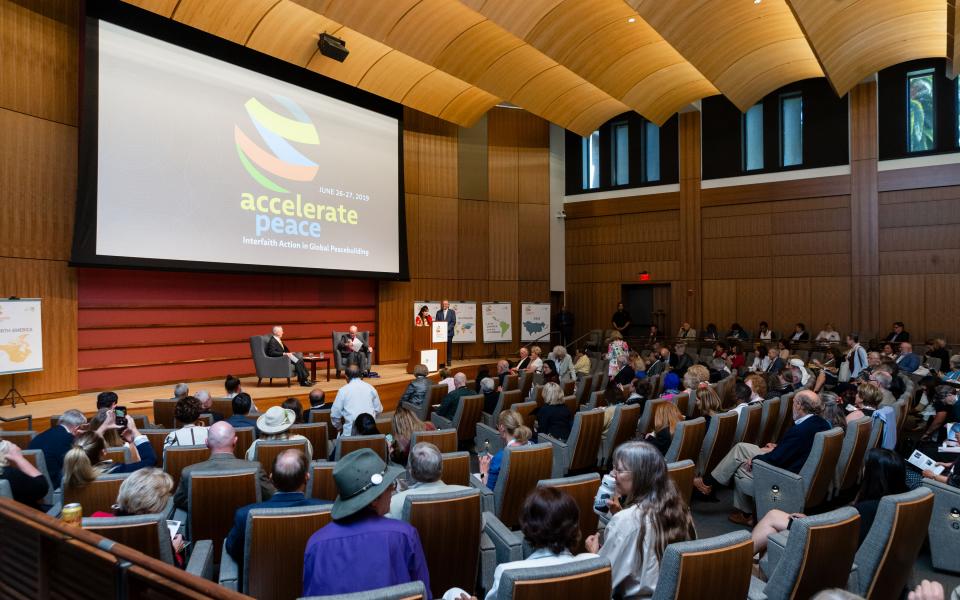 The Accelerate Peace conference took place on June 26 and 27, 2019 at the Hoover Institution on the Stanford University campus in California, USA. It brought together peacebuilders from around the world to discuss challenges to peace, both in their local communities and on an international level, and also to discuss action-oriented solutions to benefit all of humanity.
Musical performances by Pato Banton and Antoinette Rootsdawtah, of Pato Banton's Spiritual Family, a URI Cooperation Circle, provided an energetic soundtrack to the two days of the conference and to the Circles of Light gala on the night of June 26. Their talent and music got the crowd dancing, which was an especially meaningful point of connection for attendees who did not share a language in common.
See a complete list of activities, events, and speakers involved in each in the full conference schedule.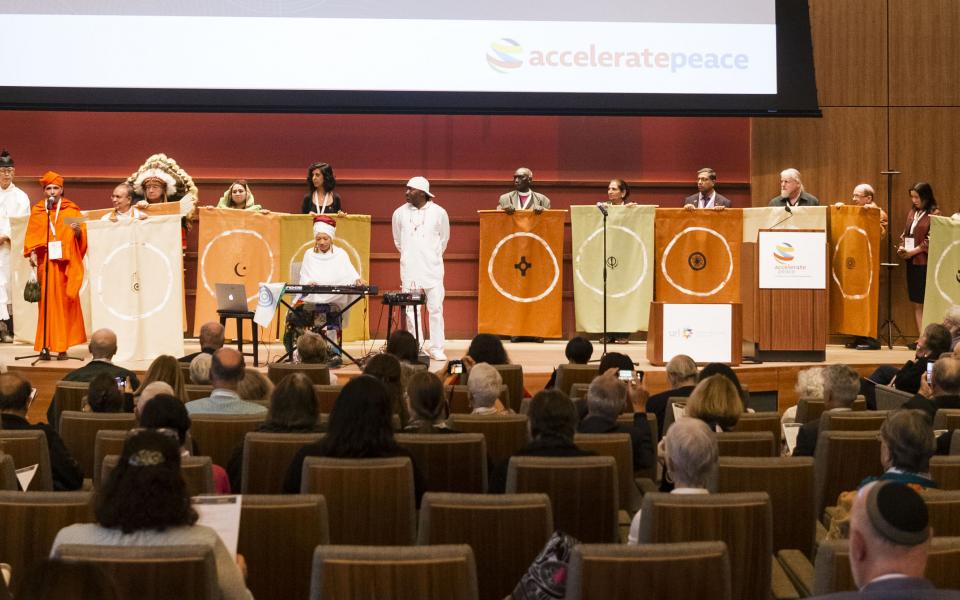 Wednesday, June 26, 2019
In a symbolic and visually impressive Opening Ceremony, representatives of many faith traditions and geographic locations walked with banners to showcase their unity in diversity. There was an Indigenous Land Acknowledgement honoring the Ohlone people, on whose traditional territory the conference took place. Another acknowledgement remembered victims of violence and injustice.
Sally Mahé, URI Senior Consultant, led the audience in an Appreciative Inquiry exercise exploring the theme, "Interfaith Action in Global Peacebuilding." This encouraged people to get to know the people sitting around them in a deeper way, and on a more personal, human level. Sally encouraged everyone to choose a person they didn't already know and with whom they didn't share a common cultural background. Learn more about Appreciative Inquiry here.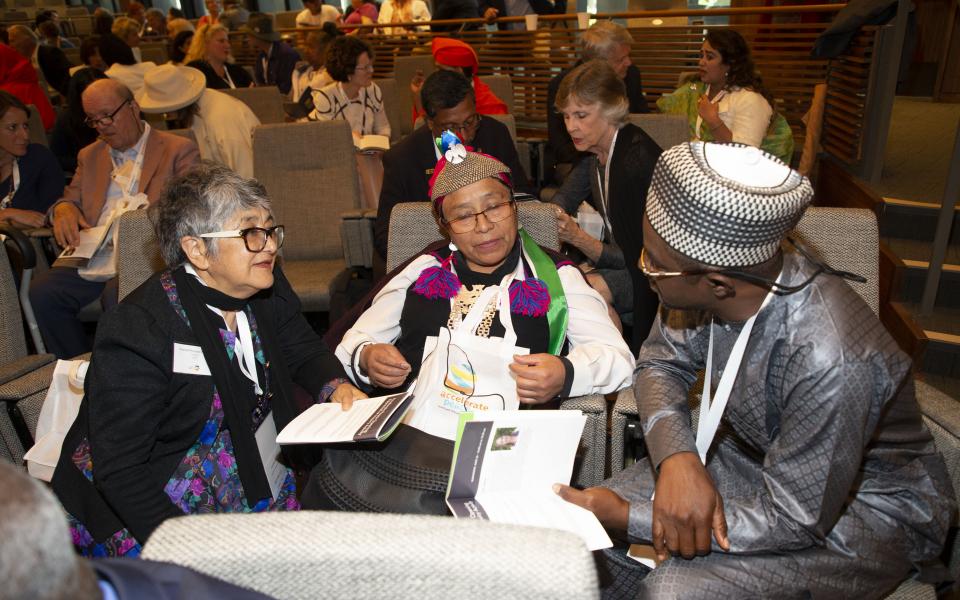 Session I: Peacebuilding through Promoting Enduring, Daily Interfaith Cooperation: From Dialogue to Action
What is interfaith action? How does interfaith action fit into the larger framework of global peacebuilding? This session explored the field of interfaith peacebuilding and the relationship between interfaith understanding, interfaith dialogue, and interfaith action in the global and local peacebuilding process. See live video here.
Moderator: The Rev. Victor H. Kazanjian, Jr, Executive Director, URI
Panelists:
The Rev. Jennifer Bailey, Founder and Director of the Faith Matters Network
Radia Bakkouch, President of Coexister, France, a URI Cooperation Circle
Maria Crespo, URI Director of Cooperation Circle Support
Audrey Kitagawa, Chair of the Parliament of the World's Religions
Phil Lane, Hereditary Chief, Ihanktonwan Dakota and Chickasaw Nations
URI Trustee Rabbi Daniel Lehmann, President of the General Theological Union
Michael Pappas, Executive Director of the San Francisco Interfaith Council, a URI Cooperation Circle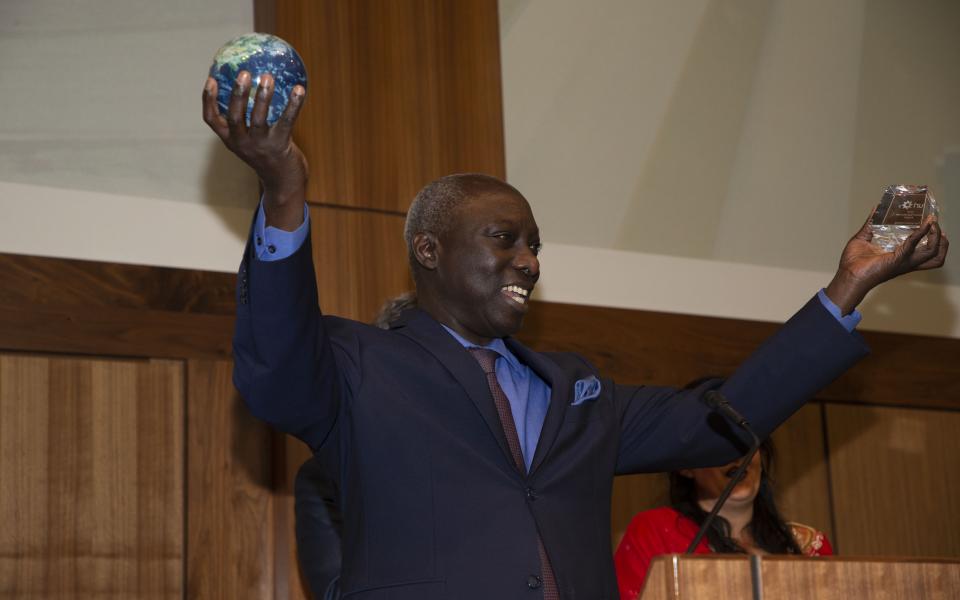 Keynote Speech by H. E. Adama Dieng
H. E. Adama Dieng, Under Secretary General of the United Nations and Special Adviser to the Secretary General of the United Nations on the Prevention of Genocide, gave a Keynote Speech. He was introduced by Wambui Ngige, Human Rights Attorney and URI Global Trustee.
See a live video of his speech on our Facebook page.
Session II: Voices for a World Free of Nuclear Weapons
Voices for a World Free of Nuclear Weapons is a URI Cooperation Circle composed of dynamic voices from across the political, professional, and spiritual spectrums who have united in a single purpose: to eliminate nuclear weapons once and for all. This group of dedicated peacebuilders, which includes diplomats, scientists, lawyers and religious leaders, created and showcased a video with a former Secretary of State, a former Secretary of Defense, several United States Ambassadors, a famous physicist, and a few friends all praying for an end to nuclear weapons. See live video here.
Speakers:
Kehkashan Basu, Founder and President of Green Hope Foundation
Jonathan Granoff, President of the Global Security Institute
The Rt. Rev. William Swing, Founder and President, URI
Session III: Ending Religiously Motivated Violence
Violence in the name of religion has become one of the greatest challenges facing humanity. This session explored how interfaith efforts to confront this challenge are a critical component of the overall effort to counter violent extremism, prevent mass atrocity and genocide, rebuild communities and societies post-conflict, build the positive relationships between people of different beliefs and create the conditions that are essential to sustainable peace. See live video here.
A Video Case Presentation showcased Emmanuel Ivorgba, URI West Africa Regional Coordinator, who works to counter violent extremism in Nigeria. 
URI Moderator: Azza Karam, Senior Advisor at the United Nations Population Fund (UNFPA); Coordinator of the UN InterAgency Task Force on Religion and Development, United Nations
Panelists:
Mamoun Ahmad, Regional Coordinator for URI-Middle East and North Africa
Samira Barucija, Co-founder of Youth For Peace, Bosnia/Herzegovina, a URI Cooperation Circle
Mussie Hailu, Former Ambassador, Director of the Global Partnerships and Africa Coordinator for URI
James Patton, President and CEO, International Center for Religion and Diplomacy
Musa Sanguila, Director of Pakigdait, Philippines, a URI Cooperation Circle
Jessica Trubowitch, Public Policy and Community Building Director JCRC – Jewish Community Relations Council
Janessa Gans Wilder, Founder and Executive Director of the Euphrates Institute, a URI Cooperation Circle
Keynote Conversation - A Bishop and General Talk about Peace
Speakers:
General James N. Mattis, Davies Family Distinguished Fellow at the Hoover Institution, Former United States Secretary of Defense
The Rt. Rev. William Swing, Founder and President of URI, former Episcopal Bishop of California
The keynote conversation between Bishop William Swing and General James Mattis completely filled the auditorium as people crowded in to hear what these two men would say to each other. As Theologian Hans Kung wrote, "There will be no peace among nations, without peace among religions." Throughout human history, religion has been used as a motivation and justification for war, while at the same time religion has been used to inspire people to seek peace.
Bishop William Swing and General James Mattis discussed issues of war and peace, the responsibility of military and religious leaders to society, and the moral ambiguity of keeping the peace. See their full discussion in the video below.
Circles of Light - A Gala Benefitting URI
Celebrating the launching of URI's 20th year, the annual Circles of Light Gala was held in the same venue as the Accelerate Peace conference on the night of June 26. The tables were filled with attendees wearing traditional clothing from cultures around the world as people took the opportunity to network and form new friendships, showcasing the tremendous diversity of the conference at a glance. Pato Banton and Antoinette Rootsdawtah kept the crowd's energy up long after the dinner was served, dancing and enjoying themselves after a day of intense peacebuilding discussions.
URI introduced the Charlotte and George Shultz Fund for Hospitality and Diplomacy, which ensures that people from every corner of the world will gather to address the governance issues of URI's global organization once a year. Former United States Secretary of State George P. Shultz and Charlotte Mailliard Shultz were in attendance.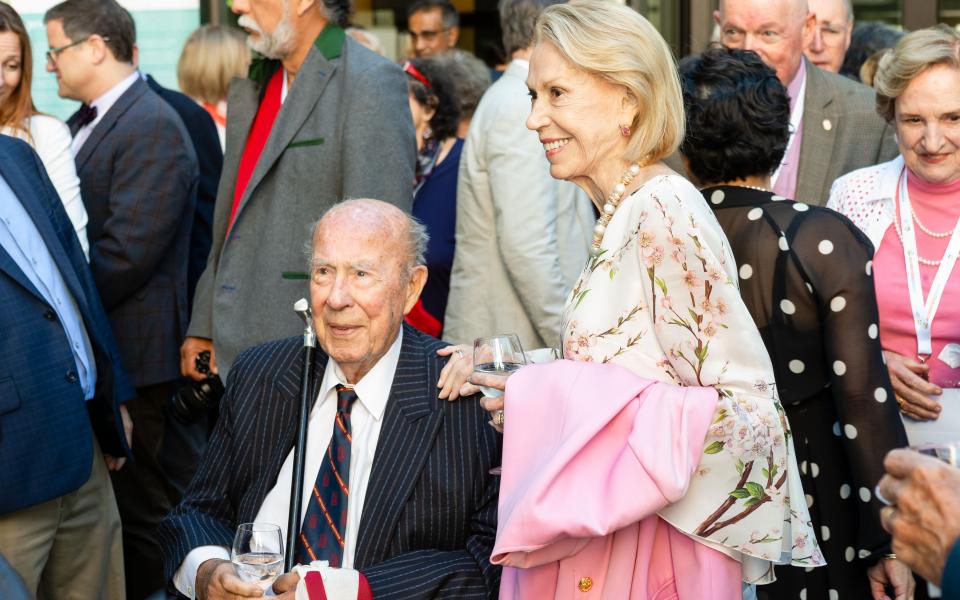 Thursday, June 27, 2019
Opening the second day of the conference, representatives of many countries and faith traditions performed the Waters of the World Ceremony (seen on the Facebook livestream at 5:10). The ceremony, led by Indigenous peacebuilders, brought waters that came from over 150 sacred water sources in 65 countries on all seven continents and from the Seven Seas. These waters have been mixed together and used in ceremonies for the United Nations, the United Religions Initiative, the Parliament of the World's Religions, and the Goldin Institute for International Partnership and Peace. They are mingled as a blessing for all beings of the Earth, in the hope that we may live in peace.
Session IV: Building Cultures of Peace, Justice and Healing for the Earth and all Living Beings: Women's Empowerment and Environmental Sustainability
As women's lives and well-being continue to be disproportionately impacted by ongoing violence, injustice and oppression, and the Earth and her inhabitants suffer from the impact of environmental degradation, interfaith peacebuilders are engaging these critical issues on a global and local scale. This session explored these issues through on the ground examples and invited participants into dialogue around strategies for women's empowerment and environmental sustainability. There was a video case presentation on Women's Empowerment and Environmental Sustainability. A live video of Session IV begins at 25:50. 
Speaker: Sadhvi Bhagawati Saraswati, Secretary General of the Global Interfaith WASH Alliance, a URI Cooperation Circle
Panelists:
Despina Namwembe, Regional Coordinator for URI-Africa Great Lakes
Swamini Adityananda Saraswati, Director of Programmes, Policy and Development of the Global Interfaith WASH Alliance (GIWA), a URI Cooperation Circle
Sofia Painequeo, Mapuche Indigenous Leader and Founder of the Aflailai Foundation, a URI Cooperation Circle
Monica Willard, URI Representative to the United Nations
Session V: Building Cultures of Peace, Justice and Healing for the Earth and all Living Beings: Global Organizations and Grassroots Partnerships
Too often in the peacebuilding process, a gap exists between global organizations and those at the grassroots engaged in work that seeks to address critical issues including conflict, violence, and injustice. The session explored strategies for closing this gap and why global organizations are prioritizing grassroots partnerships. A live video of Session V begins at 2:19:30.
Moderator: Suzanne Siskel, Executive Vice President and COO, The Asia Foundation, URI President's Council
Panelists:
Kate Cumbo, Executive Director, PeaceJam Foundation
Mohamed Elsanousi, Director of The Network for Religious and Traditional Peacemakers
Rabbi Serena Eisenberg, AJC Northern California Director
Brian Grimm, Religious Freedom and Business Foundation
Susan Hayward, Senior Advisor, Religion & Inclusive Societies, United States Institute for Peace
Aqueela Jogee, Vice President of Programs, Give2Asia
Valarie Kaur's Call to Action Keynote
Valarie Kaur, Founder of The Revolutionary Love Project, has become one of the most dynamic leaders in the interfaith movement, challenging us to ground the movement in an ethic of love. She shared an inspiring video message with the conference.
In describing The Revolutionary Love Movement and calling us to action, Valarie Kaur says, "We believe Revolutionary Love is the call of our times. In an era of enormous rage, we must resist dangerous policies and acts of hate that threaten our most vulnerable communities. But resistance alone will not deliver us: We will burn out or even start to mirror the rage we are resisting. So we are staging a cultural intervention to birth a new future. Our mission: to equip our movements and communities with tools to labor in love — love for others, our opponents, and ourselves. When we pour love in these three directions, then love becomes revolutionary."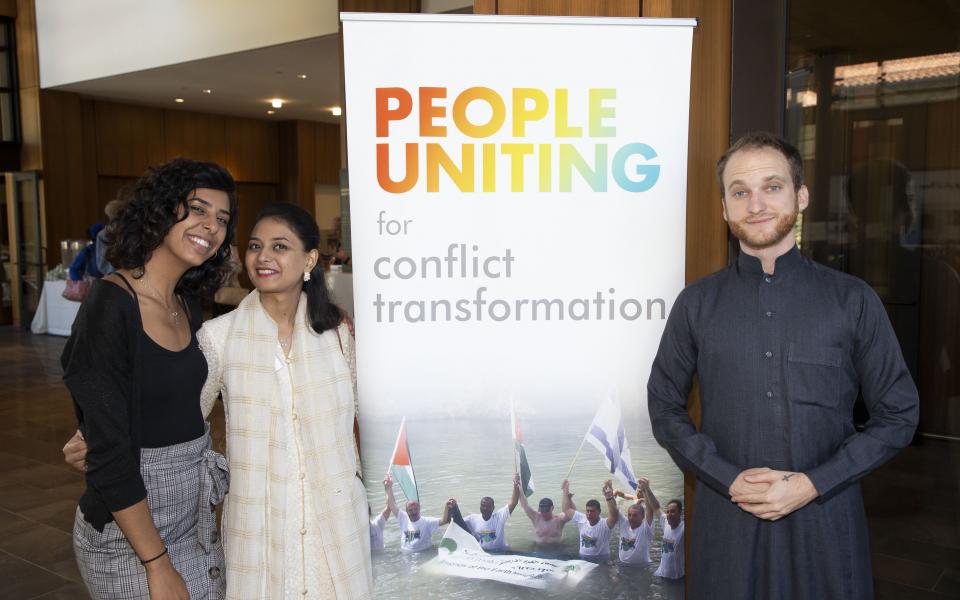 Youth Panel: Call to Action Storytellers
Responding to the Call to Action through love for others, our opponents and ourselves, a panel of young interfaith leaders wove their stories together reflecting on their own traditions, that which calls them to action, and how they, in turn, call us to be interfaith peacebuilders in our communities and in our world. They shared stories from their communities and their own experiences, including which parts were frustrating and where they found success. Video coverage of this panel begins at 37:02.
Storytellers:
Subhi Dhupar, URI Regional Coordinator for North India
Daniel Eror, Youth for Peace, Bosnia and Herzegovina, a URI Cooperation Circle
Sari Heidenreich, URI North America Regional Coordinator
Vincent Leong, Young Leader URI SEAPAC, Malaysia
Johnny Martin, Youth Director, Arizona Interfaith Network, a URI Cooperation Circle
Wambui Ngige, Human Rights Attorney, Kenya, URI Trustee
Sarah Oliver, Youth Programs Coordinator Southern Africa for URI
Ishaq Pathan, Deputy Director, Islamic Networks Group (ING)
Vilma Palax Tuy, Descendientes de Guatamala, a URI Cooperation Circle
Shayda Sales, URI Program Associate
Elle Segal, Public Affairs and Civic Engagement Manager, JCRC San Francisco
Valeria Vergani, Director of the InterSpiritual Sustainability Society, Canada, URI Trustee
Call to Action World Café
Using the World Café dialogue process, participants engaged with questions about their experience at the conference and how they intended to put their learnings into action. This closing event provided an opportunity for the conference attendees to make concrete plans for action, connect with likeminded peacebuilders and to begin the process of Accelerating Peace as they left the Stanford campus and made their way home to communities around the world.