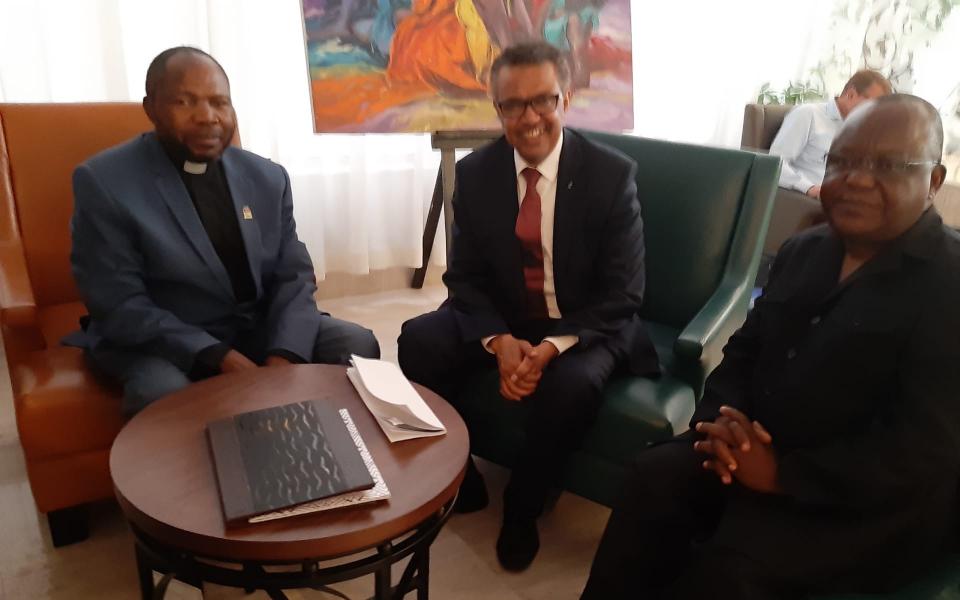 Zero Ebola Epidemic in North-Kivu and Ituri: The World Health Organization Seeks Reverend Dr. Ambassador Milenge's Expertise
(See French language translation below.)
Kinshasa, DRC 
June 14, 2019
The All Congo InterFaith Platform Chairman and Peace Ambassador, the Rt. Reverend Dr. Ambassador Milenge Mwenelwata, met with the World Health Organization (WHO) Director General, Dr. Tedros Adhanom Ghebreyesus, who was accompanied by His Excellency Antipas Mbusa Nyamuisi.
The WHO Director General is on a working visit to the Democratic Republic of Congo (DRC), as part of efforts to eradicate the Ebola virus. The WHO is on a search for an appropriate response to the disease as it threatens to further expand. 
From the onset, the two highly-esteemed personalities, Dr. Tedros Adhanom from WHO and Reverend Dr. Milenge from ECC, made a strategic review of the ongoing response efforts in the affected areas. The two also discussed strategies for a return to normal life in eastern DRC. The WHO Director General worried about the threat level the Ebola epidemic poses to the humankind. He felt sorry, with deep regret, that many people have lost their lives to an epidemic that human efforts could contain.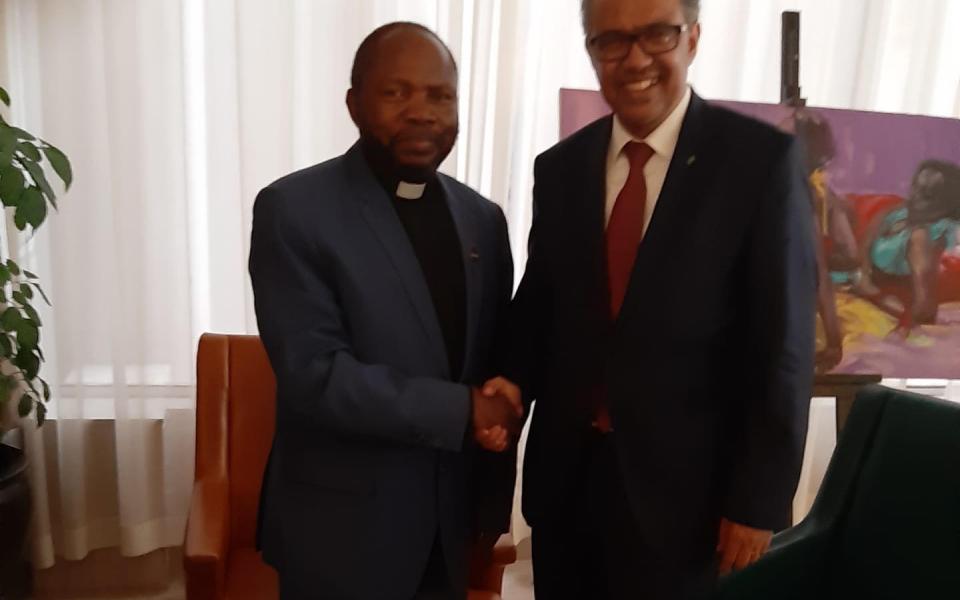 Putting words into action, the WHO Director General forwarded a special request to Ambassador Dr. Milenge to join the response efforts on the ground. Being seen as a valuable asset in search for answers against Ebola, the Rt Reverend Dr Milenge Mwenelwata has been portrayed by the WHO Director General as having tremendous potential in mobilising people to face the disease - as a churchman but also as DRC civil society's moral authority. The WHO's Dr Tedros relies also said that, since Reverend Dr. Milenge has a keen knowledge of the affected areas (having worked across the region a long time ago), that makes him a key figure in the fight against the Ebola epidemic. 
The WHO Director General said he was encouraged and advised during a meeting in Kinshasa by DRC's former Presidential candidate Hon. Martin Fayulu to seek Ambassador Doctor Milenge's involvement and expertise in efforts to eradicate the disease. 
The Rt Ambassador Dr Milenge accepted the WHO's official request to join him in the organization's efforts to combat the disease. He said the WHO Director General's request could only lead him to reiterate a commitment that he already expressed to help defeat the Ebola virus in eastern DRC. He spoke of targeted actions that are going to be jointly implemented on the ground with His Excellency Antipas Mbusa Nyamuisi. The Rt Ambassador Milenge also told the WHO Director General that the same request to help combat Ebola was forwarded to him by the US Top Administration officials during his May trip to the US.
Being a Baptist, the Rt. Reverend Dr. Milenge Mwenelata had been profoundly affected to learn, while on a trip to USA, the loss of two pastors from his own Baptist Central Africa Community (CBCA). The two lead pastors, who were from the Beni and Butembo regions, died on two separate occasions after contracting Ebola during funeral services for church-members who passed from the Ebola disease.
As for the US Top Administration, the Rt. Ambassador Doctor Milenge believes Ebola is the world's first public enemy. Since having been reported on July 31th 2018, the epidemic has already claimed nearly 1346 lives out of nearly 2000 reported cases in the DRC. One death case was reported in neighboring Uganda. Health experts are expected to meet by this week to assess whether the DRC epidemic can be proclaimed as a global health emergency.
It's worth remembering that after their first meeting on Monday June 10th 2019, the Rt Reverend Dr Milenge and His Excellency Antipas Mbusa Nyamuisi, to whom the WHO is joining efforts, they have agreed on targeted actions to be implemented on the ground to help contain and eradicate the Ebola epidemic.
The Rt Reverend Dr Milenge's personal commitment to combat the Ebola epidemic is well noted in the country. Adding to it, the official move from WHO to seek his expertise in fighting the disease is being widely seen in the country as an attempt to turn Reverend Dr Milenge to a WHO valuable spokesperson or emissary to the affected people of Eastern Congo as they struggle to contain the disease. 
Since the proclamation of the disease on 2 August 2018 by the DRC Health Ministry, the WHO Director General is on a ninth trip to the DRC. The Rt. Ambassador Dr Milenge, taking into account his remarkable commitment next to DRC, informed the WHO Director General Dr. Tedros of his rewarding actions as a Great Friend of Congo, joining the Congolese pantheon of the friends of Congo. The Diploma, named "Grand Ami du Congo" in French, or Great Friend of Congo, honours and acknowledges the merits of foreign citizens dedicated to helping the people of the Congo come out of troubled situations. Dr Tedros of WHO is going to be awarded this Diploma on his next trip to Kinshasa. 
WHO Dr. Tedros Adhanom, of Ethiopian origin, was informed by the Rt. Reverend Dr Milenge of this year's nominee to the "Reverend Dr. Milenge Exceptional Leadership Prize" - Ethiopian Prime Minister Abiy Ahmed is being awarded for his courageous and outstanding efforts to lead peacebuilding across Ethiopia, the region and the world. The Reverend Dr. Milenge Exceptional Leadership Prize rewards the efforts of every person that plays a role in advancing the peace agenda around the world.
- Richie Lontulungu
---
Zéro Ebola au Nord Kivu et en Ituri: L'OMS fait recours à l'expertise du Révérend Dr Milenge pour stopper l'épidémie. 
Ambassadeur de la Paix et Deuxième Vice-Président National de l'Eglise du Christ au Congo (ECC), le Révérend Dr Ambassadeur Milenge Mwenelwata s'est entretenu ce vendredi 14 juin 2019 à Kinshasa avec le Directeur Général de l'Organisation Mondiale de la Santé (OMS) Dr Tedros Adhanom Ghebreyesus qui était accompagné de Son Excellence Antipas Mbusa Nyamuisi. 
En visite de travail en République Démocratique du Congo"RDC", dans le cadre des efforts pour l'éradication du virus Ebola, le Directeur Général de l'OMS affûte les armes pour apporter une réponse à l'épidémie qui est en pleine expansion. Les deux personnalités, Dr Tedros Adhanom et Révérend Dr Milenge, ont fait le point sur l'état de la riposte en cours sur terrain dans les zones affectées par l'épidémie. Ils ont échangé des idées et des stratégies pour un retour à la vie normale à l'Est de la RDC. Le Directeur Général de l'OMS a révélé le degré de menace que l'évolutionn de cette épidémie présente à l'humanité toute entière et il a dit qu'il regrettait que de nombreuses personnes aient payé de leurs vies suite à une maladie que la force humaine pouvait  contenir. Joignant la acte à la parole, le Directeur de l'OMS a  formulé la demande expresse, à l'endroit de l'Ambassadeur Docteur, de joindre les efforts de la riposte anti Ebola en cours dans le pays.  
Le Directeur Général de l'OMS a dit qu'il comptait sur la capacité de mobilisation de l'Ambassadeur Dr en tant qu'homme d'église et Autorité Morale de la Société Civile pour ramener toutes les forces susceptibles de contribuer à apporter un changement dans la crise actuelle. Le Dr Tedros de l'OMS a estimé que la profonde connaissance que le Révérend Dr Milenge dispose, des zones affectées par Ebola pour avoir longtemps travaillé dans la région, fait de lui un personnage incontournable dans la recherche d'une riposte effective. 
Le Directeur Général de l'OMS a fait savoir à l'Ambassadeur de la paix qu'à l'issue de sa rencontre avec l'Honorable Martin Fayulu où ils avaient eu à évoquer la question de lutte contre Ebola, l'Honorable Martin Fayulu lui avait encouragé à faire recours à l'expertise de l'Ambassadeur Docteur Milenge en vue de l'éradication de cette épidémie.
Tout en accédant à la demande officielle de l'OMS, l'Ambassadeur Dr a fait savoir à son hôte que cet appel de l'OMS ne peut que l'amener à réitérer un engagement déjà exprimé par son auguste personne de contribuer à vaincre le virus Ebola à l'Est de la RDC. Un programme d'actions communs est actuellement entrain d'être mis sur pied. Il mettra en synergie l'Ambassadeur Docteur et Son Excellence Antipas Mbusa Nyamuisi. L'Ambassadeur Dr a dit au Directeur Général de l'OMS que cette même demande lui avait été formulée pendant son dernier séjour aux USA depuis le haut sommet de l'Administration Américaine.
De confession Baptiste, le Révérend Dr Milenge Mwenelata avait été très affecté, depuis les USA où il séjournait,  par la perte de deux pasteurs de la CBCA dans les zones de Béni et de Butembo,  tous deux morts après avoir contracté Ebola lors des cérémonies funéraires organisées pour des fidèles décédés de la maladie à virus Ebola.  
Pour l'Administration Américaine, comme pour l'Ambassadeur Docteur, Ébola est l'ennemi publique mondial numéro un. Depuis son déclenchement en RDC le 31 juillet 2018, le virus a déjà tué près de 1346 personnes sur près de 2000 cas reportés et une autre personne en Ouganda voisin. Des experts en santé se réunissent, à l'initiative de l'OMS, pour évaluer si le virus en RDC peut être élevé au statut d'urgence sanitaire mondiale. 
Il sied de rappeler qu'à l'issue de leur rencontre le lundi 10 juin 2019, les deux personnalités, Son Excellence Antipas Mbusa Nyamuisi, le Révérend Dr,  auxquelles vient de se joindre l'Organisation Mondiale de la Santé, s'étaient accordées sur un nombre d'actions à mener sur terrain pour enrayer  rapidement l'épidémie d'Ebola en RDC. 
A côté de son engagement personnel pour l'éradication de la maladie à virus Ebola, cette demande  de l'OMS, formulée par son Directeur Général Dr Tedros, fait du Révérend Dr Milenge un interlocuteur valable de cette Institution mondiale auprès de la RDC et des populations de l'Est de la RDC. 
Le Directeur Général de l'OMS, étant à son neuvième voyage vers la RDC, depuis la déclaration de l'épidémie à virus Ebola par le ministère congolais de santé le 2 août 2018, l'Ambassadeur Docteur Milenge a annoncé au Directeur Général Dr Tedros son élévation au titre de Grand Ami du Congo au panthéon congolais des amis du Congo. Le Diplôme Grand Ami du Congo qui honore et accompagne les mérites de toutes les personnes d'origines étrangères qui s'engagent aux côtés des populations congolaises lui sera décerné lors de son prochain séjour à Kinshasa.
Le Docteur Tedros Adhanom étant nationalité éthiopienne, le Révérend Dr Milenge a saisit l'occasion pour lui annoncé la remise prochaine du Prix Révérend Dr. Milenge pour le Leadership  exceptionnel au Premier Ministre Abiy Ahmed de l'Ethiopie pour ses actes de courage en faveur de la paix en Éthiopie et dans le monde. Né à Kinshasa, le Prix Révérend Dr Milenge pour le Leadership Exceptionnel récompense les efforts de toutes les personnes qui contribuent à l'avancement de l'agenda de la paix dans le monde.
- Richie Lontulungu