The art competition "Paint for Peace" comes to an end, but the journey goes on!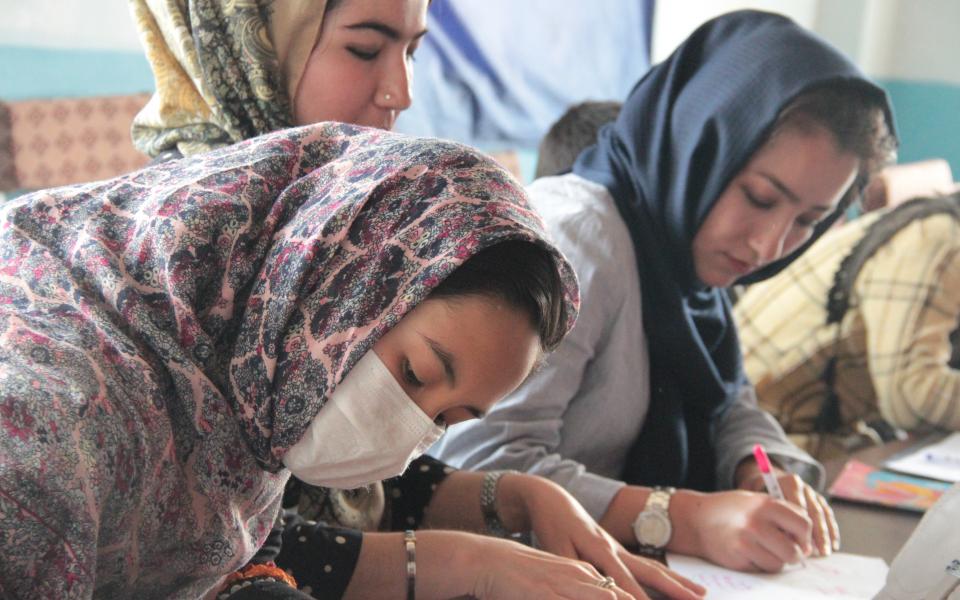 Traditionally, art and sports have been two major factors bringing different ethnic groups together in Afghanistan. Inspired by the idea of giving art a practical application, AYEPO conducted an art competition under the theme "Paint for Peace" in four schools of Kabul City. They encouraged the students to make paintings and drawings that not only conveyed their ideas and notions of peace, but also helped heal the wounds and promoted peace and social-harmony among students of different backgrounds.
The program began in May and ended on a beautiful afternoon as we held the "Paint for Peace" Final Event to highlight the artwork of 40 students who participated in the competition. The panel selected six winners of the competition from two categories: intermediate students (7th, 8th, and 9th grade) and senior students (10th, 11th, and 12th grade).
AYEPO was honored to award the students with prizes in the presence of honorable guests, teachers, students, parents, artists and people from many walks of life who were in the audience.
We announced the winners, presented certificates of participation with prizes, and heard from the students as they described the meaning and message of peace behind their paintings. 
It is exciting to say that the art competition was conducted by a young, all-female team. They not only achieved all expectations, but also eclipsed them. Sohaila Rezaee, who led the team, talked about the art competition process over the past two months and its impact. 
Through the art competition, we not only tried to promote peace and social harmony, but also aspired to help our young team improve leadership skills. We tried to encourage other like-minded organizations and individuals to take the initiative to kick off such programs that result in positive changes in their communities.
AYEPO founder and director Ahmad Shah Karimi spoke about the organization's vision and mission, highlighting AYEPO's programs and aspirations. He thanked the AYEPO team and United Religions Initiative for its support and for the wonderful gifts they sent for the students.
He also talked about the future plans of the organization to expand and spread the peace-building activities in other provinces of Afghanistan. One of our latest activities is "Peace Circle," which is an online initiative already underway in Kabul City. We will hold this program in other provinces of Afghanistan too. It promises to provide basic peace-building skills for school students and help them deal with their own problems in an effective way, and also to act as circle-keepers at their schools.
We will also have our leadership, soft skills and mediation training for youth and students, and we have many more programs which are in alignment with our mission and the mandates of URI.
Note: The Art Competition "Paint for Peace" was held and funded by AYEPO.
---
Click the yellow arrows to scroll through the photos in the slideshow below.