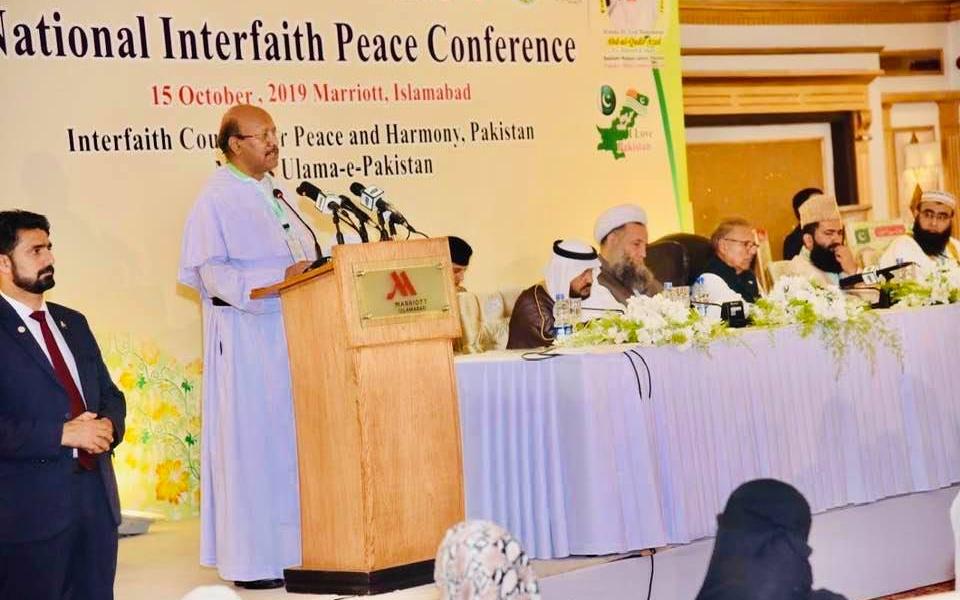 On 15th October, 2019, Interfaith Council for Peace and Harmony, Pakistan organized a National Interfaith Peace Conference with the collaboration of Federal Ministry Religious & Minorities Affairs Pakistan at Marriott Hotel, Islamabad. Religious scholars, representatives of Christians, Muslims, Hindus, Sikh communities, social activists, diplomats of various countries and people from different walks of life participated in the conference.
The host of the National Interfaith Peace Conference was Maulana Abdul Khabir Azad, Grand Imam, Royal Mosque, Lahore. Maulana Abdul Khabir Azad welcomed all participants and shared the objectives of the National Interfaith Peace Conference 2019. He said that Pakistan is a great country for interfaith harmony. It was his father who established the foundation of interfaith harmony in Pakistan and today it has become a global phenomenon. Maulana Azad said that Prime Minister Imran Khan has fulfilled his due right in representing millions of people of Pakistan and Kashmir.
"Religious minorities reflect the beauty of our country." - Fr. James Channan OP
Fr. James Channan OP, Director of Peace Center Lahore and Regional Coordinator for URI Pakistan, said, "I feel much honored to be invited for this conference. This conference is of prime importance during the times we are going through. Pakistan is a country of believers of different religions. Religious minorities reflect the beauty of our country. Such interfaith encounters offer opportunities to build bridges of respect, tolerance, compassion and acceptance among religions. Such encounters help to break the walls of violence, discrimination and non-acceptance of the other. It is wonderful to see that such kinds of conferences are being organized around the globe. I congratulate Maulana Abdul Khabir Azad for organizing this grand conference in Islamabad." He said that Maulana Abdul Khabir Azad is an international personality known for his great work of interfaith and Christian-Muslim dialogue in the country and around the world. He enjoys great respect among the people of all religions in Pakistan and around the globe. He is a model of harmony and peace among religions and cultures. He also played a very active role to solve the problems of minority Christians in Pakistan. "Both of us have gone to several countries and have participated in the interfaith dialogue conferences such as in USA, Brazil, Italy, Germany, Jordan, Qatar, Nepal, South Koreas and Japan and so on. I admire the efforts of our government, Your Excellency as President of Pakistan and H.E. Imran Khan, Prime Minister of Pakistan and armed forces and of course all people of Pakistan for the freedom of occupied Kashmir. I am sure with your able leadership, the decades-old issue of Kashmir will be solved soon and our brothers and sisters of Kashmir will see the dawn of freedom, the curfew will be lifted with mobile, land-line and resolution No. 47, presented on 21 April,1948."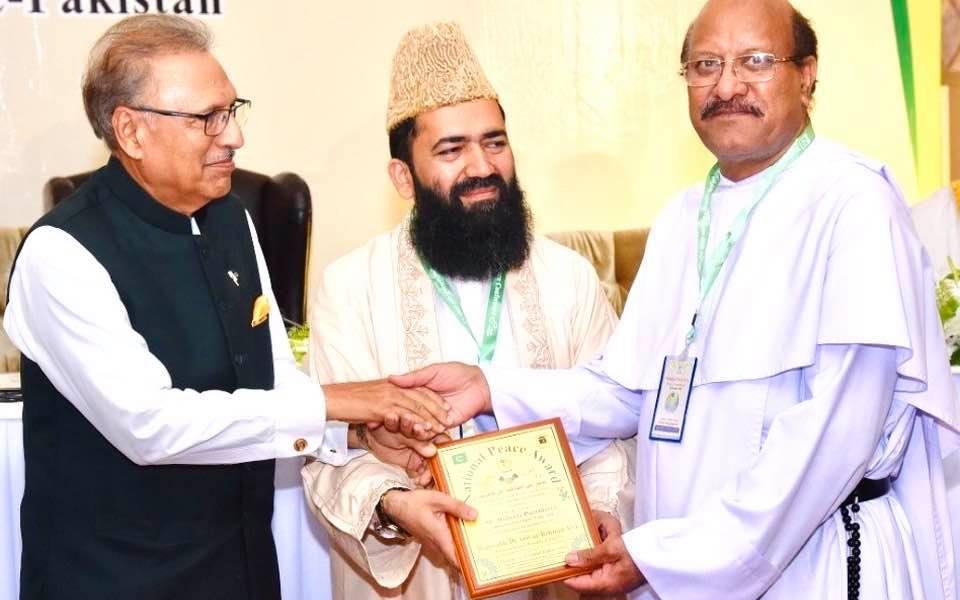 Your Excellency, in Pakistan efforts of interfaith and Christian-Muslim dialogue are bearing much fruit, but much more is needed. My recommendation is that we reject all forms of terrorism and radicalism, reject hate material and speeches, prohibit misuse of loudspeakers, and strongly recommend full participation of women in every field and full protection to minorities in following their religion and having freedom of religions and expression. It would be great if the Paigham-e-Pakistan is made a part of the curriculum of our schools and Maadris.
President of Pakistan Dr Arif-Ur-Rehman Alawi said that interfaith harmony has become the need of all nations. The world has shrunken to a bigger society. The role of interfaith harmony is of great importance for strong relations of the world nations. He said that there is a need for inter-religious harmony among nations and countries at an international level. He said that all minorities in Pakistan are fully protected through legal and constitutional rights. All minorities in Pakistan are safe. He said that the role of religious scholars is important for harmony, promoting peace and brotherhood in society. He said that, through their character, they can make a balanced and moderate society. President Pakistan Dr Arif-Ur-Rehman Alawi said that Pakistan is the land of equal opportunities for the followers of all religions where the people of all religions have the same rights and opportunities. He said, "Our forefathers had set the best examples of justice, tolerance and interfaith harmony." The present government also committed to protect the rights of religious minorities as equal citizens of Pakistan, he added. He said Prime Minister Imran Khan wanted to make Pakistan a social welfare state on the pattern of State of Madinah. He said the Pakistanis were a hospitable nation as they had embraced 3.5 million Afghan refugees open-heartedly and had been hosting for decades. On the other hand, European nations were closing their doors for migrants.
Dr Arif Alvi also appreciated the role of the Pope in denouncing the Western countries' behavior towards immigrants. Federal Minister for Religious Affairs Noor ul Haq Qadri said that today's program is very promising. Pakistan is a peaceful country where all religions are in harmony and it promotes religious harmony at all levels. He said that Islam gives great importance to tolerance and harmony. Our enemies want to disrupt our peace and unity. He said the constitution of Pakistan guarantees minorities rights. Representatives of various religions and sects, while speaking on the occasion, called for interfaith harmony and unity to promote sustainable peace in the country. Maulana Muhammad Abdul Khabir Azad, Archbishop of Lahore Sebastian Shah, Fr. James Channan OP, Hafiz Kazim Raza Naqvi, Roberto Barsoluso of Italy, Prof. Dr. Ahmad Darwaish, Iman Qasim Rasheed, Dr.Bishop Alexander John Malik, Sardar Janam Singh, and Pandit Cham Lal – The speakers called for the promotion of respect for religions among people for durable peace in society. They said dialogue among the religions were of prime importance. They said the presence of the people from all faiths at the event showed that they are united and would join hands to promote peace, tolerance and love for each other. Mr. Asher Nazir, Executive Secretary URI Pakistan, and Sr. Sabina Rifat, Coordinator URI Women Wing Pakistan, participated in the conference as URI Pakistan Regional staff.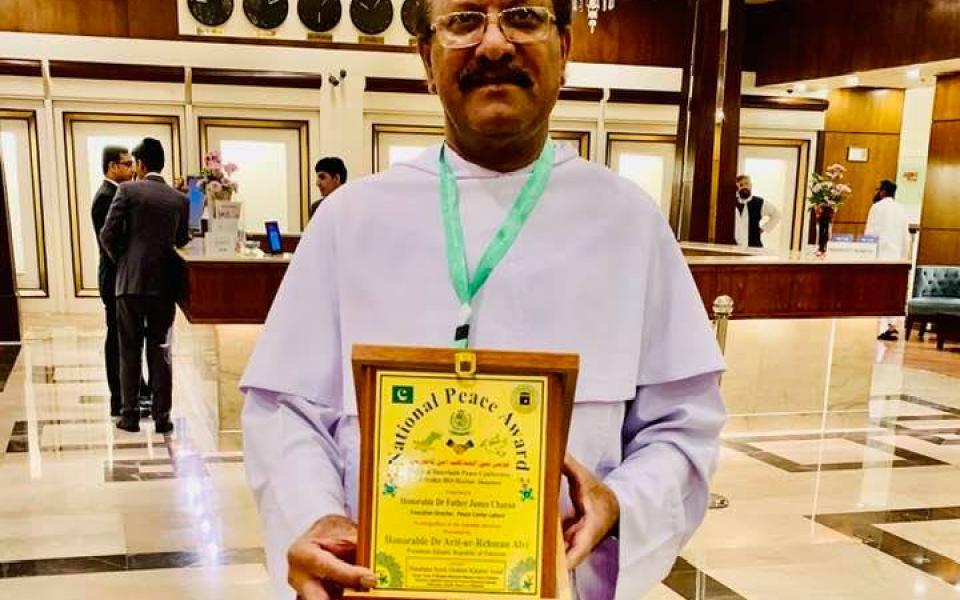 President of Pakistan Dr Arif-Ur-Rehman Alawi presented the National Peace Award 2019 to Fr. James Channan OP for his great services to promote peace and interfaith harmony among different religions in Pakistan. The President of Pakistan appreciated and congratulated Fr. James Channan OP for working to provide facility to people of different professions and age groups to come together for dialogue, which helps to remove discrimination, fundamentalism and extremism from our society.
Reported by:
Asher Nazir
Executive Secretary
URI Pakistan