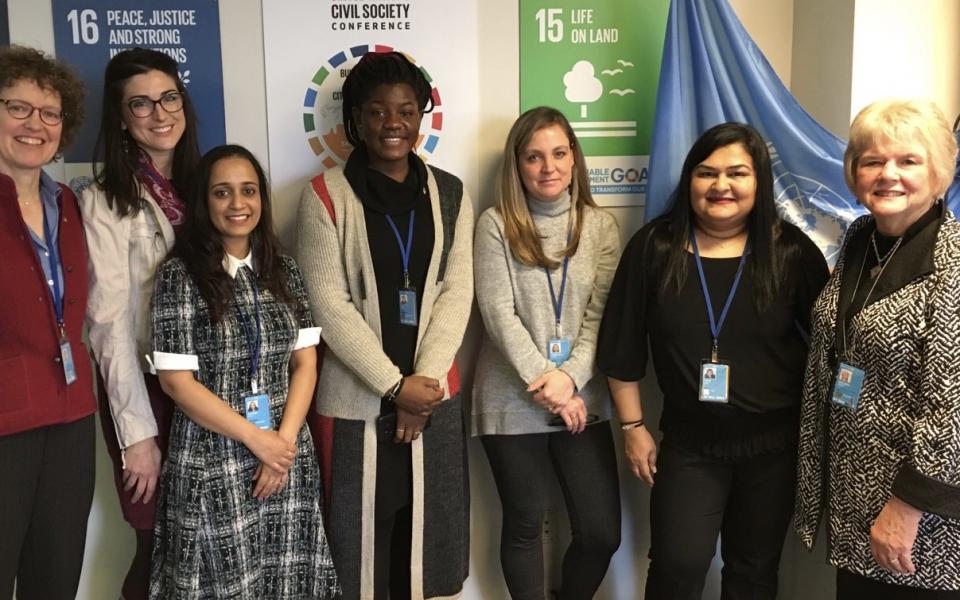 Three young leaders from across the United States participated in a two-day visit to the United Nations where they attended gatherings and met with leaders in the peacebuilding field. Participants from across the US and Canada applied to participate in the trip, which URI North America offers annually around the time of World Interfaith Harmony Week and is open to young leaders from US and Canadian Cooperation Circles who celebrated International Day of Peace the year before. 
Follow the links below to read reflections from each participant and keep scrolling to see a slideshow from the trip
Richa Sharma, Think Round Inc: "The vastness of the UN as an entity – the number of countries which are involved in day-to-day betterment of the world – is truly inspirational and how precisely every department is working towards achieving the SDGs at the larger level is motivational. Through the UN we now understand how organizations like us, at the grassroot level, relate to the UN, which works at global level."
Sanniyah Haye, Camp Anytown Las Vegas: "In the long term, I think that I have a greater understanding of importance that recognition and respect play in the process that the UN must uphold to make decisions on topics. By recognition I mean understanding another's full history -- acknowledging their pain, faults, triumphs, and success, and then using that to have a better idea of where another is coming from. So often, violence ensues, feuds arise, and ignorance is propelled forward because of a lack of these things."
Kendra Martinez, Arizona Interfaith Movement: "Perhaps the youth would feel empowered if we encouraged them to continue strengthening their skills in global dialogue. There are some very important lessons I've learned about dialogue and group dynamics which involve patience, consideration, and kindness. My organization, Arizona Interfaith Movement, models these three things constantly in the way they address conflict and plan. I saw the same pattern at the UN and with URI in every meeting that we participated in."