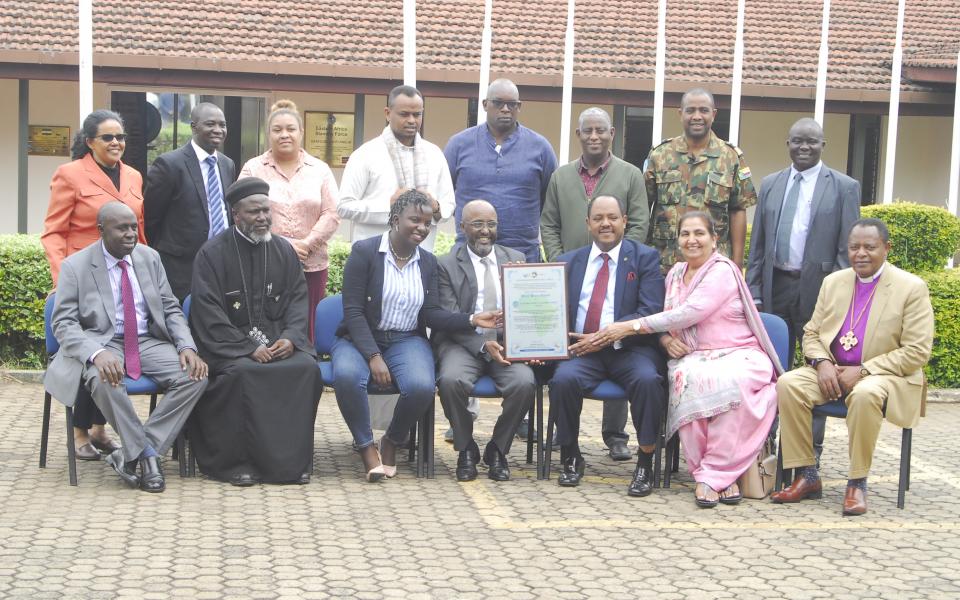 United Religions Initiative (URI)-Africa presented its prestigious Africa Peace Award to Eastern Africa Standby Force (EASF) on January 24, 2020 in Nairobi, Kenya.
During the handing-over ceremony of the award, Amb. Mussie Hailu, Regional Director of URI-Africa and Representative of URI to the African Union and UN, said, "It is indeed a great honor and pleasure to present the URI Africa Peace Award to EASF on behalf of 232 member organizations of URI from 31 Africa countries. The award is presented to EASF in appreciation, acknowledgement and recognition of the work of EASF in advancing and enhancing peace and security in the Eastern Africa region. The award is also in recognition of EASF's effort as one of the five regional multidimensional forces, consisting of military, police and civilian components, to provide the capability for rapid deployment of forces to carry out preventive deployment, rapid intervention, peace support/stability operations and peace enforcement in the region."  
URI-Africa established the Africa Peace Award in 2007 to recognize the committed and effective leadership exercise to bring sustainable peace, interfaith harmony, environmental protection, developments, democracy and good leadership on the African continent. The award celebrates, acknowledges and honors the accomplishments of individuals and organizations who have exhibited extraordinary leadership to build a culture of peace, environmental preservation, reconciliation and harmony among different religions and cultures, and bring positive change in people's lives.
The Africa Peace Award acknowledges and honors the recipients' outstanding contribution to the general well-being of the people of Africa and the world at large. The Award recognizes that leadership is exercised at every level and sector of society, and thus the Africa Peace Award seeks to recognize recipients from all walks of life.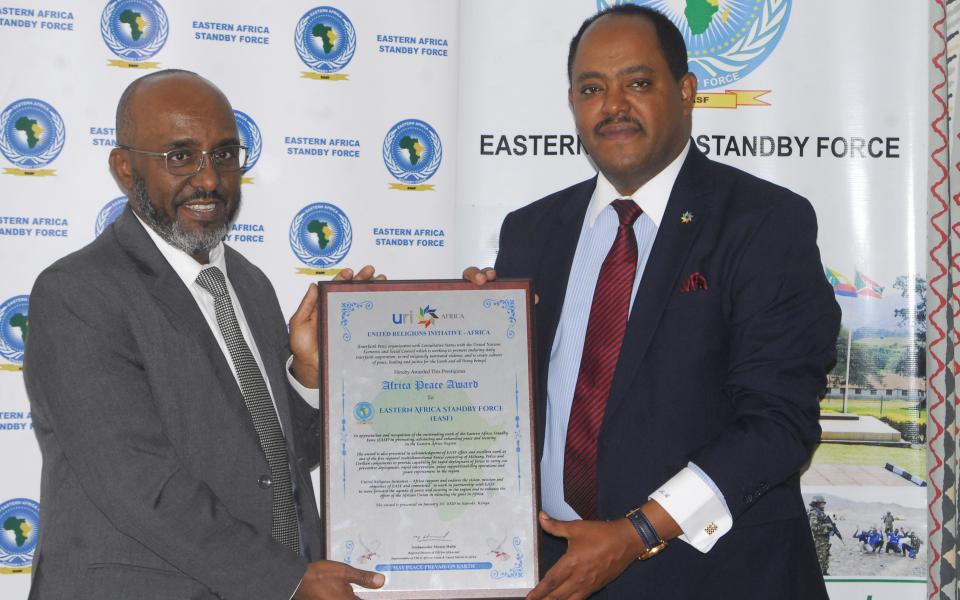 Some of the previous recipients of the Africa Peace Award include: Archbishop Desmond Tutu; the National Unity and Reconciliation Commission of Rwanda (NURC); Acholi Religious Leaders Peace Initiative (ARLPI) from Uganda; the UN Educational, Scientific and Cultural Organization (UNESCO); H.E. Dr. Ameenah Gurib-Fakim, former President of the Republic of Mauritius; Rotary International; Mother Theresa's Missionaries of Charity, H.E. Sir James Mancham, Founding President of the Republic of Seychelles. The Elders Council of Ethiopia, The Africa Union, The United Nations Economic Commission for Africa, UNFP, H.E. Girma Wolde-Giorgis, Former President of Ethiopia, H.E. Dr. Goodluck Jonathan, Former President of the Federal Republic of Nigeria, H.E. Mr. Ismaïl Omar Guelleh, President of the Republic of Djibouti., Intergovernmental Authority on Development (IGAD) and African First Ladies Association against HIV/AIDS. 
URI is an interfaith organization with Consultative Status with the United Nations Economic and Social Council and it is working to promote enduring daily interfaith cooperation, to end religiously-motivated violence, and to create cultures of peace, healing and justice for the Earth and all living beings.
 URI-Africa has signed partnership agreements with AU, IGAD, Regional Centre on Small Arms (RECSA), African Media Initiative (AMI), UNEP, UNFPA and many other organizations. URI-Africa is cultivating peaceful coexistence among different religions and cultures by engaging people to bridge religious and cultural differences and work together for the good of their communities and their environment.
URI-Africa is working in partnership with the African Union Commission and other sub-regional organizations in addressing the issue of countering violent extremism, curving the problem of hate speech, xenophobia and radicalization, promoting peace, security, environmental protection, and climate change solutions, and popularizing Agenda 2063 and UN Sustainable Development Goals. 
May Peace Prevail on Earth.
Amb. Mussie Hailu
Director of Global Partnership & Representative at the UN and 
Africa Union and Regional Director for Africa
United Religions Initiative