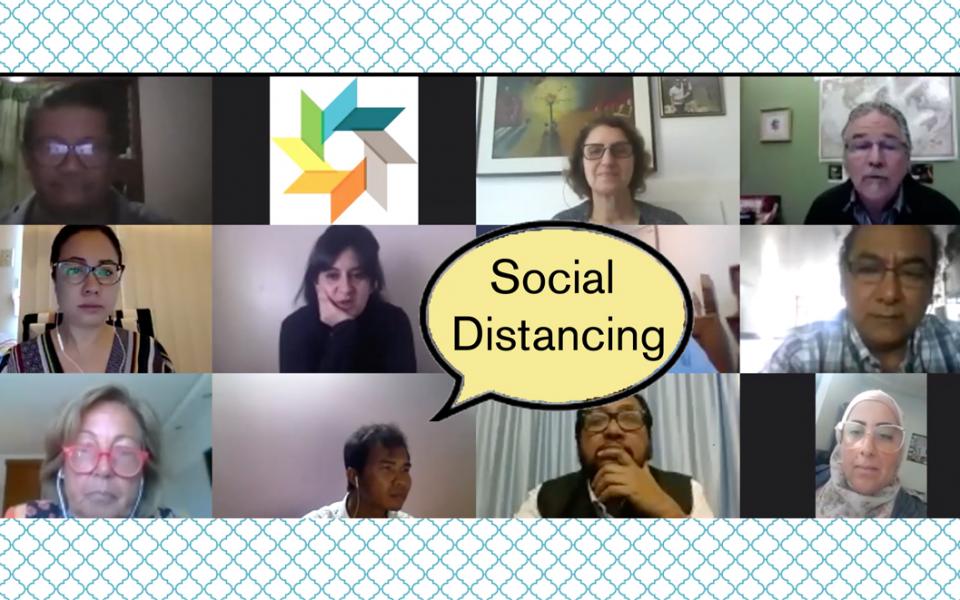 During a meditation I was listening to last night offered by the Spirit Rock Buddhist Meditation Center near San Francisco, California USA, Jai Uttal, (dear friend, extraordinary teacher and soulful Kirtan artist) said that he was not happy with the phrase "social distancing", but rather preferred "physical distancing and soul connecting".  I love that. The world's wisdom traditions all teach that there is a spiritual connectedness among all people that transcends our physical bodies. Many traditions, and especially the Indigenous traditions of the world, teach that this web of energetic interconnectedness extends to all living things, and that the natural world, in all of its biodiversity, provides us with a model for unity amidst the separateness of our individuality.
The word "unite" is defined as follows:  
u·nite

/yo͞oˈnīt/

verb

come or bring together for a common purpose or action.
Often when we use the word "unite" to refer to people, we envision a physical as well as spiritual coming together. We think of uniting as involving gathering in person, face-to-face – an embodied community, at work or worship, in relationships or at rallies, at protest or play. As such, our sense of uniting often becomes tied to physical proximity.
At a time when the human community is being challenged to find unity, as extremists fan the flames of division, and when humanity as a whole has become dangerously alienated from the Earth that sustains us, the COVID19 pandemic and the "social distancing" required has further challenged our sense of unity.
And yet, from the cloud of fear, anxiety, illness, and death that has descended upon our world, requiring us to be in places of physical isolation, a deeper truth has begun to emerge - the truth of the power of soul connecting.
On balconies in Italy, India, Japan, South Korea, and Spain, "isolated" individuals have stepped out through the sharing of music, closing the distance between them, connecting soul-to-soul. Musicians, dancers, poets and photographers forced to shelter in their homes are using virtual spaces to express the beauty and hope that flows from one soul to another. Congregations are broadcasting their services, as people experience the possibilities of soulful connection unencumbered by physical distraction. In neighborhoods and villages, people who in their physical lives have never met are offering food and medicine to "strangers," transforming them into soul friends. And courageous first responders and health care professionals, are once again putting their lives at risk as they respond to those who are the most vulnerable souls in our societies.
At URI, our Charter calls us to be interdependent people of all beliefs who unite for the benefit of our Earth Community. The Charter reads…
We unite to build cultures of peace and justice.
We unite to heal and protect the Earth.
We unite to build safe places for conflict resolution, healing and reconciliation.
We unite to support freedom of religion and spiritual expression, and the rights of all individuals and peoples as set forth in international law.
We unite in responsible cooperative action to bring the wisdom and values of our religions, spiritual expressions and indigenous traditions to bear on the economic, environmental, political and social challenges facing our Earth community.
We unite to provide a global opportunity for participation by all people, especially by those whose voices are not often heard.
We unite to celebrate the joy of blessings and the light of wisdom in both movement and stillness.
We unite to use our combined resources only for nonviolent, compassionate action, to awaken to our deepest truths, and to manifest love and justice among all life in our Earth community.
There is nothing in the Charter that indicates that this uniting requires physical interaction. While the power of being in each other's physical presence is an extraordinary way of being present with one another, it is just one way.
When I was a child, I was amazed by my uncle Bob. Bob was deaf since birth. Like so many whose physical abilities are "impaired," his other senses became more developed. In his case, particularly his sight. Bob became a brilliant photographer, seeing the dance of light and shadow in ways mostly unavailable to the "ordinary" eye. 
And so as our ability to be physically present with one another outside of our places of shelter is impaired for a while, may we allow our other methods of connecting to grow. And in particular, may we find ways to unite with one another, to come together for common purpose, using the vast array of means of compassion and creativity available to us beyond physical togetherness. I am not just talking about social media (as wonderful as that is in this time of physical distancing). May we use all powers of connecting soul-to-soul and person-to-planet available to us. For some this may be prayer, meditation or reflection. For others it may be connecting by voice or video to those known to us, or by sending a song or picture into the virtual space in hopes that it may touch another perhaps never to be known. And we may discover power of soul connecting unknown before this very moment.
In the words of our beloved sister Sally Mahé, "As the world map shows an increase of the virus day-to-day, may the URI's map show an increase of cooperation, compassion and creativity day-to-day." In our physical distancing, may we practice soul connecting and in the words of our Charter, "Let us unite to use our combined resources only for nonviolent, compassionate action, to awaken to our deepest truths, and to manifest love and justice among all life in our Earth community."
May peace be with you…
Victor