During a recent trip to the United Nations sponsored by URI North America, Kendra Martinez reflected on the crucial role of global dialogue and the importance of hearing youth.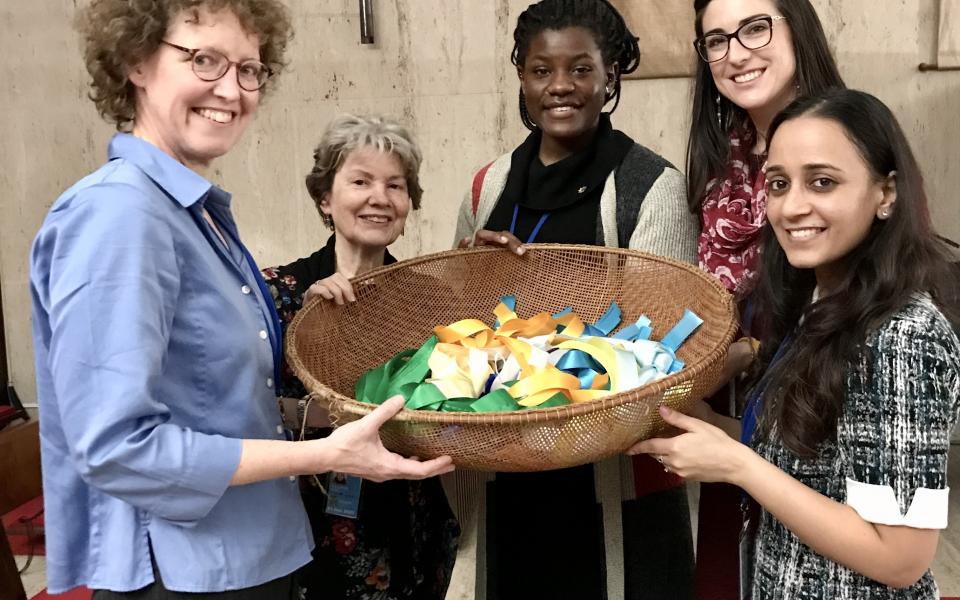 Dear URI and Global Family of Grassroot Organizations and Efforts,
I had the honor of being selected as a representative of Arizona Interfaith Movement for the UN World Harmony Week experience. This was made possible by the efforts and outreach of URI, an organization dedicated to building bridges amongst grassroot organizations.
I'd like to reflect briefly on a few simple moments during the trip that opened my eyes to greater understanding and growth. For the duration of our trip, there were four of us, Alice, Richa, Sanniyah and myself. We spent each day together and even took a trip to the grocery store. Each of us had our food preferences and ideas about what to buy, some were more vocal than others. Our group went to great efforts to assure that each person was heard, and their requests honored. These simple inclusive efforts carried through the entirety of the trip, all the way to the last day when each of us had desire to do something special. We honored each person's desire and gratefully were able to do each, from getting a slice of NY pizza to hearing the singing waiters on Broadway. This opens my reflection about dialogue and group mentality, which I will share as illustrated in a simple sketch I made while participating in a UN discussion.
Participants from many faith groups were divided into small discussion groups. Mine was composed of 8 individuals, including Roman Catholic, Baha'i and the Christian faith group. Each person expressed them self eloquently and boldly on tough topics about gender equality. I could see the concern in their faces, with ebbs of frustration as they became passionate or disagreed with other members of the group. My role was note taker and I found it almost impossible to keep up with their thoughts as I recorded the group's sentiments. During a break, I suddenly saw in my mind's eye an image of an elephant being pieced together by strong, valuable individuals. Each individual bringing a piece to the elephant, all knowing what it should look like and working diligently in the efforts to build it.
I returned to the group and after a panel of speakers concluded their thoughts, we once again were encouraged to begin our group discussions. This time I was more confident in my skills as note taker and I was getting a flow for recording. However, it seemed like my mind was working in parallel fields. While note taking, I was also developing this image in my head about the efforts of the good people here at the UN. It was then that the topic shifted to the importance of the voices of our youth, hearing the youth and taking their ideas into consideration. The idea took breath for just a moment and then it shifted back to certain complications in making things happen within a global organization. That's when I saw in my mind, a group of strongminded, young individuals on the horizon, coming to share the message: a real elephant IS here.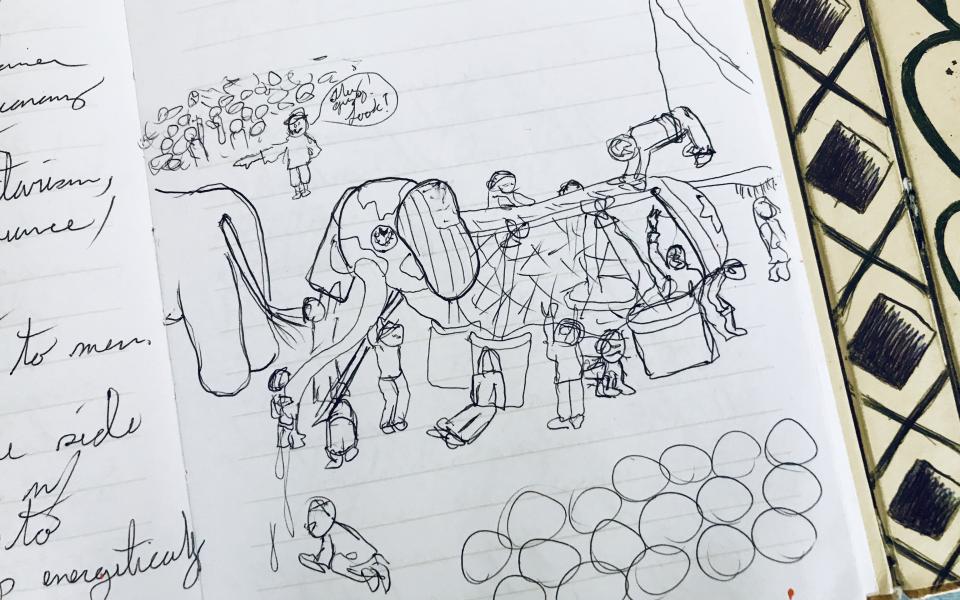 At this point I had to sketch it. I was laughing to myself about the concept but ironically it was time to pause group discussions, so it felt like I should draw it. (Note: I claim to be no great artist). After drawing this sketch, I shared it with a few of the others who then shared their interpretations of it. They seemed to resonate with the image, and I was kind of taken back that my sketch could relay a message. It's a gift to me to see how others respond to my art, positive or not. In my own simple way, I had accomplished creating a moment of pause, connection and introspection with a few members of my group at the UN through an original image. What I offer here is an additional version of that sketch, with added color and emphasis. Note the absence of skin color. I believe it carries a message about global dialogue and the importance of hearing our youth.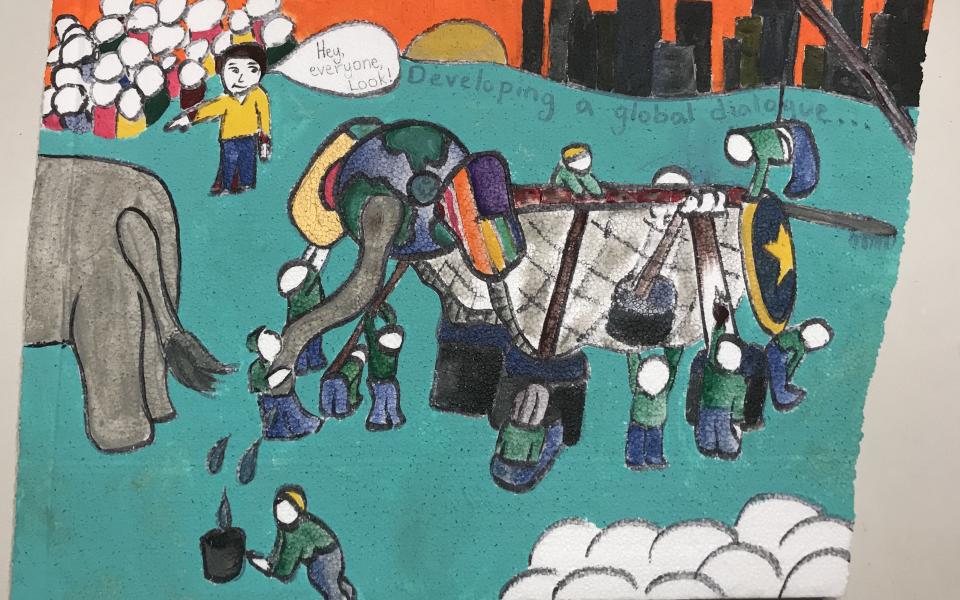 A few times during the UN trip, we were asked to talk about the organizations that we represent with a 2-minute elevator speech of sorts. This solidified the importance of sharing because for me, each time my colleagues shared about their organizations, I learned something new and reflected inwardly. I feel the more we dialogue and have civil conversation; the more understanding is cultivated, and new things can come into creation. Maybe, just maybe, the young generations have a message as simple as, "Hey, everyone, Look!"…an elephant.
Perhaps the youth would feel empowered if we encouraged them to continue strengthening their skills in global dialogue. There are some very important lessons I've learned about dialogue and group dynamics which involve patience, consideration, and kindness. My organization, Arizona Interfaith Movement, models these three things constantly in the way they address conflict and plan. I saw the same pattern at the UN and with URI in every meeting that we participated in. Things may move slower in a group, but they get done thoroughly and effectively. In meetings, each person has the right to be heard and anything that cannot be addressed immediately is moved to be addressed at the next meeting. I think this is a global pattern. Patience is also required in putting your own ideas on hold at times. It's not all about you, it's about us. Together we go farther and build higher.
My heart goes out to the amazing human beings that so diligently show up to work at the UN in a global effort that is endless. The organs of the UN are immense with so many tiers of involvement that could make one's mind go into overload (which mine did). With that in mind, the suggestion of my art isn't that what is being done is pointless, but perhaps the work has been a prelude to what has now arrived, a new generation of thinkers.
To wrap up my thoughts, I want to thank URI for the amazing experience to represent not only my organization, AZIFM but you as well. One thing that unites us at Arizona Interfaith Movement is our dedication and commitment to living the Golden Rule. As a result of this trip, I am further committed to global dialogue and empowering youth through the Golden Rule.
Forever changed.
Kendra Ruth Martinez, AGREE Development/School Liaison, www.goldenruleeducation.org
Blog: www.theworldsagoldmine.gold
_____
Click here to read reflections from other trip participants.