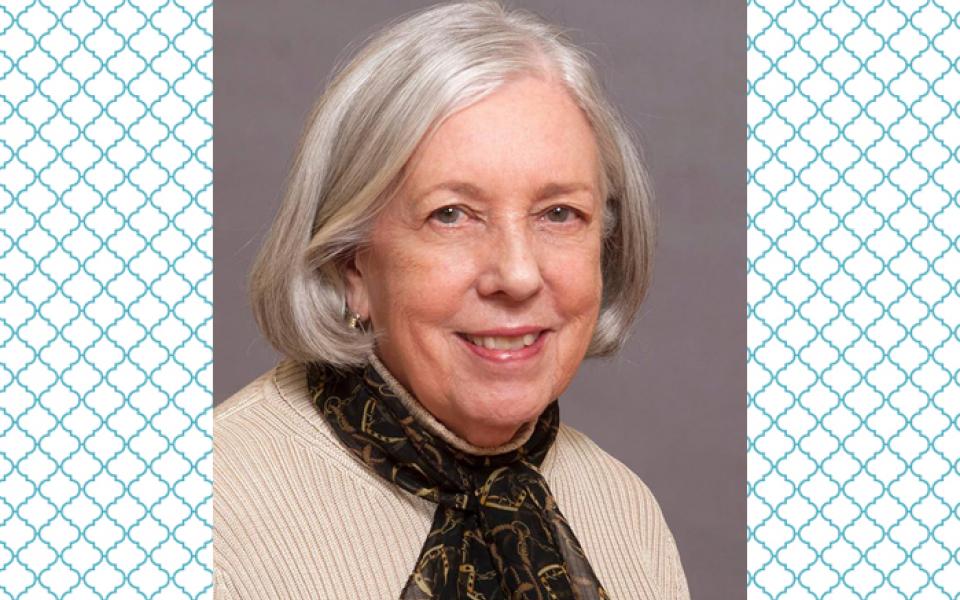 Margaret Gill, steadfast and thoughtful URI supporter and member of the URI President's Council, passed away on Friday, April 17.  Her keen perspective and her wit will be missed by all. The Rt. Rev. William E. Swing, URI Founder and President, shares the following words about her life.
---
Remembering Margaret Gill
by The Rt. Rev. William E. Swing
URI Founder and President
MARGARET WHO WORSHIPPED
Back in the early 1980's, I visited Trinity Parish in Menlo Park and was invited to lunch by a vestry member, Margaret Gill. That lunch was foundational in our friendship, and everything that happened after that followed from my first impression. Here was someone who was a loyal church person who took the life of faith seriously, who cared about human conditions in the wider world, and who brought a keen mind and an expansive heart to the issues at hand. For almost 40 years after that lunch, Margaret and I were involved with numerous adventures of the spirit and challenges in the real world. And they all rested upon Margaret as a woman of faith.
"Worship the Lord in the beauty of holiness…" (Psalm 96:9)
This was a deep part of her devotional life, and it was most keenly expressed in her love of church music. That is why she and Steve ventured to Cambridge University to listen to the Choir of King's College as Christmas approached.
MARGARET WHO CARED
When the Episcopal Diocese of California began housing hundreds of homeless people each night, when our hospital was in dire circumstance, when we needed to build facilities for Hispanic immigrants, and much more, it was necessary for the Diocese to bring all of these concerns under the umbrella of the newly created Episcopal Charities. At that critical moment, I turned to Margaret and asked her to Chair the Episcopal Charites. As she always did, she accepted the challenge.
When the Diocese of California was pioneering new ministries and facing serious pushback, I needed someone with a steady hand to Chair the Board of the Diocesan Directors. Again, I turned to Margaret and again, she stepped up.
Later on, when the United Religions Initiative was expanded to all corners of the world, I needed to create a President's Council to provide wisdom and institutional experience. Among the first people whom I approached was Margaret. She took all of the people of all of the religions to heart, and she served till the day she died.
MARGARET THE PILGRIM
She was a global adventurer. When I retired, she nudged me to lead pilgrimages around the world. Which I did (who says "no" to Margaret?) First off was Jerusalem in 2007, and of course it had to happen during Holy Week – Palm Sunday to Easter Sunday. Surrounded by some of her closest friends, we went to the Galilee, Nazareth, Al-Aksa Mosque, the Holy Sepulcher, the Western (Wailing) Wall, floated in the Dead Sea, washed feet, took Holy Communion at the time of the Last Supper, and had devotions every morning – including singing hymns appropriate for the day. (The funniest moment was when an elderly Armenian bishop was reminiscing about the good old days when the Armenian compound was full of nuns and seminarians. Then he said, "When we got washing machines, we didn't need nuns." Imagine saying that in front of Margaret and Mary Cranston and Susan Harnden? (Connie and Biff Barnard recapped all of this in a beautiful album.)
In 2011, we all took off to retrace some of the travels of St. Paul through Turkey, and each morning during devotions we sang, "O God of power, be with us, for in time of distress, we have no other than you" (an ancient Melkite tune). The highlight of the trip was a private audience with His All Holiness, Bartholomew, Ecumenical Patriarch of the Orthodox Church. (While I write this, I am looking at a great picture of Margaret, dressed in a blue jacket and a pleasant, pensive smile, and Bartholomew.)
Finally, in 2014, all of us pilgrims took off for a Celtic Pilgrimage through Ireland, Scotland, and England, visiting such places as Lindisfarne, Durham Cathedral, the Island of Iona, and Armagh while singing Celtic hymns as we traveled. (Susan Harnden created a stunning pictorial of our journey.)
My first diary of the pilgrimages began with these words:
"This pilgrimage was the inspiration of my good friend, Margaret Gill."
Good friend, as you enter upon the great and final pilgrimage of your life, may you now rest in the mercies of God and be filled with the power of Jesus' resurrection.
---
Mary Cranston, URI President's Council Member and one of Margaret's loyal friends, wrote "Memories of Margaret."
Please click the PDF link below to read these reflections.