Peace, faith, and solidarity are larger than the COVID-19 pandemic.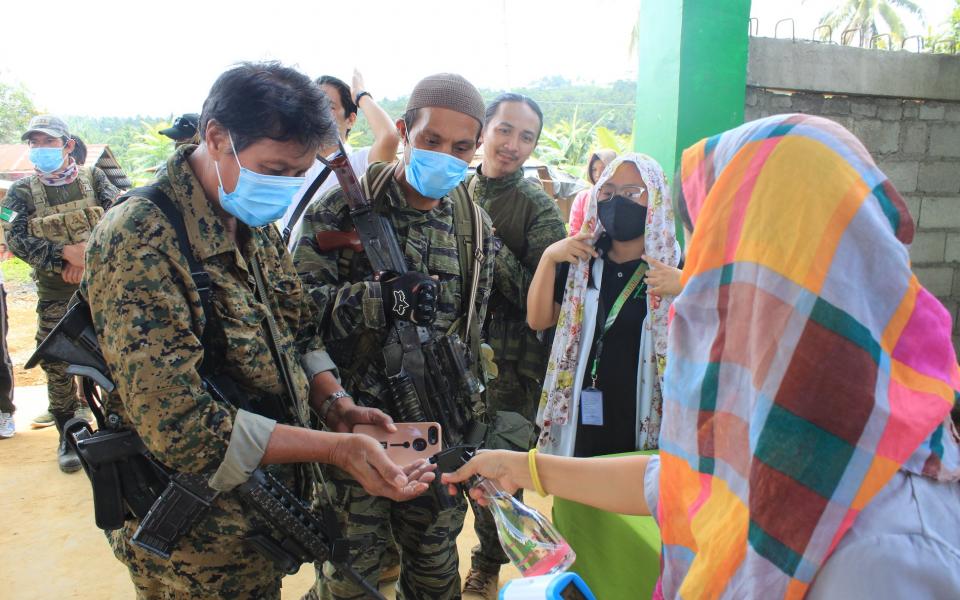 Observing the minimum health protocols and social distancing, Pakigdait Inc. (a URI member group in the Philippines), through its Project PeaceConnect by The Asia Foundation (TAF) and in partnership with Center For Humanitarian Dialogue, VSO Philippines and Nonviolent Peaceforce – Lanao Field Team and the 2Nd Mechanized Brigade Philippine Army, conducted its heartwarming traditional "Duyog Ramadan". It was held for the first time in the Moro Islamic Liberation Front (MILF)'s North-Western Mindanao Front - Camp Bilal, Kurakura, Pangao, Munai, Lanao del Norte and as a breakthrough event, was joined by two Bishops, Priests. Pastor, Community and CSO Leaders.
Abdullah Goldiano "Commander Bravo" Macapaar, a Front Commander and now also a member of the Parliament of the Bangsamoro Transition Authority (BTA) of the Bangsamoro Autonomous Region in Muslim Mindanao (BARMM), together with his field commanders, warmly welcomed Bishops Edwin A. De La Peña, MSP, D.D. of the Prelature of St. Mary's in Marawi City and Stephen Living Villaester of the Anglican Church. The priests and pastor with them are Father Ramon Torres, Vicar General of the Prelature of Saint Mary's of Marawi, Father Jualito Araña of Philippine Independent Church and Pastor Ronnie Cagula of Vineyard Fellowship Church. Community and civil society organizations leaders were led by Musa Mohamad Sanguila, URI Regional Coordinator, and Ustadz Abdulkarim Ambor of Municipal Interfaith Councils from six municipalities of Project PeaceConnect in Lanao del Norte.
In return, the visiting religious and CSO leaders gave MP Macapaar baskets of fruits and dates. Pakigdait also donated facemasks, alcohol, and a Body Infrared Thermometer Temperature Gun for the MILF entrance checkpoint.
Col Charlemagne F. Batayola Jr., Deputy Brigade Commander of the 2nd Mechanized Brigade, Philippine Army delivered the message of solidarity of Brigadier General Facundo O. Palafox IV, Brigade Commander of 2nd Mechanized Brigade, Philippine Army for the activity.
Despite conflict and COVID-19, we dare to unite to bond differences between beliefs, cultures, and faiths to create a cohesive community that would mitigate the escalation of horizontal conflicts and the spread of the pandemic.
The interactive activity ended very cheerfully with friendship and the partaking of Meranao cuisine shared in the colorful table by all.
See more details in the Facebook post.