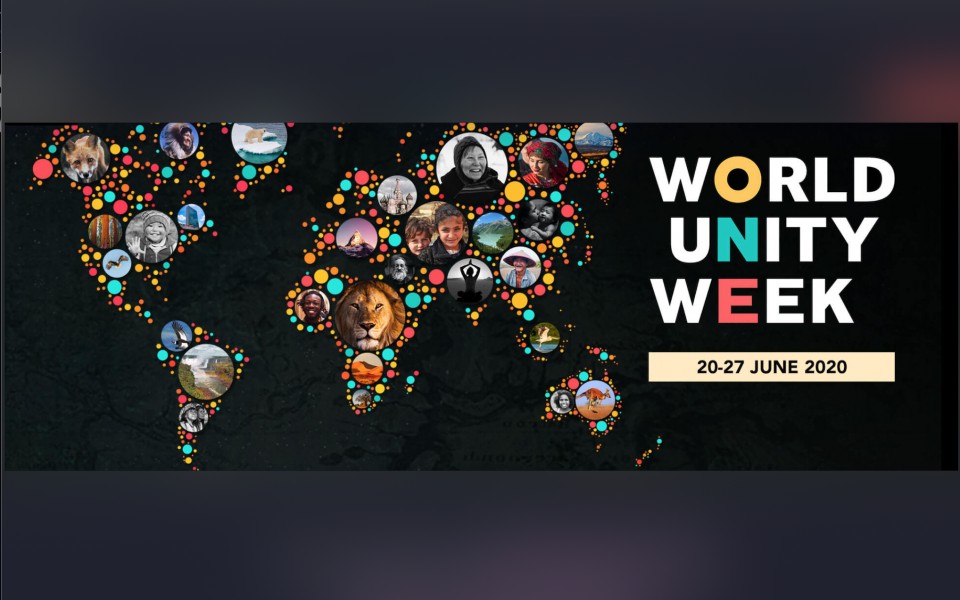 URI is very excited to be a partner in World Unity Week!   
June 20 to 27, 2020
And we hope that you will can get involved!
You can...
Register as a participant in hundreds of activities 
Offer a program, workshop, performance or other activity
Join the broadcast of URI's 20th anniversary on June 25th and 26th
Join the URI/UN celebration of the UN's 75th Anniversary on June 27th 
World UNITY Week is a 8-day celebration of our global unity, beginning with the mid-year solstice and winding towards the celebrations of the UN 75th anniversary. Key events include the UN International Day of Yoga, the launch of Purpose Earth and 5 days of "open space" offerings.
Key conversations during World UNITY Week will spotlight topics such as: collective climate action, partnerships for peace, global governance, interfaith harmony, sustainable and regenerative development, the role of business and economics, human rights, disarmament and other key elements of a new kind of future that we want to create.
A Call for Programing
World UNITY Week: a constellation of events, gatherings, broadcasts and performances.
 
June 20: The opening weekend of June 20 & 21 is the mid-year solstice, summer in the northern hemisphere and winter in the south. The solstice has since ancient times been a time of celebration and connection to Nature and our place in the Cosmos. This day will honor ndigenous voices all around the world, as well as Global Days of Unity and finish with a Gaia Dance Party.

June 21: We will celebrate the U.N. International Day of Yoga, the launch of Purpose Earth

June 22-26: Open Space Sessions on all the themes, designed to connect and empower hundreds of groups around the world.

June 24: World UNITY Water Day ~ In the center of the World UNITY Week event, we unite around Water, honoring and celebrating Water as source, sustenance and UNIFIER of All Life.

June 25/26: The 20th Anniversary celebration of the United Religions Initiative will highlight interfaith harmony as a worldwide blessing for peace.
June 26/27th: We will join the United Nations in celebrating the 75th Anniversary celebration of the signing of the UN Charter (Signed June 26, 1945).