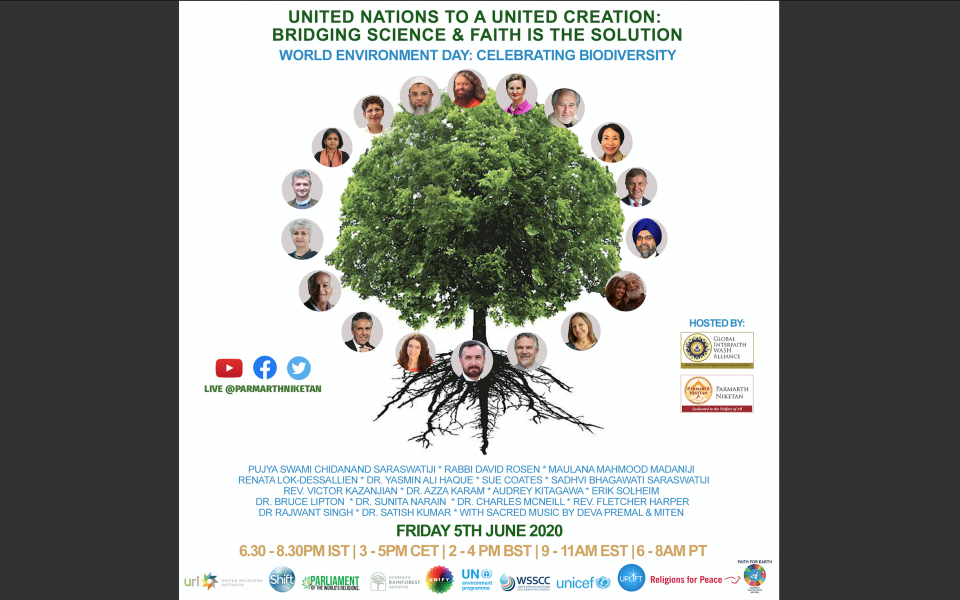 United Nations to a United Creation: Bridging Science and Faith is the Solution
Friday 5th June

6.30-8.30pm IST | 3-5pm CET | 2-4pm BST | 9-11am EDT | 6-8am PDT

LIVE @ParmarthNiketan Facebook | YouTube | Twitter

See the Facebook Event Group
To celebrate 'Biodiversity' on WORLD ENVIRONMENT DAY 2020, Parmarth Niketan and the Global Interfaith WASH Alliance (a URI member group) are bringing together leaders from the United Nations, Water Supply & Sanitation Collaborative Council (WSSCC) and other intergovernmental organisations, with revered faith leaders, heads of interfaith organizations and renowned scientists to discuss how, as we open from the Coronavirus lockdown, we can keep Mother Earth healthy while reinvigorating depressed economies and staying healthy ourselves.
Where is the intersection, in the world of the 'New Normal', between a healthy economy and a healthy environment? Mother Earth is now healing and it is essential that we recognize the crucial sacred and scientific importance of our planet's biodiversity and work to protect it. What can individuals do to make a difference?
Faith Leaders play an important role in directing cultural, social and political change in the world, especially in times of crisis. On World Environment Day, we will be asking scientists, leaders and experts to convey what messages they feel are most important to be conveyed and embodied by the faith leaders of the world today.
JOIN Pujya Swami Chidanand Saraswatiji - Muniji, Rabbi David Rosen, Maulana Mahmood Madaniji, Renata Lok-Dessallien, Yasmin Ali Haque, Sue Coates, Sadhvi Bhagawati Saraswatiji, Rev. Victor Kazanjian, Dr. Azza Karam, Audrey Kitagawa, Erik Solheim, Bruce H. Lipton, Ph.D, Charles McNeill, Rev. Fletcher Harper, Dr. Rajwant Singh - EcoSikh, National Sikh Campaign, Sunita Narain and Satish Kumar, with divine music by Deva Premal and Miten. 
In partnership with UNICEF, UN Environment Programme, Water Supply & Sanitation Collaborative Council (WSSCC), United Religions Initiative, Religions for Peace International, Parliament of the World's Religions, Interfaith Rainforest Initiative, Uplift Connect, Unify, The Shift Network and Faith for Earth.