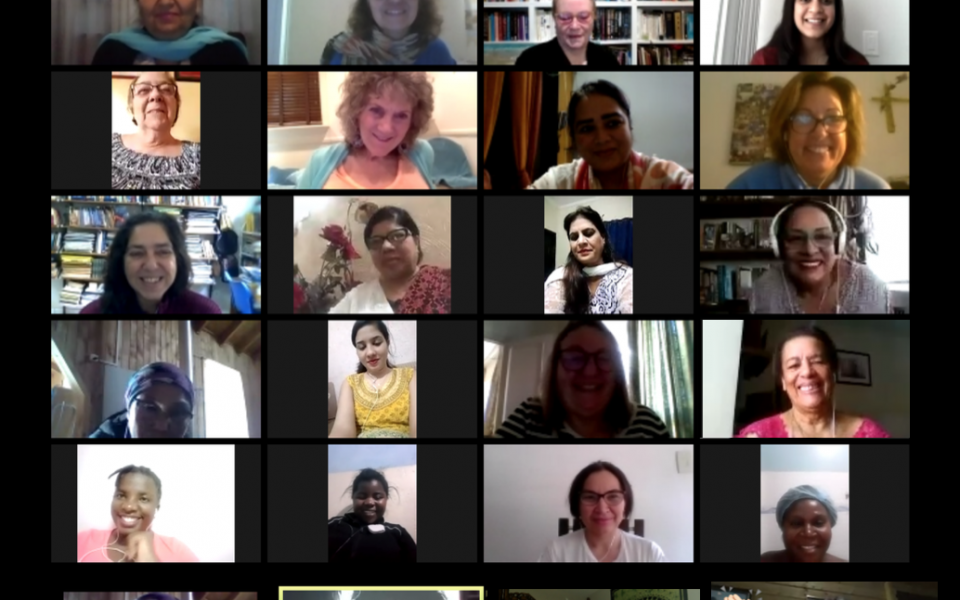 As the URI 20th anniversary began, the WIN URI CC (Women's Interfaith Network URI Cooperation Circle, or member group) held our anniversary celebration on Zoom.
Twenty-two women from North America, Europe, South America, East Asia, and Africa sent wishes of congratulations and blessings to URI for the 20th anniversary celebrations. These messages were delivered in English, Spanish, Portugese, Punjabi, Marathi, French, Urdu, Swahili, Mapuche, German, Chicewa, and two Ugandan tribal dialects -- while Elana Rozenman held two sparkling fountains aloft.
The occasion was a truly international celebration. Kenya, Brazil, Chile, San Francisco, Los Angeles, Argentina, Pakistan, India, Malawi, Chile, Uganda, Israel, Venezuela, and London were represented by the following URI members: Sande, Rattan, Salette, Sofia, Heidi, Richa, Celia, Ruth, Quttub, Sabina, Monica, Maria Eugenia, Andrea, Grace, Wambui, Isabel, Misha, Andreamaria, Tehmin, Enoe, Sarwat, Despina, and Elana.
"We gave URI the traditional Jewish blessing for 120 years, but Sabina extended it to 150 years and then 1000!"
The women shared with each other about what URI means to them and how it has influenced their lives. Some women focused on what URI has done for them and how it has transformed them. One said that, in URI, she has found her tribe.  Others shared about how URI has enabled them to do wonderful programs empowering women and girls.
"We were all inspired by each other and ended with a group hug and plans for the future."
The WIN URI CC looks forward to continuing this year-long URI celebration with everyone.
May URI go from strength to strength!
Blessings and love,
Elana, Despina and the WIN URI CC Women