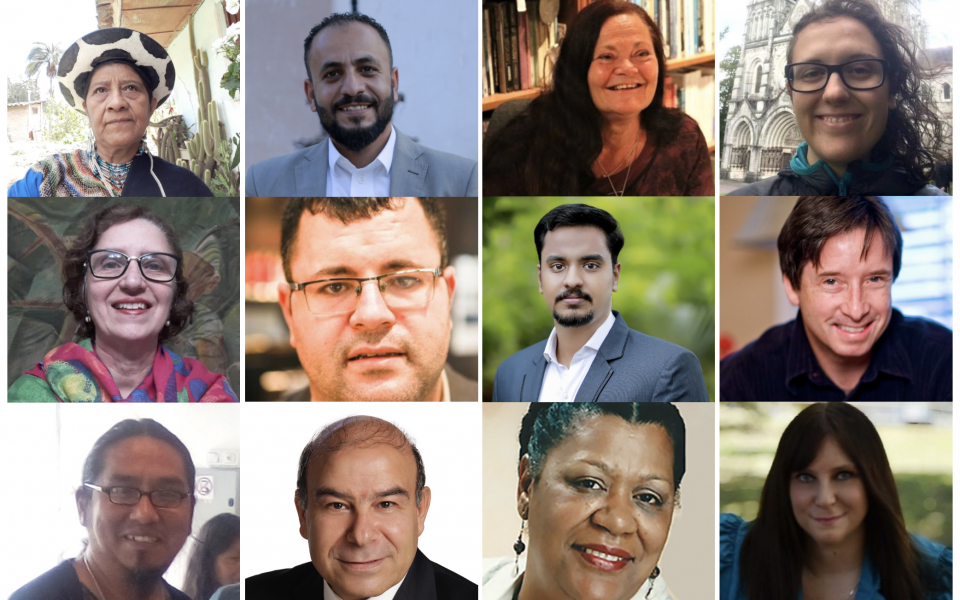 The Global Council is URI's governing board of directors. Global Council Trustees are democratically-elected by the URI member groups, called Cooperation Circles, around the world. The Trustees oversee the work of URI, offer direction, and provide leadership and strategic governance. 
Please give a warm welcome to URI's newest Trustees. These new representatives from Latin America and the Caribbean, the Middle East and North Africa, the URI Multiregion, and North America will join the Global Council as of September 2020, adding to the rich diversity of skills and experience in URI's global network.
---
MULTIREGION

Issac Thomas, India
Mr. Issac S. Thomas is a young leader from Kerala, India. He joined URI at the age of 13 and has been working amongst youth since then. Initially part of the South India Sri Lanka region, he was one of the first young leaders training program (YLP) candidate and later became the Youth Ambassador for the region. He founded Global Youth Movement (GYM) CC in 2017 and joined the Multiregion. Under his leadership, youngsters have grown and thrived as individuals and as a group concentrating on platforms like interfaith, intercultural and intergenerational dialogue, conflict resolution and reconciliation, women and youth empowerment, environmental protection and sustainable development, disarmament of nuclear weapons, advocacy for human rights etc. His vision, work ethics and ability to build bridges have kept him steadfast in his mission as a peace multiplier. He is also the coordinator of 'One Billion Youth for Peace' movement by Cosmic Community CC and an active member of the Youth Ministry of Malankara Mar Thoma Syrian Church. Outside of URI, being a Bachelor of Technology graduate in electronics and communication, he works as a Network Engineer in Doha, Qatar. He strongly believes that URI is a global family and sticks to the motto 'Think globally and act locally.'

Perri McCary, USA
Perri (P.K.) McCary is a Houston artist, educator, and social activist who works tirelessly to cultivate relationships across racial, gender, generational, and cultural aisles. P.K. is a founding member of URI, one of many individuals from diverse backgrounds and religions. She is the author of nine books, starting with her acclaimed Black Bible Chronicles series. Her current book, Hindsight2020?, was recently released this year. "Mama PK," as she is affectionately called, is the co-founder of Think Peace International, a communications media network for peace activists. She is a world traveler and believes that when we PRACTICE to do better, we GET BETTER.  

Morgana Sythove, Netherlands
Morgana Sythove, a Wiccan Elder, first became aware of URI in 2004 at the PWR/Parliament of the World's Religions in Barcelona but it was not until 2008 that she became involved with URI in the Netherlands. Since then, she has become involved in various CCs in Europe, North America, and South-East Asia. Her interest and passion for Earth Spirituality and environmental issues brought her into contact with many diverse people and cultures. As she became more involved with various grassroots projects she became more aware of the problems Indigenous people face and the many problems caused by pollution and monoculture, resulting in climate change. Morgana has been instrumental in the formation of the new Multi CC Planetary Wellbeing and, together with the URI Environmental Network CC and Spirituality and the Earth CC, has strengthened the bonds with many environmentalists and partner organizations such as Charter for Compassion in supporting grassroots initiatives.
---
NORTH AMERICA

Fred Fielding, USA
Mr. Fielding is an Episcopalian and a lifelong resident of the San Francisco Bay Area, and first discovered interfaith work as a seminary student. His background in television production has also translated into his interfaith work, supporting youth activists and use of digital technology to enable a deeper interfaith, inter-generational focus. He has produced videos and facilitated programs with youth and digital media as an entry to interfaith relationship building for URI, Partners in Peace, and Crop Walk SF. He is based in California, USA.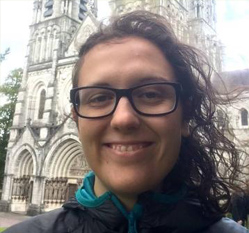 Valeria Vergani, Canada
Valeria Vergani is a graduate student in religious studies at the University of Toronto, where she focuses on the history and development of the interfaith movement in North America. She also works as Interfaith Coordinator for City in Focus Foundation, an interdenominational Christian foundation based in Vancouver, British Columbia. Originally from Italy, Valeria moved to Canada in 2012, to pursue her interest in interfaith action and cooperation.

Geneva Blackmer, USA
Geneva Blackmer is the current Program Director for The Interfaith Center at Miami University. She holds a B.A. in Religion and an M.A. in Religious Studies from Athens State University. She is a first-year interdisciplinary Ph.D. student in Theology at Amridge University. She serves as an At-Large Director for the Greater Kansas City Interfaith Council and an Administrative Director for the Interfaith Council of Southern Nevada. As an intern and historian for CRES, she helped found the Kansas City Interfaith History Project, in conjunction with her published thesis. She has previously worked with the Interfaith Council of Metropolitan Washington on Emergency Services Resource Outreach and the Parliament of the World's Religions on their Climate Commitments Project.  
---
MIDDLE EAST AND NORTH AFRICA

Naoufal El Hammoumi, Morocco
Mr. El Hammoumi started working with youth NGOs in Morocco when he was seven years old, and went on to found several national and international level initiatives focused on youth empowerment and engagement in peace tolerance. He is the president of the Young Peoples' Development NGO in Tiflet, the founder of Salam Shabab CC, and a founder-member of the Association of Arab Youths, the International League of Young Journalists, and the Arab Fund to Support Mobility for Young People. Selected as one of the top ten best young journalists in Morocco in 2003 by the Moroccan government, he is also regularly featured in the press and authors works on subjects pertinent to his activism. Through his work with Salam Shabab CC particularly, he hopes to contribute to establishing a harmonious society with people of different religions and an appreciation of this diversity of faith. He is based in Tiflet, Morocco.

Omar Tayeh, Jordan
Dr. Omar Ahmad Tayeh is from Amman, Jordan and has a Ph.D. in Educational Psychology with experiences in the private sector, public institutions, NGOs, and educational institutions. Dr. Tayeh is one of the founders of the Arab Council for Gifted and Talented, Jordanian Psychological Association and Jordanian Volunteer Center, and has worked as a general director for one of the biggest schools in Jordan, as well as the President of Private Schools Council. He has also established cultural exchange programs between Jordan and the USA, Germany, Italy, and other Arab countries. Dr. Tayeh is interested in subjects related to education, peace, cross-cultural Issues, human rights, and religions. 

Anwar Dahak, Yemen
Anwar Dahak is from Yemen and is head of the Youth of Peace organization. He works as an Investigative Journalist in ARIJ network and he graduated from the Faculty of Information in Sanna'a University's Public Relations program. Anwar is a member of the United Nations Volunteer Advisory Committee in Yemen, a trainer in the United Nations Volunteer Administration, a trainer in Active Citizenship for the British Council, and he has participated in many conferences worldwide as well. Anwar is the Founder of several youth initiatives that have served young people since 2011 and he believes that, in life, all the religions have one thread, which is peace. 
---
LATIN AMERICA AND THE CARIBBEAN

Salette Aquino, Brazil
Maria Salette Mayer de Aquino is from Brasília, Brazil. She was the bilingual secretary by Siemens from 1975 to 1985. With a Masters in Applied Linguistics, she worked as a professor at UNICAMP - State University of Campinas from 1988 to 2012, in the areas of German Language and Community Work (university extension), Collaborator in the Discipline of Art, Science and Society for a Culture of Peace, as well as Director of CEL - Language Teaching Center of UNICAMP from 2009 to 2011.
Salette has been a member of the United Religions Initiative (URI) since 2000 and is the co-founder of the URI Cooperation Circle in Campinas. She has served as a member of the URI Global Council since July 2016, and is now re-elected for 2020-2024. She is also a member of four URI Cooperation Circles in the Latin America region, including CC Brasília, Wisdom CC, WIN-CC and the CC of Latin American Musicians. Salette's areas of interest are interfaith cooperation, cultures of peace, disarmament, environment, Indigenous peoples, and the anti-racism struggle.

Rosa Delia Quizhpe Macas, Ecuador
Rosa Delia Quizhpe Macas, from Ecuador, is a teacher of primary education. She speaks Spanish and Kichwa, the language of the Indigenous people - Kichwa Saraguro. She has a Masters degree in Bilingual Education and is a member of the URI member group CC Samay. Rosa Delia shares her ideas for the URI Latin America and the Caribbean region:
"Start from a new dawn and persevere from the cleanliness and positive changes that we have experienced living in this time of the pandemic-coronavirus since March 2020, in which, the whole of humanity has put on the table the spiritual, material and economic aspect. Generate actions for the responsible care of the environment and good coexistence with the beings of Mother Earth, starting from each of its spaces. Strengthen harmony and peace for the world, starting from the person or from himself- the family, community - people and the world. Exercise and practice inter-religious coexistence, and in harmony achieve consensus for actions for the good of our represented [people]."

Francisco Morales, Argentina
Francisco Morales is Urban Indigenous member of the Aymara community in Argentina, and he is a social science student and writer on issues of Indigenous worldview and Latin American thinking. Francisco has been a part of URI since 2008, when he and others founded Comunidad Cosmica CC. He was selected as URI Youth Ambassador in 2010 and serves as a member of the URI Multiregion Leadership Team. He has been a part of the youth facilitators team since 2017.
Currently, Francisco is also advisor to different social organizations on issues of interreligious dialogue and diversity in conflict situations. He is a member of the First Nations of America Student Community - CEPNA. Together, with other Indigenous writers, Francisco founded the Circle of Indigenous Written and Oral Knowledge.