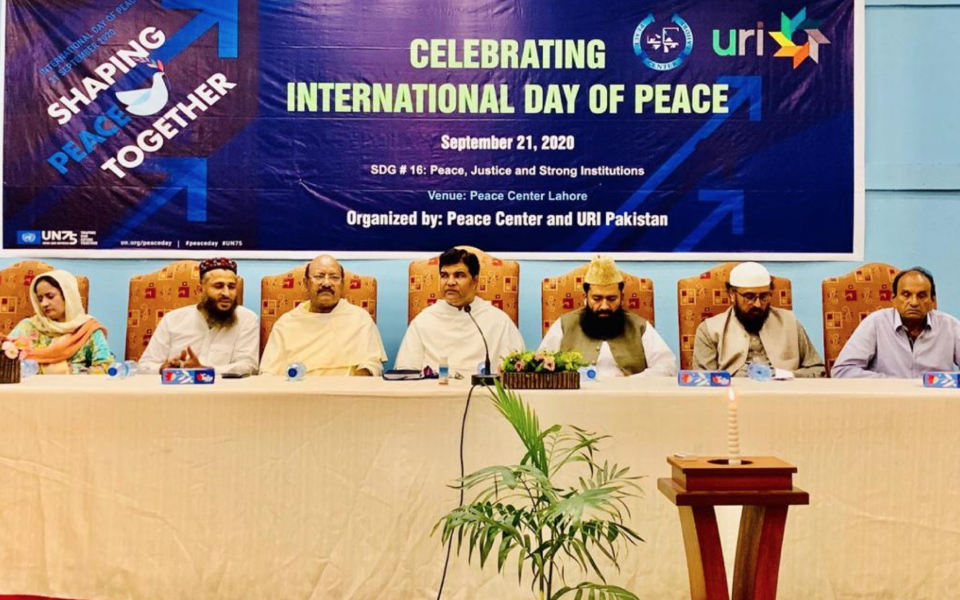 Peace Center and United Religions Initiative (URI) Pakistan organized the celebration of International Day of Peace on 20th September, 2020 at Peace Center, in Lahore, Pakistan. They invited around 70 religious leaders, promoters of interfaith harmony, and peace ambassadors who are all playing a positive role to bring peace and interfaith harmony to Pakistan and elsewhere.
"It is really wonderful that so many prominent personalities have come here under one roof to celebrate IDP and...devote their lives for mutual respect, peace and tolerance, and thus build the bridges of harmony, acceptance, love and tolerance, and thus break the walls of hatred, violence and disunity. We have to shape the peace together and never neglect our responsibilities in this noble cause."

      - Father James Channan O.P., URI Pakistan Coordinator
Fr. James Channan OP, Director of Peace Center and URI Regional Coordinator for Asia-Pakistan, hosted the program along with staff members including Sr. Sabina Rifat, Neelam Nisari, Asher Nazir, and Faisal Ilyas.
Fr. Younas Shahzad OP, Prior Vice Provincial, Ibn-e-Mariam Vice Province, Pakistan, presided over the event. Maulana Abdual Khabir Azad, Grand Imam and Khateeb, Badshahi Mosque, Lahore, was the Chief Guest.
Read details and see more photos from this remarkable celebration of peace by clicking the PDF link below.