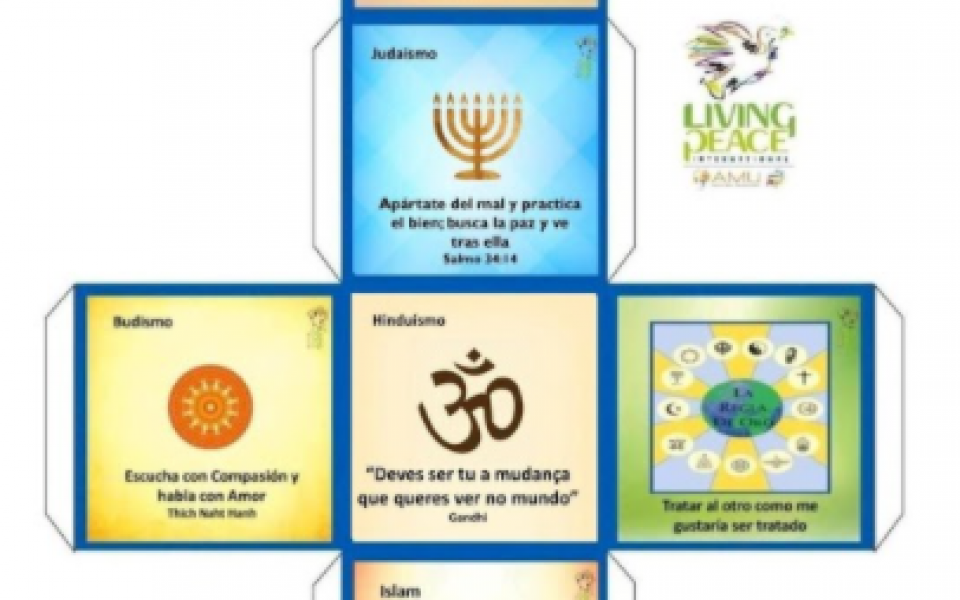 Living Peace International, the Interreligious Dialogue group and the Inter-Spiritual Fraternity CC cordially invite our brothers from the United Religions Initiative of the Latin American and Caribbean Region to the presentation of the Interreligious Peace Dice, with the purpose of sharing with you our proposal, looking forward to collaborating together.
The Interreligious Dice of Peace was born as a result of a fraternal dialogue between representatives of various Religions and spiritual Traditions, friends of the Focolare Movement in Mexico, who in May 2020 knows in depth the Living Peace project, committing to live with its global network this path of education to peace. Each phrase corresponds to a thought of the five traditions to which we belong: Buddhism, Islam, Hinduism, Judaism, Christianity.
We hope that this given is a way of building the culture of peace in interreligious dialogue. It is the result of a deep reflection on the values ​​that can generate it in us and in our communities.
The Peace Dice is one of the instruments of the Living Peace International peace education project that was born in Cairo in 2012 and today is present in more than 150 countries, involving more than a million children, adolescents, and young people. and adults.
The faces of the Dice have phrases that help build peaceful relationships between everyone. They are inspired by the points of the "Art of Love" that Chiara Lubich proposed to the members of the Focolare Movement and that she offered in a dice, to help young and old to live it daily.
"The Given is a playful, didactic and educational proposal (…) aimed at everyone: families, schools and groups (…). Its main goal is to promote positive relationships in the environments that adopt it, enhancing the pro-social capacities of children and adults. (Cf. Josep M.C.I. Arxer, The origins and history of the dice and the art of loving, Castel Gandolfo, 2017).
It is a useful pedagogical technique to develop the potential of each person, creating contexts of cooperative learning, based on the sharing and co-construction of knowledge.
The dice is rolled every morning -or with a certain frequency- and each one agrees to live the sentence that fell during the day and to share their own experiences, writing them, for example, in a Peace Diary, in a Chat with friends, or in a Mural with testimonies of peace in the hallways of the house / school / association.
The Die model can be adapted or personalized according to the culture, the religion to which one belongs, the age of the participants, etc., as long as it encourages a concrete experience of peace.
In the attached notebook of the Interreligious Dice of Peace, you will find the explanation of the phrases of the Interreligious Dice and some experiences of how to put its phrases into practice.