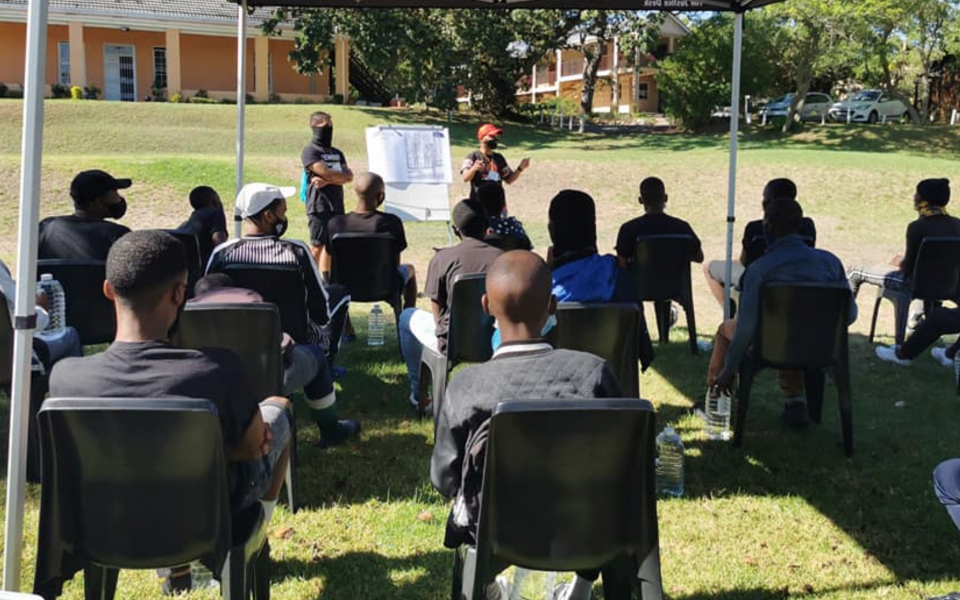 Newsletter from the Southern African Region 

A few words of welcome for our new Regional Coordinator for Southern Africa Region from Fr. John in Malawi.
I am so excited to have Nyasha as our new Regional Coordinator for United Religions Initiative. I was privileged to be one of the panellists during interviews. I was impressed by Nyasha's responses and also her experience. I am very optimistic that Nyasha will take the region to another level because of her knowledge and experience in working with the community. As a Trustee, I look forward to working with Nyasha. I am sure that soon will manage to have a face to face meeting with Nyasha here in Malawi or any other country in the region. Welcome to this vibrant region of United Regions Initiative. We are all very happy to have you in our URI family.

John Ngoma
URI Trustee
Southern African Region
---
The Regional Coordinator For Southern Africa
I am excited to join the URI team as Regional Coordinator of Southern Africa. My name is Nyasha Mukaratirwa and I am originally from Zimbabwe. I moved to South Africa 5 years ago and prior to joining URI I worked for a Regional organisation which worked in East and Southern Africa. I have worked and lived in 4 countries in Southern Africa region and due to the exposure in my last job I also have working knowledge of other countries in Southern Africa i.e. the challenges faced as well as the political and economic dynamics.
Due to this familiarity with the region as a whole, I regard any part of Southern Africa as home! I have dreams and prayers for the region. The opportunity I have been awarded by URI as Regional Coordinator will enable me to be part of the noble initiative of building peace and justice within the region. I look forward to working and meeting with different Cooperation circles. I am passionate about advocating for peace, justice and improving the livelihoods of grassroots people. I am looking forward to developing good relationships with each one of you as I believe synergy is the bedrock of a good team. Should you need support from me do not hesitate to contact me via email or WhatsApp.
What's Bubbling in our Region
Three young leaders from the Southern African region were selected to be a part of the 2021 Cohort Peace Practice Alliance hosted by Euphrates Institute. The Euphrates Institute is a CC based in North America and offers a 6-month programme exploring peace and peacebuilding at a personal, interpersonal, community and global level. Below the candidates selected for URI Southern Africa.
Ndiza Ngalawango - Lilongwe CC in Malawi
Ndiza has a Bachelor's degree in Education Science and she is currently a teacher at Dedza Girls Secondary School. She was introduced to peacebuilding during a training organized by URI on interfaith and intercultural capacity building in 2020. Since then, she has been focused on developing her community. For a complete bio use link.
Helder Malauene - COREM CC in Mozambique
Helder has vast experience with issues of youth and community participation in political, social, and cultural processes as well as gender equity, environmental protection, and HIV / AIDS issues. For a complete bio use link.
Imaad Abrahams - GOAL CC in South Africa
Imaad Abrahams has recently completed high school and he served as the Head Student and President of the Student Representative Council Governing Board of the high school he graduated from. Abrahams has a passion for politics, youth advocacy and women's reproductive health and plans to study law. For a complete bio use link.
The Justice Desk Programs for Youth
The Justice Desk is a Human Rights Organization that operates in South Africa, Zambia and Zimbabwe. The CC  is involved in many different projects that focus on providing training to the communities about Human Rights and how to use them to build a safer environment for everyone within the community. One of the projects is called Mbokodo programme (picture below left). the aim of this programme is to help young girls who are victims and survivors of Gender-Based Violence. The project focuses on female empowerment and the promotion of gender equality and it runs for a period of three years. Another program promoted by The Justice Desk is focused on helping young men to learn to challenge toxic masculinity, Gender Base Violence and promote equal rights and justice. The project name is Ntsika yeThemba (picture below right).
For more information about The Justice Desk amazing work please use link.
"Creating Your Future" Initiative to help the Youth Schaumberg Community
Jonas Khozais started the Creating Your Future initiative after being faced with the reality of his peers in the community of Schaumberg whereby many cannot access colleges or universities due to not having the funds to pay the fees and for academic challenges to pass their grades. Jonas approached Field of Dreams, an organization that partners with Parlament of People CC for many projects within the Community of Schaumberg in order to develop the Creating Your Future project to help the youth. The project aims to help them academically by tutoring those in need in order to pass their grades and help them develop soft skills to find jobs so that they can sustain themself. For more information or to support Creating Your Future initiative please use link.
CCs in Malawi Receive Three Planting Grant Sponsored by SAFCEI
A few of our Cooperation Circles in Malawi qualified for a grant from Southern African Faith Communities Environment Institute (SAFCEI) to plant trees. The project aims to green the areas in Malawi in order to promote soil fertility and reduce flooding which occurs along the small rivers. Below the CCs involved.

Nkhata Bay CC, is based in northern Malawi and will be planting 2000 non-fruits trees at Mpamba village, TA Timbili, Nkhata Bay.

Karonga Nthora CC is also based in northern Malawi and they will be planting 2100 in Nthora.

Wildlife and Natural Resources Conservation and Rehabilitation Trust (WNRCRT) CC is located in Dedza in Malawi and in collaboration with Lilongwe CC they will be planting 700 non-fruits trees. The trees will be planted along the Lilongwe river which is the main source of Lilongwe and Central region water board. 
SAFCEI also sponsored the Beekeeping Project presented by Nkhudzi Bay Utale Club (NBUC) based in Mangochin, Malawi. The project was launched last year aiming to support Girls not Brides campaign by providing free education, free books and teachers salaries so that young girls go back to school as well as to empower local women by making shoe and floor polish by using wax and making candles. Almost 51 girls were able to continue their studies by joining the initiative.

If you would like to get involved, feel free to contact Janet Lazimu on +265997323533 or Bertha Suman on +265996306066 or drop them an email at [email protected].