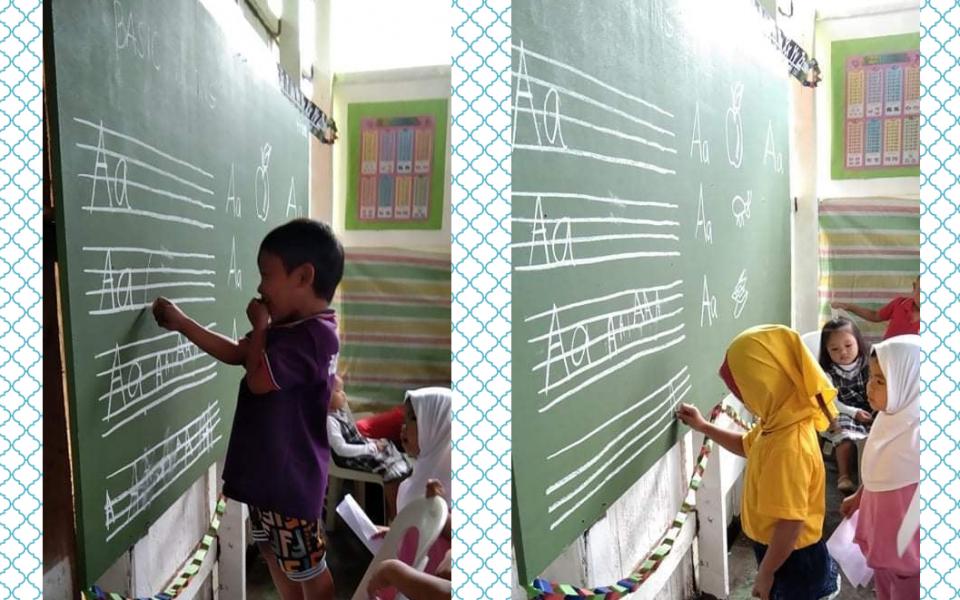 Photo above: The children of Buta-Sumalindaw write the letter "A" on the newly-installed blackboard on the established learning center at Sultan Dumalondong, Lanao del Sur on their Learner's Orientation and Basic Writing Skills Assessment. In a previous interview with one of the learning facilitators of the project; both they and the students are excited to teach and to learn in their newly-established learning facilities.
In other news about learning facilities, the Barangay Chairman stands in front of the newly-painted learning facility at Cabasaran, Butig, Lanao del Sur; one of the chosen barangays in the said municipality that will enjoy the alternative learning initiative aimed to assist the underserved children who, according to one of the parents of the students, previously needed to walk for two hours just to attend classes at the nearest school.
Despite the previous obstacles encountered in these municipalities, Project Education Pathways to Peace in Mindanao had pushed through! We are happy that what once was a mere vision had become a reality, with the partnership of Bangsamoro Ministry of Basic, Higher and Technical Education. Still, we continue to do this so that no Bangsamoro child will be left behind.
We do this for peace, for we are Pakigdait and this is the Pakigdait Way.
Indeed, "There is no other way to PEACE, PEACE is the only WAY."
Please Like and Share! Visit and Follow us on our Social Media Accounts for more Updates:

See more stories and photos on our Facebook page: Pakigdait Inc.

Instagram: instagram.com/pakigdait17

Twitter: twitter.com/Pakigdait