URI joins the world to mark the World Interfaith Harmony Week 2022! Join us as we re-experience the amazing cross-regional events organized!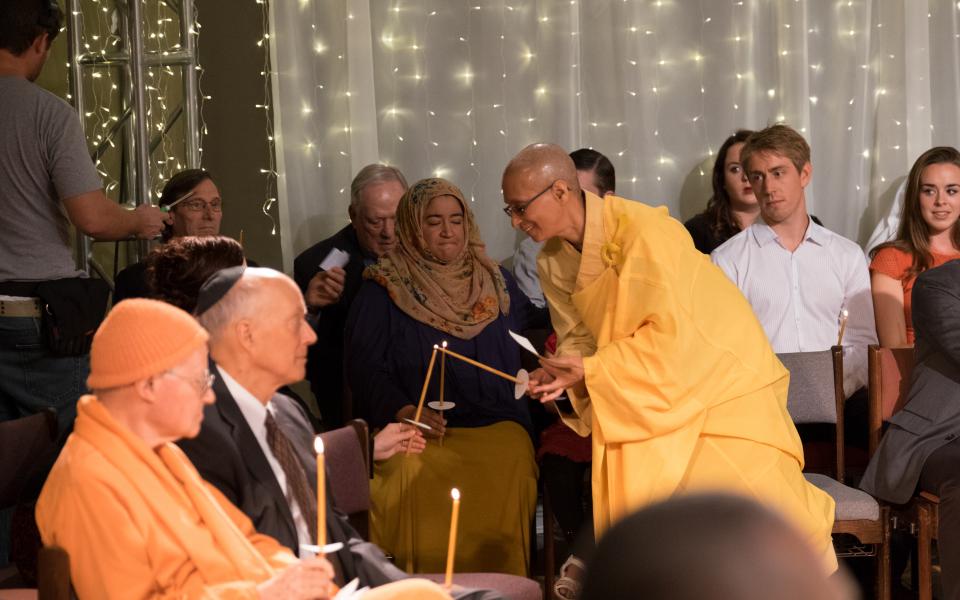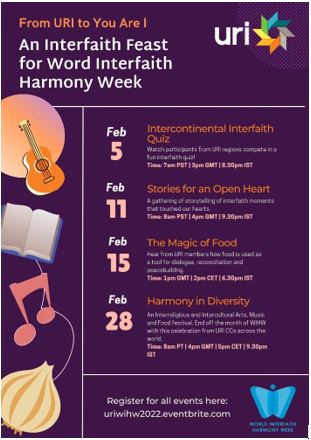 Harmony, Amani, Harmonia, Sklad, Harmonie, Co-sheirm, Harmonija; different languages, different people, the same word, but all echoing the true meaning of togetherness; a manifestation that harmony is part and parcel of all humanity. World Interfaith Harmony Week is an annual event that is observed during the first week of February.
Since its inception in 2011, individuals, organizations, and institutions the world over mark this day with an array of activities that highlight the positive impact of harmony, peace, dialogue, and the beauty in embracing each other's differences; talk about beauty in diversity! This day reminds humanity that irrespective of our differences in religion, faith, beliefs, and culture, we are closely knitted and that harmony is important for us to thrive.
"Harmony finds itself in the human heart, its home is in the human heart, when we join our loving energies with others, we are like musical instruments, we make a song, we are like a river that comes together to form a powerful flow of energy"

-- Sally Mahe
URI Regional Coordinators organized four cross-regional virtual events in celebration of World Interfaith Harmony Week. It provided Regional Coordinators a great opportunity to increase their working relationships, learn from each other and help Cooperation Circles to connect across regions. Each of these events was coordinated by two Staff in different regions and open to the whole network with translation to bridge language gaps.
The events organized were; An intercontinental interfaith quiz; Magic of food festival; Storytelling and Harmony in diversity: And inter-religious and intercultural Arts, Music, and food festival.
These virtual celebrations were a manifestation and celebration of URI's diversity and the collaborative effort of Cooperation Circles around the world to make an impact despite coming from different walks of life, cultures, faiths, beliefs, and traditions among others.

The video for each presentation precedes the descriptions of the events. 
Intercontinental Interfaith Quiz
One of the practices that foster cohesion and harmony is learning about each other's differences, beliefs, and practices. On February 5th, 2022, an Intercontinental interfaith quiz was organized. The quiz was centered on 26 questions about world origins, symbols, and feasts from different religions.

Eight participants below the age of 18, from four regions, took part in this quiz. The winner of the quiz contest was from Nigeria, Africa while the second was from India and the third from Sri Lanka. All participants were recognized for their participation.
Stories for an Open Heart
Stories For An Open Heart brought together storytellers from different regions and contexts who shared their interfaith journey and how the experience changed their lives. This was a well-attended event, not only because of the number of participants but because of the regions involved. This event allowed participants to share how moments and situations they have experienced changed their prejudice and negative narratives about people around them.
Three participants shared stories of their engagement with interfaith and URI. These were: Perri McCary, URI Trustee for Multiregion and the co-founder of Think Peace International His Grace Salika Dasa, Founder of Centre for Applied Spiritual Science (CASS), Temple President, ISKCON Jos Pragya Narang, North India and Afghanistan blogger/Editor, PR, marketing and communications consultant.
Some of the key highlights were personal stories from participants. For example, Pragya Narang shared how a personal encounter with a Pakistani stirred her to shift in perception toward people from Pakistan and propelled her into interfaith work with URI. Perri McCary shared touching moments in her life that erased biases about other people and helped her understand them better beyond their differences.
"Interfaith is a great tool for making the world a better place. Since 1997, I began to see the wisdom and purpose of URI." Perri McCary, URI Trustee for Multiregion.
His Grace Salika Dasa, the founder of the Center for Applied Spiritual Science in Nigeria, shared his journey from being born into a Muslim family, to Christianity, and now to a Krishna Conscious person and how these events exhibited that religions are interconnected and his interfaith journey.
This event proved that through storytelling people are not only inspired to share their interfaith journeys with others but to learn from one another's experiences.
There's value in sharing food and bringing people together: talk about "Breaking bread together." Communities, faiths, and religions have shared food as a sign of togetherness; food has been a pivot of joy, harmony, peace, spirituality, and dialogue. 
On February 15th, 2022, The Magic of Food festival was organized by URI Europe and Baraza CC together with IFAST Cooperation Circle, URI Netherlands, Leadership for the New Era, and URI Africa as part of the URI cross-regional series of marking World Interfaith Harmony Week.  In this webinar, participants had a chance to:
Hear from URI members how food is used as a tool for dialogue, reconciliation, and peacebuilding.
Get inspired by listening to testimonials and learning about research done by young leaders on food and spirituality 
Learn about the Food for Healing project
This festival featured people from around the world sharing their stories on the importance of food in their spiritual beliefs; how food has been used as a tool for reconciliation and peacebuilding; the interconnection of food and spirituality. It was also an opportunity to learn about the Food for Healing Project shared by URI Netherlands.
The webinar also focused on discussions and research made by young people from IFAST CC on the connection between food and relationships; that food is love and that it is manifested in different ways such as people preparing food to express love; food in different regions and traditions; like offering food to Gods in the viashmara tradition,  fasting, and the benefits of fasting for spirituality and good health; how fasting awakens and strengthens moral values and promotes patience, compassion, and resilience.  
Hajat Hassan Nageeba Tegulwa from URI Africa shared how dialogue for food is used as a platform for discussing pertinent issues in the community.  Participants listened and learned how food is used in the African traditions, particularly among the Baganda in Uganda, to dissolve conflicts, in celebrations, during rituals like the birth of twins, and after surviving a hardship.
URI Netherlands shared the Food for healing project that aims to combat loneliness caused by COVID-19. The project intends to focus on connecting young people and people of age.
Harmony in Diversity: Inter-Religious and Inter-Cultural Arts, Music, and Food Festival
On February 28, 2022, the "Harmony in Diversity" festival took place on zoom. This was the last cross-regional event as part of the URI webinar series during World Interfaith Harmony Week 2022.
It was a great collaborative effort between URI Europe and URI Latin America and the Caribbean regions – where Angelina and Enoe put all their passion and love into producing art and intercultural events. Harmony in Diversity festival marked the end of all interfaith events organized across the URI network in so many parts of the world.
Over 30 participants from all over the world took part in the virtual celebration of interreligious and intercultural, art, music, and food festival where different Cooperation Circles and participants shared beautiful culinary art, shared music, dance, poems, handicrafts, rituals, and paintings. This event shared the rich diversity of URI CCs working together and the power of art for dialogue, peace, and harmony. Activities ranged from the beautiful sounds of the Gurani indigenous people of Brazil to the inspiring instrumentals shared by the Dialogue for Peace Cooperation Circle in Morocco. Participants enjoyed the rich history of the mola fabric shared by CC Makua Panama, the deeply rooted story behind the embroidery, textile, and sewings, and the fascinating inspiration attached to the pieces like the black lives matter and COVID-19.
As a final result of the event here is a poem we created together with the participants at the end:
"A beautiful, wonderful, and inspired Festival that achieved a peaceful and touching atmosphere. It was fantastic how the URI community came together in harmony and love, showing how the power of love is the energy that unites us to Mother Earth. Amen"