URI has been a proud partner of the International Day of Peace since its inception in 2000.
In 1981 the United Nations established September 21 as the International Day of Peace to highlight "commemorating and strengthening the ideals of peace both within and among all nations and peoples." The 2022 theme identified by the UN is "End Racism. Build Peace".  
Every year, Cooperation Circles around the world, Individual members celebrate this day in various ways.
This year, URI dedicated the "Together with URI" global community call to mark the International Day of Peace. This call also focused on peacebuilding efforts and initiatives in the URI network. Participants from different countries from URI regions joined this call and had the opportunity to share stories of the impact of their peacebuilding initiatives. The countries included Burundi, Malawi, South Africa, Nigeria, Mozambique, Uganda, India, Brazil, Austria, Netherlands, Turkey, Egypt, Argentina, Jordan, USA, Germany, Greece, Afghanistan, Lebanon, and Djibouti.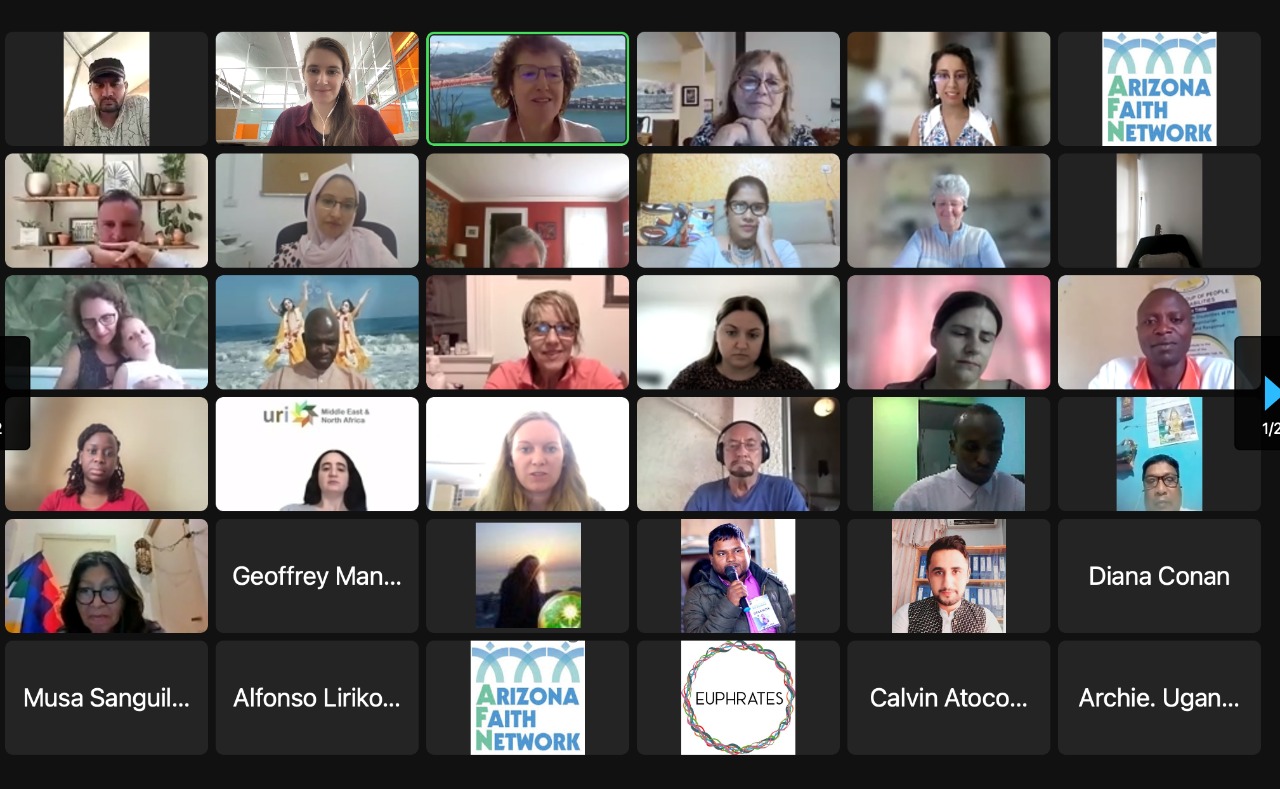 Three keynote speakers from URI regions, Africa, MENA, and URI CC Austria, shared some of the efforts they are engaged in to contribute to peacebuilding in their communities.
During the call, Sister Veronica, one of the keynote speakers, shared her experience as a nun working with an interfaith forum for Muslim and Christian women.
"All over the world, women, children, and youth have been on the receiving side of a conflict. They are usually exposed to horrific atrocities.
Women interfaith council is an association of women faith leaders working for peace to bridge the gap between Muslims and Christians caused by religious violence." Sister Veronica explained
Sister Veronica also shared that this group of women leaders has started programs that support the economic livelihood, provide prostheses to victims women affected by war, and provide psychosocial support and interfaith dialogue.
"We give women Psychosocial trauma support to victims of violent conflict and provide prostheses to victims of conflict to restore their dignity." Sister Veronica narrated.
Elizabeth for Austria shared how the commitment and passion of URI CC Austria are supporting the work done in refugee camps in Northern Syria.
She also shared what peace means to the people in this community;
Peace is to look to the sky without fear of bombs
Peace is enough to eat everyday
Peace is living in a warm house
Peace is a garden for everyone
Peace is learning all that is out there
Peace is to choose a partner that is best for one's happiness
Peace is medical help
Peace is praying in every different way
Peace is older people who teach it to the young ones.
Mamoun Khreisat, the regional coordinator of URI MENA, shared a beautiful story of a friendship that overcame stereotypes when together with his friend decided to learn about each other's religions. He was also quoted saying,
"If you want to be a real peacebuilder or interfaith activist, you need to establish relationships, you need to do things together, and I found that this is what URI is all about."
Participants broke out into sessions where they all had an opportunity to share their experiences in peacebuilding work.
At the end of the call, participants were all called to reflect upon a specific step they would take towards building peace to mark the International Day of Peace.
URI is committed to creating platforms like the "URI Together Community calls"  to bringing people from all regions, religions, cultures, and faiths to share experiences and efforts in creating cultures of peace, justice, and healing.