"I breath in the truth that women are strong and well, and our children are full of joy." Audri Scott, Trails of dreams Cooperation Circle.
On 17 November, URI gathered amazing women from around the world to talk to one another and empower each other. This call was part of the "Together with URI" monthly series that has been organized since June 22.
Over 40 participants were part of this global community call which was focused on Women's Empowerment where four phenomenal women shared their stories of impact, the growth of Women In URI (WIN URI), their journey in interfaith work, and their contribution around the world. These were, Elana Rozenman from Jerusalem, Sabina Rifat from Pakistan, Heidi Hardin from North America, Despina Namwembe from Uganda, Rosa Delia Quizpe from Latin America, and Lejla Hasandedic from Europe.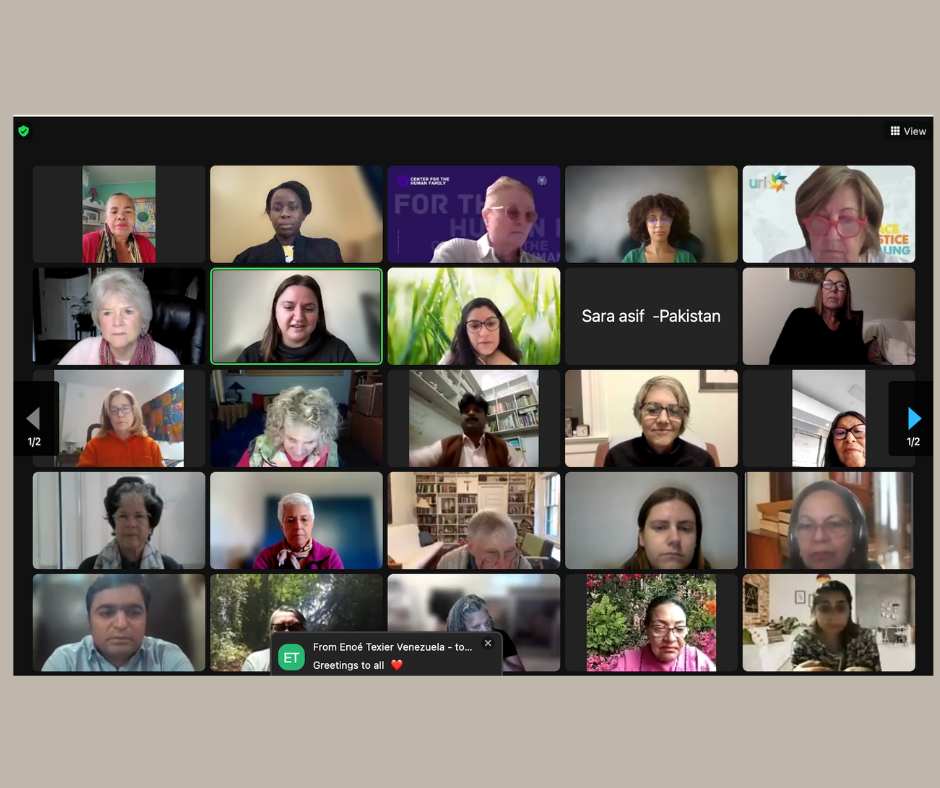 Elana shared a brief history of Women in URI and how it was founded. Participants got to learn more about the work that WIN URI has achieved over the years.
"We founded the WIN URI CC in 2006 at Global Council Meeting. It was 15 women and two men supporting the work of women in URI. We have served as a network for women throughout the Uri over these years and we have helped to create partnerships for different people in different regions to do work to empower women." Elana
Elana also shared the achievements WIN URI CC has attained over the years. She continued to say;
"We did everything from contributing money to have different projects microfinancing in the Philippines and supporting the women's project in the prisons in Malawi we have done things like leading a women's peace March at the parliament of the world religions in Salt Lake City several years ago we're hoping to do the same thing this year at the parliament in Chicago," Elana Mentioned.
During the call, Sabina Rifat shared the work WIN URI has done in empowering women in Pakistan through supporting various initiatives and efforts.
"There are thousands of women in Pakistan who have been empowered through the work of WIN URI. Some of the work I'm doing is in skills training, awareness seminars, and girl empowerment." Sabina Rifat.
Sabina also uses poetry as a tool of communication. She believes that everyone can have a voice through poetry.
The call was an opportunity to listen to great interfaith journeys and stories of change. Lejla shared her journey of interfaith work and rising above conflict in her country to embrace peace through interfaith collaboration.
" My journey started in secondary school. We started doing some projects together and we focused mainly on  how we can improve some things in our society and our post-war country instead of focusing on the conflict itself." Lejla.
Despina, who doubles as the regional coordinator of URI Great Lakes region and the coordinator of the WIN URI shared the amazing stories of women empowerment in the great lakes region.
"Within URI, we have a lady in Tanzania who is empowering young Muslim girls to go to school and become leaders in their community. In Eastern Uganda, a legal advice program has empowered women to own property." Despina.
URI also acknowledges the tremendous contribution of the indigenous community to women's empowerment. Rosa Delia Quizpe highlighted the importance of women working together with men. She also shared the change they are trying to achieve in their community by educating children about how they can relate to the land.
"We are trying to change how children are educated and relate with the land. It is not easy but we are introducing this to create change."
Participants also listened to the impact of the Think Out Cooperation Circle in San Fransisco which is creatively engaging young people in various initiatives like art programs.
"The most important moment is to have taught 4000 children the power of their own creativity and stewardship of the planet." Heidi
WIN URI has also been supported and encouraged by men in URI. One of the supporters of this is Amb. Mussie Hailu, the URI Director of Global Partnerships. He prepared a message for all participants as follows;
Greetings of peace and blessings from Africa. Hope this message finds you all in good health and peace.
I am sending you this message as a founding member of WIN CC to express my commitment as a man to support and stand with my sisters to advance the right of women in all aspects of their life and in the spirit of URI principle 8 which says "We practice equitable participation of women and men in all aspects of the URI".
It would have been my pleasure to attend this important meeting but as I will be on my way from my visit to URI Horn of Africa in Djibouti going back to Ethiopia could not be able to attend as I will be flying back home at the same time you are having the meeting. But please do know that I am in spirit with you and share your vision, commitment and action.
Sometime back I read the following message that captured what I want to communicate with you and would like to share it with all of you
"The emancipation of women, the achievement of full equality between the sexes is essential to human progress and the transformation of society. Inequality retards not only the advancement of women but the progress of civilization itself. The persistent denial of equality to one-half of the world's population is an affront to human dignity.  The moral and psychological climate necessary to enable our nation to establish social justice and to contribute to global peace will be created only when women attain full partnership with men in all fields of endeavor. Men have an inescapable duty to promote the equality of women. The long-standing and deeply rooted condition of inequality must be eliminated".
To overcome such a condition requires men and women to work in close partnership and harmony like the two wings of the bird.
I am so happy to be part of URI which is holding this core value and doing exactly this
May the creator of the universe help us to walk the talk
May Peace Prevail in our Mind
May Peace Prevail in our heart
May Peace Prevail in our family
May Peace Prevail in our community
May Peace Prevail in our respective countries
May Peace Prevail on Earth