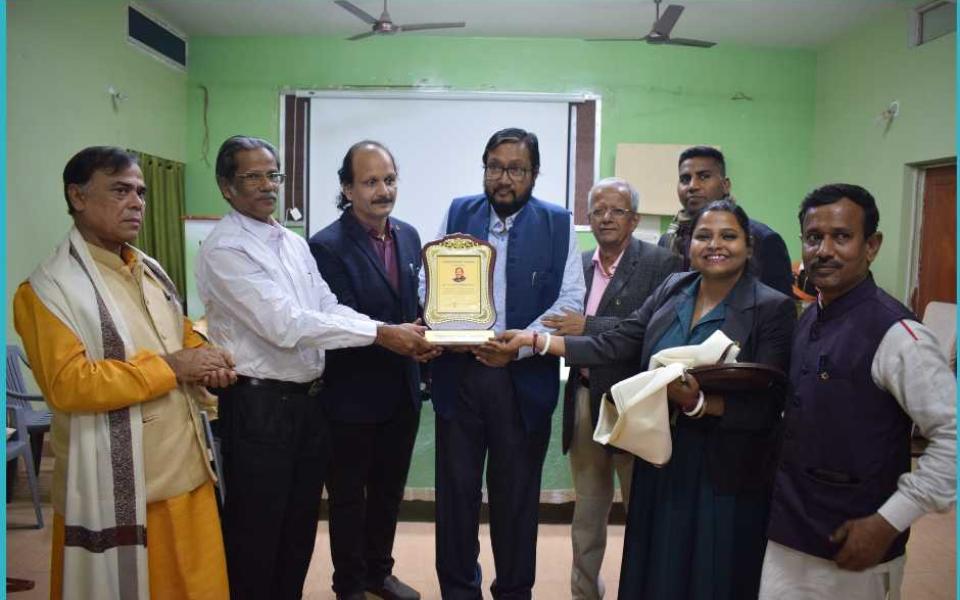 The 10th Zonal assembly of URI East India, Bangladesh, and Nepal was held at the HRDC Center of GEL Church of Ranchi, Jharkhand on 25th and 26th November 2022 under the leading role of Ranchi Peace Circle. The main theme of the conference was fostering feelings of trust and respect and identifying ways to promote cultures of peace together.
Jharkhand is known for its waterfalls, hills, and holy places and is endowed with vast resources of a variety of minerals and 40% of the country's minerals come from this state.
Despite this, it is considered one of the backward and ailing states of the country. Not only this, but it is also surrounded by forests of India's largest tribal-dominated state. The only means of tribal livelihood is forest wealth. But, with the recent development and lack of policy use, there is a great loss in both environmental and economic forms. On one hand deforestation, on the other hand, the land of the Tribal people is being snatched with the promise of development.
The extreme level of environmental degradation by the extracting companies became a great threat to our Indigenous community.
There are 32 tribes inhabiting the Jharkhand state in India. To prevail in peace and justice, the indigenous community and several other organizations launched movements like "save the river", and "Jal Jamin Jangal Movement" (Water, Land, Forest) which also became the core issues of our cooperation circles of the region.
Its been several years since the Cooperation Circles of the region are meeting face to face. 72 delegates from 33 cooperation circles along with members from Bangladesh and Nepal participated in the assembly.
We started the day with a group prayer and lighting the candles at the Gossner Evangelical Lutheran (GEL) Church followed by a self-introductory session and a warm welcome note by the regional coordinator Biswadeb Chakraborty. Text and Video Messages from the founder and president of URI Bishop William Swing, Executive Director Jerry White, Director of Global Programs Alice Swett, Global Trustee Dr. Chintamani Yogi, Dr. Devi Lal, and Mr. Ashwani Kumar were conveyed via an audio-visual presentation which was inspiring and touching to all. In addition to enriching our links with each other, discussions prompt the importance of protecting the environment and nature in creating cultures of peace for the people of Jharkhand and recognizing the struggle of local communities to protect nature from the encroachment of profit-seeking corporations, which today dominates India and the world.
The indigenous leaders, activists, and struggling personalities there created a unique example by paving a stronger path to balance and restore what promotes peace for the people of the land. Among them was Hon'ble Kumar Chandra Mardi, the indigenous leader of the water land, and forest movement, who shared his experience and outlined how to organize a movement at the local level. Mr. Mardi further elaborated that his catalytic role of engaging local leadership, understanding government vision, and collaborations can shape a small movement into a larger one emerges clearly.
Mr. Gulab Chandra Ji author of several books and activist of the "Save the Damodar River" Movement spoke about his struggle to seek justice to understand peace in the local aspect. Keynote speaker Prof. Sanjay Basu Mallick, a writer, teacher, and activist who played an important role in the Forest Rights Act FRA) brought in 2006, which forced the Government to recognize the community rights of Adivasis (Indigenous) all over India shed light on the religious thoughts of the tribal community and their religious practices.
"The world is facing a dangerous threat to humanity; the mistrust and disrespect to each other are prevalent among different dominant belief systems. All the major religions are at loggerheads with each other today. But there is an exception It is the tribal belief system." Mr. Mallick
Manoj Ram of Peace4Dalits CC from Nepal mentioned that their affiliation with URI helped them to address caste-based oppression and discrimination. There is no doubt that the efforts to give the considered lower castes their rightful place in society became effective upon their connection with URI.
Mohammad Abdul Hye from Vidyasagar Society CC Bangladesh pointed out the "importance of language and literature in the development of inter-religious cooperation and fostering peace and that it creates an opportunity to strengthen the relationship between the two countries.
Mr. Francis Halder of Flower Exchange CC emphasized the importance to enhance local partnerships in promoting inter-religious cooperation and creating learning opportunities.
Regional Coordinator Mr. Biswadeb led the group in an interactive session on communication with laughter and fun. This group activity concluded with a collective understanding of listening deeply and attentively and asking questions when necessary and expressing doubts and concerns respectfully in light of building peace and harmony.
Dr. Abraham Karickam illustrated the relationship of various scriptures to each other and enlightened the thoughts of peace-building through a very informative presentation.
Mr. Gopinath Ghosh of Ranchi-Peace Circle (RPC) presented on enhancing Interfaith Cooperation by Creating Opportunities at the Local Level and supported Mr. Nazir Hussain of RPC in organizing the assembly.
Also, during the meeting, the words of the charter were spoken in different languages and members expressed their feelings on the practice of the URI PPPs and how it is reflected through their activities and organizations.
Individuals were honored for their work in promoting cultures of peace.
This year the "Circle Of Excellence" award was presented to Dr. Abraham Karickam, Regional Coordinator of URI South India, Dr. Abdul Hye of Bangladesh, Mr. Kumar Chandra Mardi – Tribal Leader, Mr. Gulab Chandra-Author, Mr. Amalesh Dasgupta renowned filmmaker from Kolkata.
And the "Spotlight" award was presented to Mr. Deepak Kumar and Ms. Ria Mukherjee for their tireless service in the region.
Mr. Ainul Ansari and Surendra Kumar were honored for their dedicated voluntary services.
Finally, the "Leadership Award" was presented to Hon'ble Kalyan Kumar Kisku in recognition of his outstanding leadership and visionary guidance that lights the path of peacebuilding. Rev Kisku has been playing an important role as regional team president and served as a global council trustee of URI.