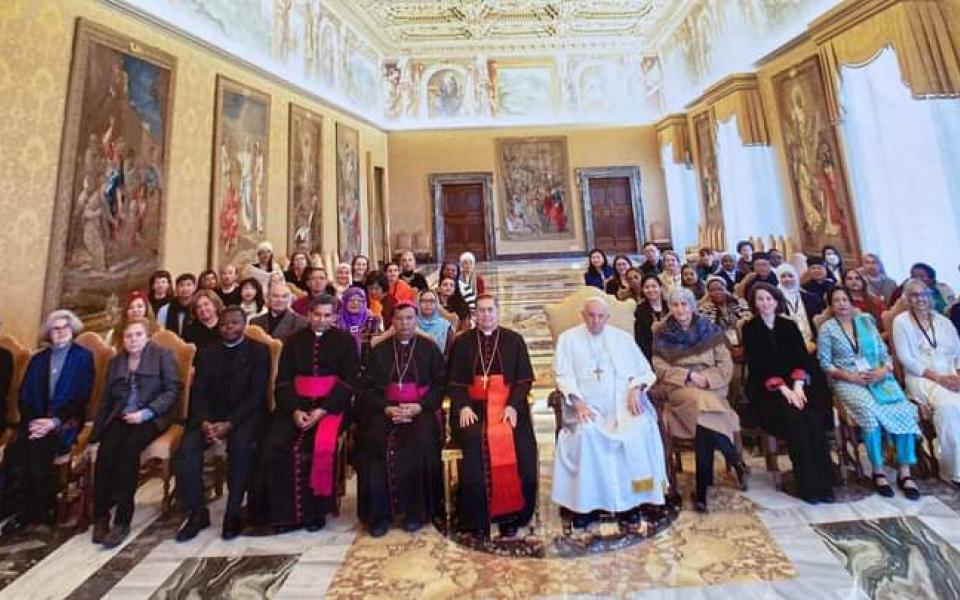 I am back in Buenos Aires a few days after participating of  "Women in a Culture of Encounter Conference" organized at the Vatican from January 25 to 28 by the Dicastery of Interreligious Dialogue.

My heart bursts of gratitude and desire to reflect on the many gifts I received, so that I grow from my own experience and make it ours, especially of women in dialogue.

URI Preamble reads: We believe that our religious, spiritual lives, rather than dividing us, guide us to build community and respect for one another. Therefore, as interdependent people rooted in our traditions, we now unite for the benefit of our Earth community.

My whole life has been rooted in the faith I learnt from my parents, Christianity. I experience community and spiritual growth as part of the Catholic Church and also, I was blessed to commit to interfaith dialogue and cooperation because of the need to open to diversity in my days as a teacher. I am thankful URI was in its beginnings at that time and that Buenos Aires was chosen as one of its first places to expand. I can't thank enough Father Louie Dolan and Marita Fontanarrosa that invited me to participate of this amazing lifechanging gathering. I was immediately engaged in URI and extremely happy about it, however I sometimes felt that the process I was going through was not necessarily shared. My days at the Women in the Culture of Encounter Conference showed me that, while I was transformed by dialogue and interfaith cooperation through my over 20 years at URI, my community, the Catholic Church, had grown as well. It has grown to open to a wider diversity. The conference was open to Buddhism, Confucianism, Christianity, Hinduism, Jainism, Judaism, Islam, Shintoism, Sikhism, Taoism, Zoroastrianism women. It has grown to bring the unique voice and experiences of women building bridges of understanding from about 20 different countries. Such an amazing and hopegiving Discovery!
During the three days of the conference, we had the opportunity to listen, share and network and foremost deepen relations that I am sure will sustain for long and support us in our work.  Well drafted presentations in a very well-designed itinerary guided us through: Women in Scriptures and Teachings for a Culture of Encounter, Women Saints and Sages Building a Culture of Encounter and Narratives of Building a Culture of Encounter. Here are the links for Days Here are the links for Days 1, 2, and 3.
I was the one to present the last. It was difficult to decide what to share given in these 20 years of involvement in interfaith dialogue through URI I have had numerous experiences of encounter and has been immensely rich. I picked three aspects which I thought would be valuable for the other women in the program as well as participants from Rome and the world through streaming: women accompanying Interfaith Dialogue in the city of Buenos Aires, women inviting youth to learn and engage in Interfaith through Bridge Builders Program and a culture of encounter with Indigenous Peoples in URI through the transformative friendship I have with Rosalía Gutierrez. I pointed out the importance of building trust, showing up in times of need and nurturing relations.