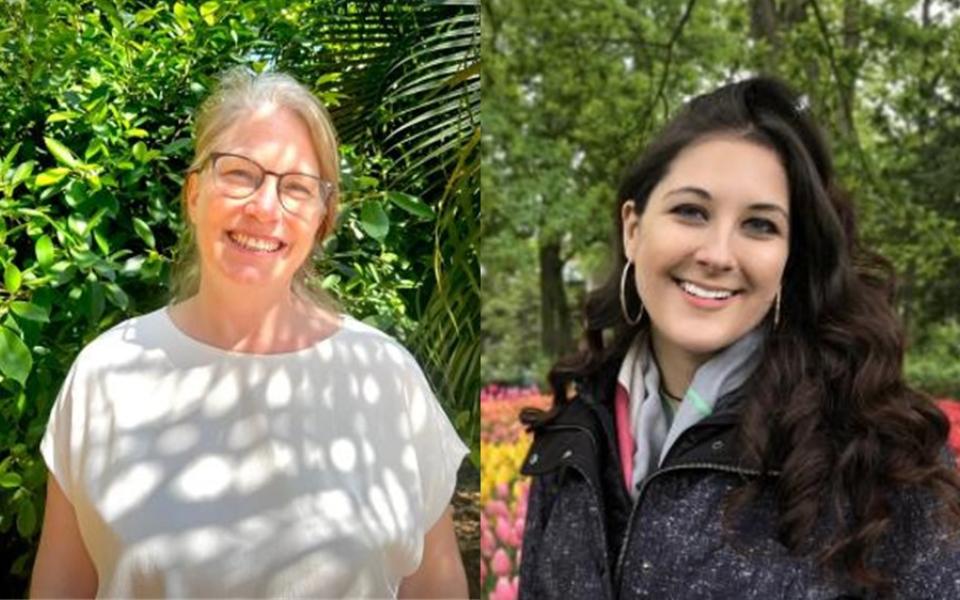 URI is excited to announce two new team members: Karen Volker as Director of Partnership and Violence Prevention, and Larissa Abaunza as our first Associate for Human Rights and Women's Rights.
Their onboarding reinforces our purpose-driven commitment to curb the spread of religiously motivated violence locally and globally. Karen will lead the new Partnership and Violence Prevention Team, supported by Larissa, as well as Lauren Van Ham, our Climate Action Coordinator.
"The world needs URI now more than ever," says URI Executive Director Jerry White says, "and Karen Volker's experience as both a diplomat and community organizer will help us adapt the latest methods for interrupting intercommunal and systemic violence." 
Prior to joining URI, Karen Volker spent ten years in a leadership position at Cure Violence Global (CVG), a community-based violence prevention nonprofit, and, before that, enjoyed a 26-year career at the U.S. Department of State as a member of the U.S. Foreign Service.

Karen specialized in adapting the Cure Violence's health  approach to different social and cultural contexts worldwide. While at the State Department, Karen spent over a decade overseeing the implementation of foreign assistance programming in the Middle East, former Soviet Republics, the Balkans, and Central and Eastern Europe. More on Karen Volker.

Karen is well suited to her role as our lead URI representative at the United Nations, where she will expand our partnerships and influence policies that advance interfaith cooperation.
Larissa Abaunza joined Karen's team in February with a MA in Human Rights Studies from Columbia University's Graduate School of Arts and Sciences. She brings tremendous experience as highlighted by her award-winning thesis, titled "Rape and Sexual Violence Used as a Weapon of War and Genocide." Larissa is also a Fulbright Scholarship, who conducted research into the educational segregation and racial discrimination of Roma children and communities in Eastern Hungary. More on Larissa Abaunza.

The Partnership and Violence Prevention Team will collaborate with partners and members of the URI community, including cooperation circles who have asked for URI support and training to serve as as local violence interrupters, including ways to stop the spread of hateful rhetoric and digital disinformation used to incite violence. Our new multidisciplinary Team will also address issues of indigenous rights and ecocide, responding to the climate crisis and an urgent need for ecological healing.

Join us in welcoming these two impressive and dedicated leaders to URI!