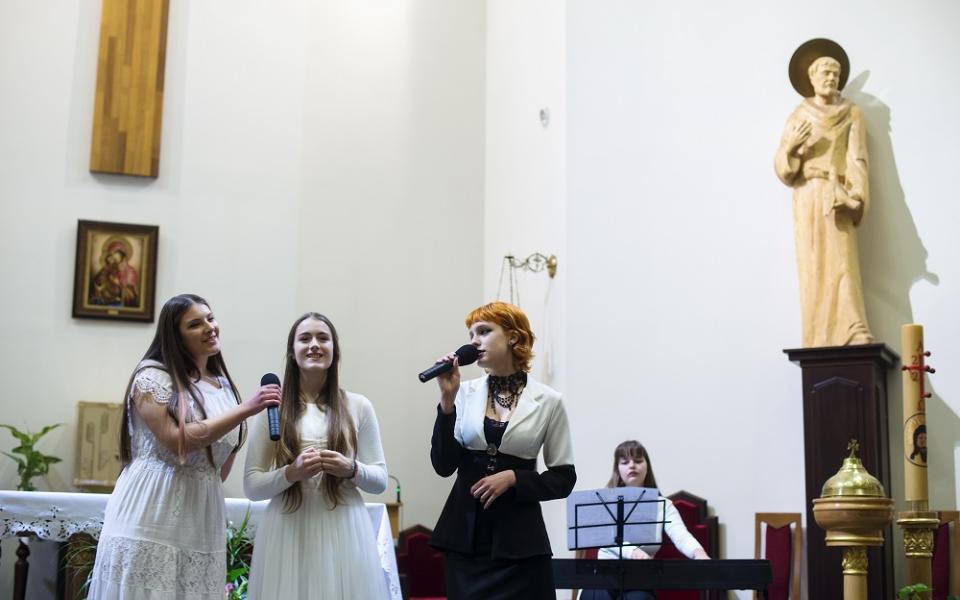 World Interfaith Harmony Week was celebrated again in Sofia, Bulgaria with an art performance of prominent young talents of BRIDGES CC.
The Catholic Cathedral "St. Josif" host an art performance  Palette of PEACE - BRIDGES children, on 12.02.2023 - in Sofia, Bulgaria. It builds bridges between the work of young people, universal values, harmony between different religions and most of all turns our attention to the mysterious feeling that the spiritual support the world.
The association "Eastern European Forum for Dialogue - Bridges" is the initiator and organizer of the concert and various religious leaders were invited as guests to the event, together with local authorities, partners, and friends. Together around 200 people.
The performance "Pallet of PEACE" was organized as a part of the numerous events on the occasion of World Interfaith Harmony Week. The Week of Tolerance aims to be a platform for dialogue and to engage the public of different faiths in common actions and dialogue that bring to the fore common human values.
It was a rich palette of talent - a wide range of vocal, instrumental, and artistic performances, personal stories, and testimonials. All that was presented in a unique way by the young people of Bridges and sincerely supported by friends and our partners from different religious communities in Sofia. Everything was prepared with love and by heart, thus aiming to turn the event into another "bridge" that connects people, institutions, spiritual messages, religions, and points of view.
Together with the call for peace, the young people will express solidarity with their friends from Turkey and Syria with a common song.
"Our ability to achieve unity in diversity will be the greatest test of our civilization." Mahatma Gandhi
Video from the event can be seen at the Bridges CC YouTube channel: