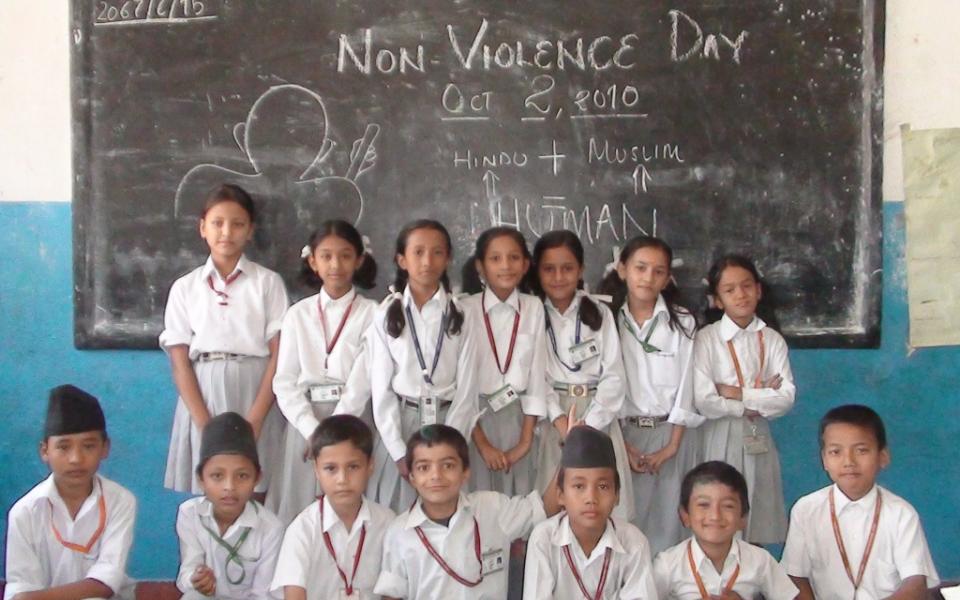 Youth Society for Peace (YSP) Nepal celebrated Non-violence Day, October 2, 2010 at Shanti Sewa Ashram (SSA), Kathmandu with various activities.
On Oct 1 the team of youth of YSP went to Hindu Vidyapeeth-Nepal School, Balkumari and had a very wonderful story sharing session with the kids. The kids who participated in the story telling session about the Non-violence were really happy to share their knowledge. Although we say kids have little knowledge but there's a lot they have to say and we adult can learn from them. The kids were really active and listened to the story about Mahatma Gandhi with zeal. The kids also wrote an interesting paragraph about Mother to mark the day. They shared each other's love towards mother on the same day.
The next day at SSA there was a bigger event. Kids, adults, women and intellectuals involved themselves in listening to the references given by Guru Dr Yogi. He also shared his feelings about his UK tour. Few among the 75 people at SSA wished for the upcoming Dashain and Tihar (the biggest festival of Nepali). On the same program the participants signed the Arms Down Signature Campaign to meet the UN MDGs goal 2015.
Tara Stuart and her friends Michael Krebs, Stephanie Shorter, Cody Drasser, Donna Corse, James B. Quilligan lighted the peace lamp and prayed for the world peace. World Cyclist Chris Roach from Australia attended the program. The national and international guest all joined their hands for the world peace together with the kids.