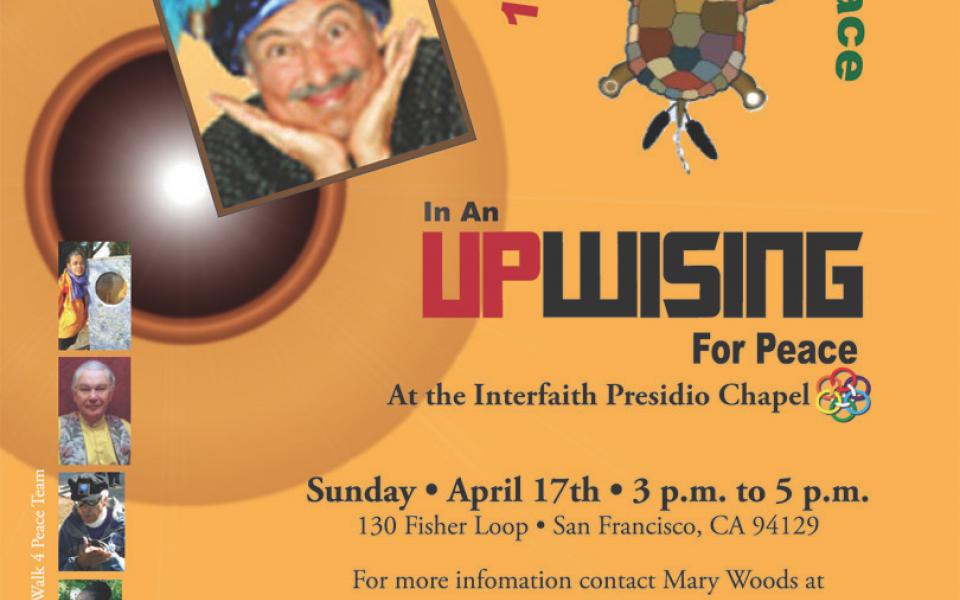 April 11, 2011
Contact:  Mary Woods 570-494-3643  [email protected]
www.13moonwalk4peace.com
PRESS RELEASE FOR IMMEDIATE RELEASE
World Peace Walkers Return to Bay Area
The Trail Of Dreams World Peace Walkers are in the Bay area from April 9-22, as part of their current walk, the 13 Moon Walk 4 Peace. This national peace walk began in Atlanta, Georgia on 10/10/10 with plans to circle the country for approximately 10,000 miles until 11/11/11. The peace walkers will be visiting over forty cities with their message of peace and social justice. They are carrying the "Sacred Flame Of Thunder" representing The Great Law Of Peace passed on from the Iroquois Six Nations in Canada.
The 13 Moon Peace Walkers did a Walk-A-Mile -for-Peace with some of the San Jose community on Saturday, April 9th, followed by a peace pole planting ceremony at the Divine Science Community Center on Hicks Ave. in San Jose.  They spoke at Unity Community Church of San Jose on Sunday, April 10.  The group is currently walking to Oakland where they are making plans for their stay.  Some of their scheduled activities include; Sunday, April 17 at the Presidio Interfaith Chapel in San Francisco from 3pm to 5pm, "An Upwising for Peace", with special guest Steve Bhaerman, aka, Swami Beyondananda.  Wednesday, April 20 at the Humanity Hall in Oakland at 7:30 will be the screening of the film, "For The Next 7 Generations".  All events are free to the public and donations are welcome to support the peace walk. 
Two members of the 13 Moon Walk 4 Peace have been peace walking for over a decade; Audri Scott Williams, the first African/Native American woman to lead a world peace walk and Karen Hunter Watson, visited  communities in L.A. in 2006 during the Trail of Dreams World Peace Walk.
 "The idea for the 13 Moon Walk 4 Peace" says Audri Scott Williams, Visionkeeper for the Trail Of Dreams peace walk, "came when we returned to the USA from our three and half year global walk for peace. On our journey from New York back to Atlanta, Georgia, we were struck by the pockets of poverty and disenfranchised communities that appeared to be under the radar, invisible to the general population.
We realized our work was not done, in many ways it was just beginning. We decided, before we even made it back home to Atlanta, that we would do a walk in the USA to be a catalyst for healing the heart of our communities here at home."
The goal of the 13 Moon Walk 4 Peace is to awaken the heart of America, bringing visibility to the invisible and voice to the voiceless, to affect healing and transformation in the way we relate to each other and Mother Earth.  The project is being sponsored in part by The Spirit of Truth Foundation, a 501(c)(3) non-profit organization and the generosity of all those aligned with the cause.
Recent press articles:
Atlanta Journal-Constitution
http://www.ajc.com/metro/content/metro/stories/2009/04/06/global_peace_walk.html
Daytona Beach News Journal
http://www.news-journalonline.com/news/local/east-volusia/2010/10/27/peace-walker-visits-
with-ormond-artist.html
Sacred Flame Press Release
http://www.13moonwalk4peace.com/press%20releases/williamsportpeacewalkpr.pdf
Yuma Sun
http://www.yumasun.com/articles/peace-68067-walk-community.html
...END...