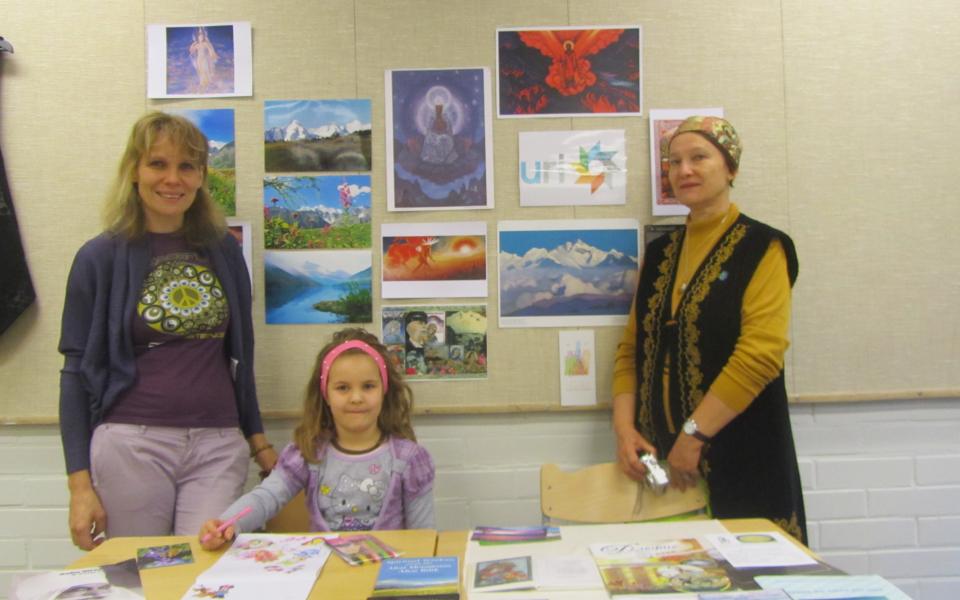 The two coordinators, Heidi Rautionmaa of Faiths Without Borders and Galina Ermolina of Euro-Asia (both pictured above), started their cooperation being inspired by the Fostering Program proclaimed by URI in spring 2012, and sent an application for participation. Galina was first greeted as a winner but for some reasons that we don´t know the grant never came. Although we didn't get the grant, we still got more than a grant and are thankful to the Fostering Program after all, because that actually encouraged and brought us to the long-term cooperation on different levels.
To begin with, from the first days we heard of the Program we started to exchange experiences and materials on the topic "Holy Drop of Water," which has been the main focus of Faiths Without Borders activity for some time. We are aware that no good things happen without obstacles -- this is Cosmic Law -- and today we can say that we managed to cope with them.
So from the moment when Galina arrived in Helsinki from Novosibirsk, the whole program of the visit had already been worked out and discussed long before.  It started to unfold from the first minutes -- when Lars Silén met Galina at the railway station and gave her a special tour around the city -- up to the last minutes, when three hours before the departure, Heidi took Galina to the meeting of refugees in the Helsinki Library with the Minister of International Development of Foreign Affairs in Finland, Heidi Hautala, where the Siberian guest had an opportunity to witness an example of a real democracy. 
That "last drop" has become a good confirmation of the principle "Diversity in Oneness," which actually became the main point of the visit, although the topic was "Holy Drop of Water," and the "Faiths Without Borders" Multiregional CC brought a certain contribution to the ways of this idea promotion.  Siberia is known as a vast territory with a great number of pure lakes, waterfalls and rivers. Galina was ready to share her knowledge of the respectful traditions towards Nature, still preserved in some Siberian regions.
Frankly speaking, from the very beginning we felt the highest support and even have had some kind of special "miracles" happening now and then. The first evening Galina arrived, she was invited by Lars Silén, the co ordinator of the Helsinki CC, to visit a music club to enjoy the traditional folk music.  The next day, Galina received an invitation from the other Helsinki CC member Päivi Käri-Zein, who is running for election on the local Espoo level, to visit a Filipino family. They had a birthday party in which the whole Filipino diaspora came together to celebrate, to talk and to have fun. That was an interesting experience for all, and while sitting at the table, eating and discussing many things, we had a chance to learn and share about people of completely different backgrounds, faiths and traditions.
Galina tried to find out anything about the indigenous faiths of both the Finnish people present at that function and the Filipinos. They all spoke only about Christianity as their faith and knew little or nothing about the original faiths of their ancestors. There were only two Finns besides Päivi at the function, and she was busy with discussing other things, although one man started to speak about Finnish Epos Kalevala, which made Galina happy.
In two days, Päivi invited her Siberian guest to speak to her students at Helsinki University, where she works as a lecturing teacher. There were other foreign guests, including a couple  from Africa, and  again a sincere dialogue of cultures and faiths took place in the  non-official atmosphere of the classroom. After discussions most of the dialogue participants came to the conclusion that even in countries which are considered to be more prosperous than others from the material point of view, many people feel unhappy, lonely and even depressed.  Päivi and Galina shared their impressions of the visiting Filipino diaspora, where each one present seemed to be so happy, being together, being united and sure that any moment there would always be friends to help.
The Fair of Spiritual Awareness in Helsinki was expected to be the highlight of the joint program, but we didn't feel that the principle of a real Spiritual Awareness took place there, for most of the people were interested in consuming -- selling  things, having a session with many Tarot persons, healers of all kinds and channeling issues from different stars, etc. Without judging we can say that for us, Spiritual Awareness is something more and higher than that. And still precious were a few meetings with special people, who devoted their life to the ideas we try to serve as well. Among them was a couple promoting their method of cleansing water, a bright woman, Teija, belonging to the Green Party and promoting natural life style and natural herbs of Finland, and some others.
The next day we were invited to visit Teija in Vihti, a place near a wonderful lake.  Teija is a healer who follows the old Finnish tradition to heal people in sauna.  Marko Näätänen, a talented musician and a member of "Faiths without Borders," was also with us, spending the whole day walking near the marvelous lake in the forest, which seemed to be inhabited by fairies and gnomes. Teija herself looked like a water or forest fairy wearing a funny and beautiful hat matching her green bright eyes. For her, those invisible-for-most-of-the-people forest inhabitants were friends, who need to be loved and respected.  Galina shared her experiences with the Altai spirits of nature.  She told about Natural Park Uch-Enmek in the Altai Republic, where the energy of every stone and creek is still living.  She showed photos and video episodes, connected with the special places of paying homage to Nature and the Spirits of Nature in Altai.
The next day was devoted to a scientific approach to the water purifying process, for Galina brought samples of specially-processed water from her Novosibirsk friend Dr. Aleksander Trofimov, who has been using the world-famous effect of Kozyrev's mirrors in his research at the International Research Institute of Cosmic Anthropoecology, to his Finnish colleague,  Heikki Tammisalo from Lahti.
Both Siberian and Finnish scientists have invented special devices of their own for purifying natural water, and as a result the water gets great healing effect. The visit to the scientist and his wife, the talk and discussion on the situation with water pollution and possible methods of bringing balance to natural water reservoirs have given a new encouragement to Heikki in his work and brought new ideas for our mutual cooperation.  Psychologist Riitta Wahlström also joined us in Lahti. Riitta is a well known on the field of Finnish esoteric actors and she has worked with water for more than 20 years. She is also a local politician.
Every day of our program brought unexpected events, situations and people.  Meeting Marinder Singh, a Sikh man who has lived in Finland for 15 years and had a good family business, became an interesting event for us. Some time before Heidi had an interview with him.  The man had built a Sikh gurdwara in Helsinki with his own money, and Galina is very much connected to the Interfaith Community in India.  Her spiritual teacher Baba Virsa Singh was of Sikh origin.
Being aware of Esoteric Teaching, given through the Roerichs' family to the humanity as Galina's spiritual background, Heidi did her best to arrange a meeting with the representatives of this spiritual–cultural movement, which turned out to be an event of deep understanding and cooperation.
At the fair a few days before, we had become acquainted with the representatives of the Finnish Theosophical Society, very intelligent and thoughtful people. Galina had a chance also to meet some Helsinki CC members at Heidi´s home and tell them about the Altai tradition.
Galina also visited Merja Jokela, who works at the Finnish-Russian Friendship Association. Merja is in charge of the cultural issues and she is very interested in organizing a journey to Altai.
"God has a Plan."  That had been our motto for the whole program, and this Highest Plan allowed us to really experience "Diversity in Oneness" in religions, traditions and culture. We have come to the understanding of the importance for all people, irrespective of nationality, to revive theirspiritual roots. This brought us to visit the museum in Espoo devoted to the world-renowned artist and mystic Akseli Gallen-Kallela, who has painted illustrations to the great treasure of Finnish spirituality, Epos Kalevala. His majestic frescoes are able to impress anyone whose heart and soul are awakened for perception of the Highest Truth and Reality.
"Faiths Without Borders" is a multiregional URI CC, so most of the members live at great distances from each other.  We had a chance to be thankful for Internet progress, allowing us to communicate with our Pakistani friend Father James Channan and Ugandan friend Despina Namwembe via Skype.
When the suitcase was packed for departure, we had a few minutes left for a walk in the nearby forest, where Heidi easily found a four-leaf clover as the symbol of luck and happiness. 
By  the way, there is a new Holy Drop video available on YouTube, featuring Rev. Robert Two Bulls of the Oglala Lakota Nation's visit to Lapland.  You can view the video here.
Posted By: