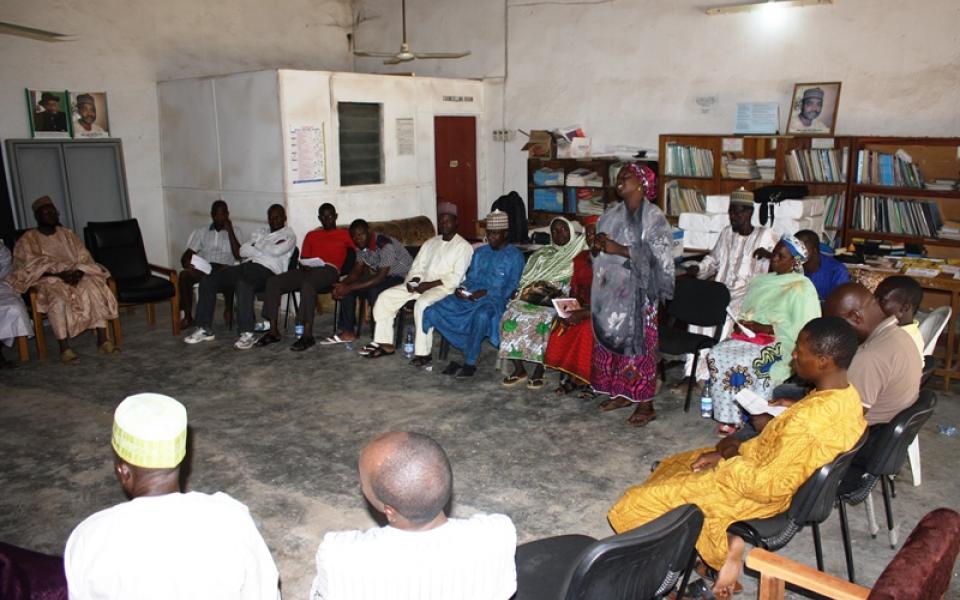 Early Sunday morning, 27th of October, 2013, 20 participants responding to written personal invitations gathered from three Local Government Areas (LGAs) of Bauchi State: (1) Alkaleri, (2) Tafawa Balewa, and (3) Bogoro. Participants were int entionally selected from these LGAs because:
? Bogoro and Tafawa Balewa LGA residents experience tension, fear, and lack of trust from many ethno-religious crises between the faithful of Christianity and Islam who speak three different languages – Hausa, Fulani, and Sayawa.
? All the women and men participants are farmers who either own a farm land or harvest their food on rented farm land.
? Participants from the Gar community in Alkaleri LGA are a model of Muslims and Christians peacefully living together despite differences of religion and tribe. They can share how they have been dealing with misunderstandings and disagreements that arise between them
Invitations were sent to the participants clearly starting why the meeting was organized and why their local government areas were selected to participate in the meeting.
The meeting started with registration of participants which was followed by opening prayers in both faiths. All the Muslims and Christians farmers invited were able to attend and individual stories and experiences were shared by the participants. Every participant came with at least on type of indigenous open pollinated seed "the seed for peace" which the seminar derived its name from and which we hope to start the new project named seeds for peace innovation and application in Bauchi state northern Nigeria. The new project is aimed to unite farmers of different religions to grow food and nurture relationships for a sustainable peaceful co-existence. 
This was followed by the first session of the meeting which was counting of the squares where the participants were asked to count the squares as they see on the flip chart paper. It was interesting as the participants were able to give different counts of the boxes. The reason for the exercise was then explained to them as every individual sees the world from his on perspective and unless people were able to respect each other's views they will continue to disagree with one another. 
This was followed by the perspective square session called "ACTS OF SPONTANEOUS GENEROSITY". In this session the participants were facilitated through an exercise where they were asked to;
 Remember an experience when someone gave them an unexpected, unsolicited act of extraordinary kindness that they have never forgotten. They were then asked to choose one partner sitting near so both of them can share their experiences with one another. This was done in five minutes. For another five minutes, a generous number of pairs were asked to share their experiences with others in the whole room.
The Dialogue in Nigeria Jos film was then watched by all the participants followed by a discussion based on the difference scenarios watched in the film. Copies of the "Dialogue in Nigeria film was also given to each participant in attendance.