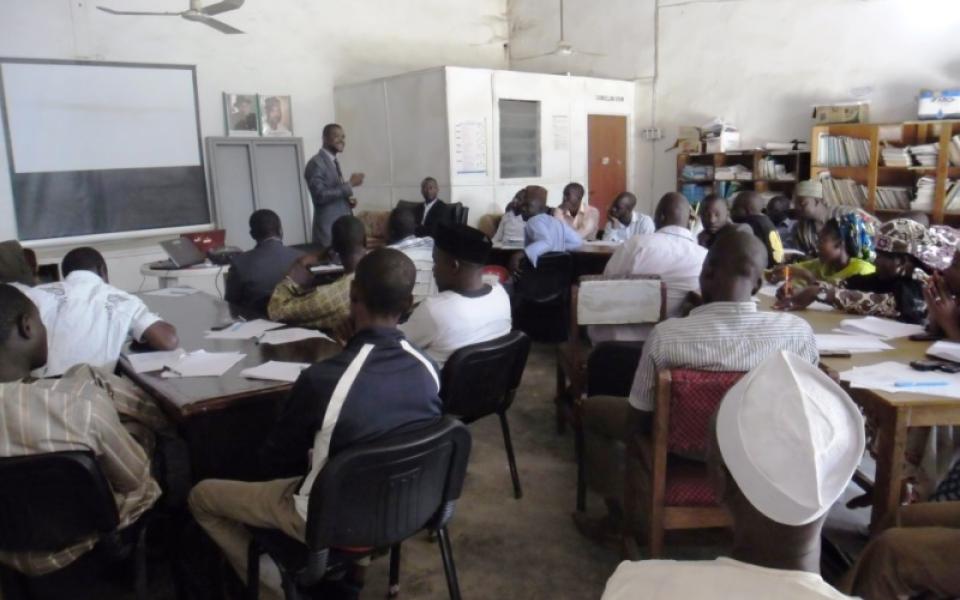 A One-Day Training on Listening and Negotiations Skills was conducted on 4thJanuary in Bauchi State in North Eastern Nigeria. Thirty-five Christian and Muslim Youth participants were drawn from 14 different communities of the Yelwan Tudu area. Two Resource Persons, Dr. Emmanuel Ande Ivorgba, URI West Africa Laiason Officer and Executive Director, New Era Educational and Charitable Support Foundation, and Mallam Usman Mohammed Inuwa, Founder/Coordinator of FACIS, facilitated the training, held at RAHAMA Women Development Program Conference Hall in Bauchi Metropolis. 
During the opening ceremony founder/coordinator of FACIS welcomed participants where he urged them to concentrate and actively participate during the training, being the representatives Christians and Muslim Communities and were also expected to step down same to other youth. The coordinator finally thanked them for living other activities and families just to attend the training and hoped that others would also benefit from what they would learn. 
GOAL OF THE TRAINING
To strengthen the capacity of 35 Muslims and Christians youth leaders from 14 communities in listening and negotiations skills for sustainable interfaith relationships and peaceful coexistence.
The 35 Muslim and Christian youths at the training were introduced to:
The Theories and Concepts in Listening and Negotiation
Strategies and Practical examples of successful Listening and Negotiation
Skills for continues dialogue for understanding, listening to learn from one another, experience sharing, discovering that "an enemy is one whose story we have not heard."
 Conclusions
The training was a huge success as participants displayed appreciable level of knowledge through experience sharing as well as asking for clarification in some areas they were not well comfortable with. The training provided to the participants an avenue where they learned, and re-learned new skills for active listening and negotiation for peaceful coexistence. This was the first time the participants came together as a group for a capacity building and experience sharing. The happiness and the light of hope on the participants faces evidently show that the missing link among the youth is that of knowledge and guidance. 
NEXT STEPS:
Organize the second phase of the training for same participants for 2 days (This was requested by the participants).
In order to strengthen the bond of relationships between the participants, FACIS will extend to these 14 communities in phases its Bio-intensive Agriculture project which serves as catalyst for bringing people together to grow healthy food for their families and for generating income and poverty eradication.
By: Usman Mohammed Inuwa
Forward Action for Conservation of Indigenous Species
Bauchi state
Nigeria