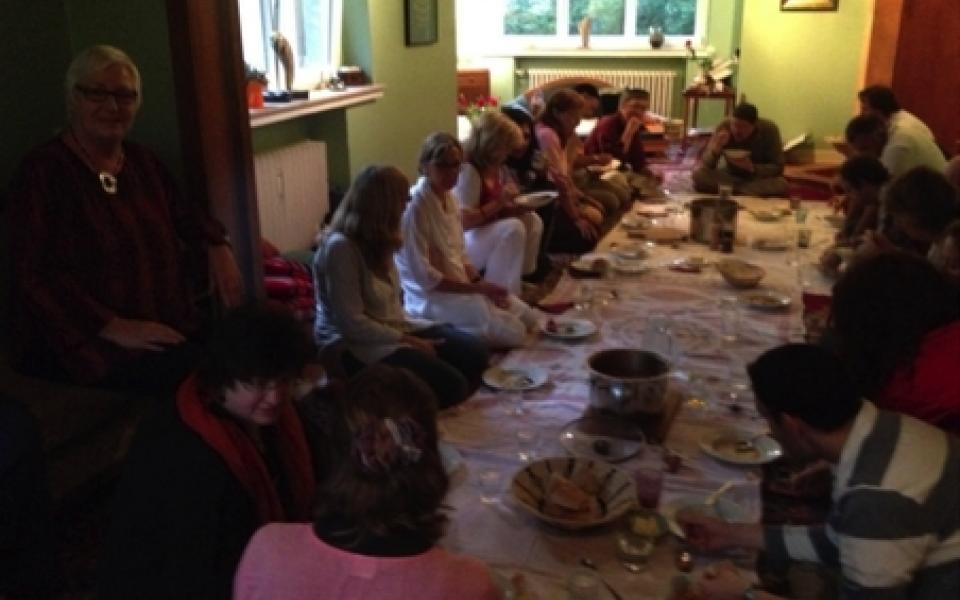 Members of URI Germany and the DMLB CC celebrated International Day of Peace in a gathering with friends of the Dayemi Sufi Community in Dortmund, Germany on September 20, 2014.
Roughly 30 people were invited to this Sufi community's beautiful house, with Sheikh Din, their spiritual leader, having arrived from the USA. Everyone in attendance had been friends of the DMLB (Deutsche Muslim-Liga Bonn) and URI Germany for years. The atmosphere was full of cheer and joyful conversation.
Sheikh Din reminded everybody that inner and outer peace are linked, saying, "The aim of education, and of spiritual communities, is to assist human beings in becoming fully happy, caring people. This is the aim of our work, be it in the USA, Germany, or in Bangladesh. We extend our hands to our friends who share this vision and are happy to celebrate International Day of Peace together."
After a delicious meal was served, the physical nourishment was followed by a spiritual one with recitations and prayers for peace, remembering the occasion of the UN International Day of Peace.
"It is inspiring to be together with people of different cultures and traditions to mark this occasion," said Karimah Stauch, URI's European Coordinator. "When sharing a meal and conversations, one easily deepens friendship, no matter where people have their roots culturally or religiously. All spiritual wisdom traditions encourage us to treat others as we would like to be treated."
Marianne Horling, URI Global Council trustee from Germany, remarked: "As a humanist I am always so happy to see the Golden Rule in action. Simple actions like building relationships across communities and religions have a real effect in bringing about social cohesion in a tangible way."
Unfortunately Sheikh Bashir, URI founding member and president of URI Germany, could not join us, as he was travelling in the North of Germany. He sent his greetings to everybody and promised to find another occasion to tell us about his recent visit to the "Metanoia Center" in Damme/Belgium, a stillness farm, which is the newest project of URI Europe's largest member organization, "Bond zonder Naam / Movement without a Name." Sheikh Bashir had given the opening remarks at the official opening this summer.
May the hearts of all creatures be fulfilled with the experience of joy and peace and connection – may peace prevail on Earth.