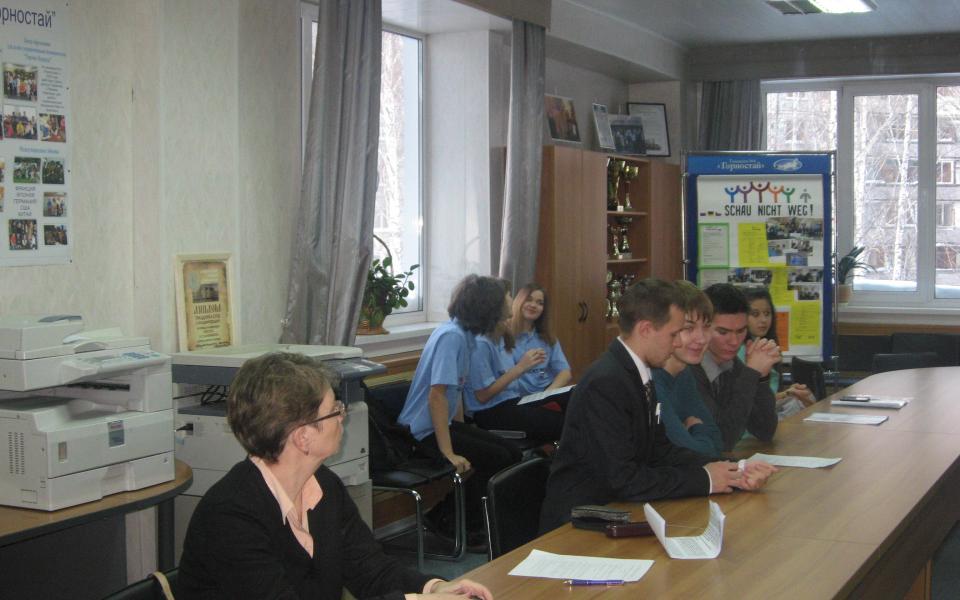 "We take the rights of people under our protection," said youngsters at the Annual Session on Human Rights, which took place in Gymnasium N6 on the 10th of December 2014 in Novosibirsk, Russia. Two members of the URI CC Euro-Asia, Galina Ermolina and Nadezhda Latrygina, were invited to share their ideas on the human rights. The students of the gymnasium are very active in international projects, including law, rights and responsibility projects. Their law teacher, Galina Balabushevich, started the session with showing the popular video film "Human Rights: What Is It?" After some comments on the film, the participants -adults and the students - started to share their perspectives. The report "Freedom, Tolerance and Responsibility" became the point of a long discussion of the people present. They ended up coming to consensus that freedom without a sense of responsibility can lead to cases of law-breaking and even to criminal action, and that the word "tolerance" itself is defined and understood with great diversity. A representative from the Civic Concord Fund announced a youth competition on "Freedom, Tolerance and Responsibility".
Galina Ermolina spoke on the rights of minorities and indigenous people of the world. She shared her inspiring impressions of the URI Global Indigenous Initiative Gathering (which took place earlier this year) and underlined the importance of the principle of equal rights for people from all walks of life. Nadezhda Latrygina has been the President of the Public Organization "Women's Initiatives" for many years, and she spoke of having family or household work as valid, salaried employment – one that is recognized on a federal level.
Whenever someone speaks on gender issues, it normally turns to discrimination against women. Can you imagine a great surprise of the audience when a Gymnasium student, 17-year-old Denis highlighted the problem of discrimination which he finds to be a great challenge for men. Denis thinks that men are the most "right-less" humans. His words could seem to be selfish, but on the other hand, they make sense.  "From childhood a boy feels that his sister is much more privileged in the family, and girls are more privileged at school," said Denis. "Girls are not obliged to serve in the army, so they can start getting higher education one-to-two years earlier. Young men get married and they are expected to be responsible for financial providing for the family. In case of divorce, law is mostly on wife's side." Denis' speech made people - adults and youth - look at the problem from unusual angle.
Two years ago, a group of Gymnasium students won the International Grant on human rights and participated in international exchange programs in Germany and Czech Republic. They told that their logo is "Schau nicht weg" meaning  "Do not look away" from someone's problem, try to help anyone you can. Every person has a right to be happy. The young people of the new generation seem to be more free and confident in their behavior and world-perception comparing with the older people who were present. They are aware of their rights and are ready to take responsibilities, although they listen to the advices of those who are more experienced. It gives hope for a better future.