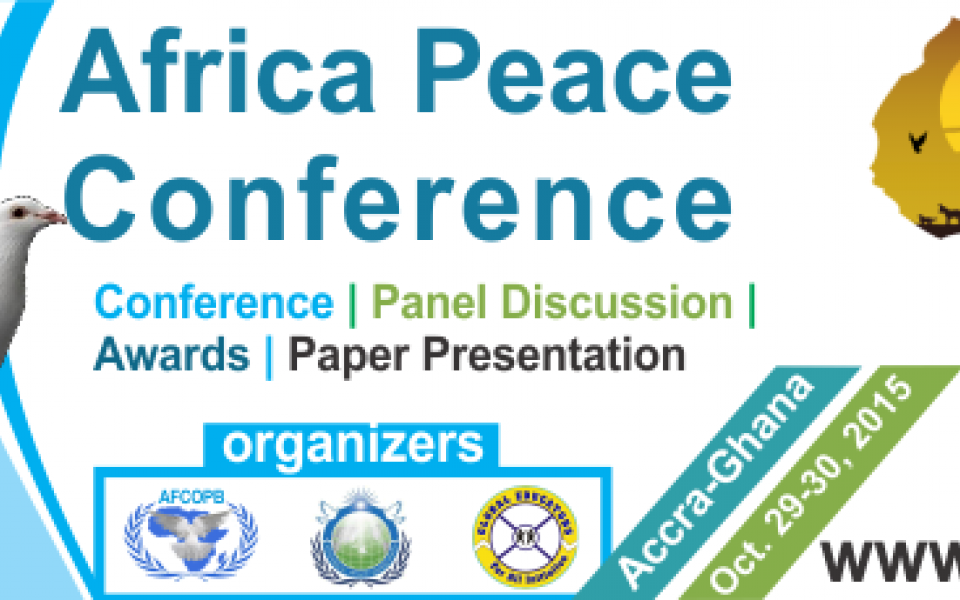 AwakeAfrica/Accra: The 2015 Africa Peace Conference on "Peace, Security and Human Development in Africa" to be convened on October 29-31, 2015 at the Legon Centre for International Affairs and Diplomacy, University of Ghana, Accra-Ghana. This is according to the leadership AFCOPB and UPF-Nigeria in a joint press statement.
The 2nd Africa Peace Conference is being organized by the Africa Center for Peace Building, Ghana in collaboration with the Universal Peace Federation (UPF), an NGO in Special Consultative Status with the Economic and Social Council of the United Nations and supported by Teachers Without Borders, Global Educators for All Initiative, Passion House International and Senyo Global Group.
A highly selective group of delegates from around Africa and the world will be in attendance, including heads of educational institutions and organizations, Ambassadors for Peace, security professionals, human development experts, regional organizations, religious leaders, youth and women leaders, civil society leaders and politicians.
"There is a growing awareness among people throughout Africa of the urgent need for innovative vision and bold leadership in the continent if we are to resolve the critical issues of our time. With this in mind, the Africa Peace Conference will bring together outstanding leaders within and outside Africa whose individual and collective experience, wisdom and insight are needed if we are to build a new Africa of peace and prosperity for all" Dr. Raphael Ogar Oko, Secretary General of Universal Peace Federation–Nigeria said
"In addition to the various special sessions of the conference on peace, security, education, health, family affairs, religion and politics, delegates will be offered a wide range of opportunities to visit places and institutions in Ghana, as well as meet with representatives of the government, educational institutions, and the private sector" he added
The 2015 Africa Peace Conference is the second edition to be hosted in Ghana after the first which was conveyed to open the 1st Africa Peace Festival on June 30, 2012 in Accra-Ghana.
"On October 31, 2015, all Africa Peace Conference participants are invited to attend, as special VIP guests, the Africans for Peace Award Ceremony, where there will be presentation of several categories of peace awards to individuals and organizations/institutions that represents the highest ideals and practices that contribute to a sustainable and lasting peace in Africa." Korsi Senyo, Executive Director of AFCOPB said
"The peace awards is one of the opportunities to honor and celebrate our peace maker on the continent as that will also go a long way to inspire the younger generation to live and work for peace and development in the various communities" Korsi Senyo added
"We are therefore to appeal all stakeholder (corporate bodies, development agencies, diplomatic missions among others) to support efforts towards the success of the conference. For a peaceful nation is a promising nation today and future generations" Korsi Senyo concluded
The 3rd Africa Peace Conference is expected to be held I Lagos, Nigeria in 2016 to usher in the 2nd Africa Peace Festival.