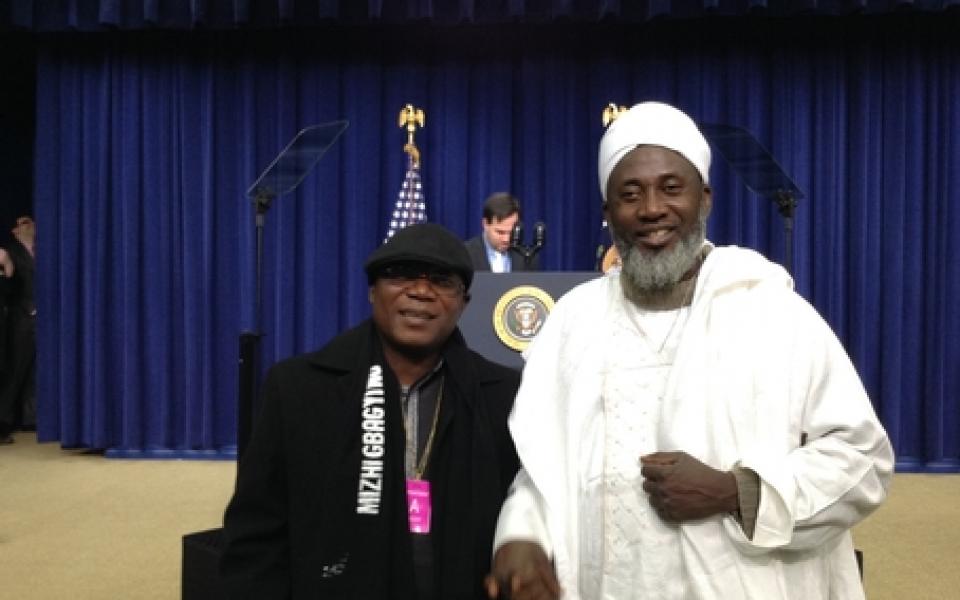 Exciting news! The Interfaith Mediation Center Cooperation Circle will be featured on Oprah Winfrey's BELIEF series!
Oprah's new television series "BELIEF" shares personal stories of believers from many traditions around the world. The episode "Belief: Love's Story," airing Monday, October 19, will feature Christian Pastor James Wuye and Muslim Imam Muhammad Ashafa, members of the United Religions Initiative Interfaith Mediation Centre Cooperation Circle. These men were once brutal enemies to the extent that Pastor James lost his arm in the violent conflict, but now the Imam and Pastor have forgiven each other and work together to promote peace.
Read a personal message from Interfaith Mediation Center, Pastor James & Imam Ashafa's Cooperation Circle, sharing how URI has supported them in their peacebuilding work:
Our Centre working with United Religions Initiative has been good, seeing that we have come a long way in promoting lasting peace and understanding among the faith-based groups in Nigeria. We count it a great privilege to be partners in fostering common ground, which is one of our core fundamentals and also forms part of our overall objective in creating a safe space for dialogue. It also creates an enabling environment for people of faith to actualize their set dreams and aspirations.
We also feel that the wider coverage of URI has helped us in sharing events and initiatives of our Centre to the rest of the world. We could have not reached as far on our own, but with the partnership and collaboration, it has opened a new horizon in ensuring that when we join our hands together, we will be able to make the world a better place.
Recently, we held a workshop for women religious leaders in Kaduna. Our aim was to set a mark for women become role models for their children, and also to mitigate and report any conflict situations that might escalate to violence. Hence, the approach was to make women serve as gatekeepers to promote peace among their various groups and institutions.
At the end, the Pastor and Imam encouraged them to work closely with members of other faiths to propagate the message of peace to their communities, which will subsequently transform people around them; most especially the youth and the little children.
We are also working to see that we incorporate uniform religious leaders, so that they too can promote the diverse cultures of our faith, through joint initiatives. This will be happening in the next few months. We would like to share URI's message of peaceful coexistence, and also to encourage them to be part of the URI family. It is also expected that they would form part of this year's World Peace Day Celebration.
Let peace prevail in Nigeria,
Let peace prevail in Africa,
And let peace prevail in the whole region of the world.
Our best regards to all the URI membership and Cooperation Circles.
Cooperation Circles Involved