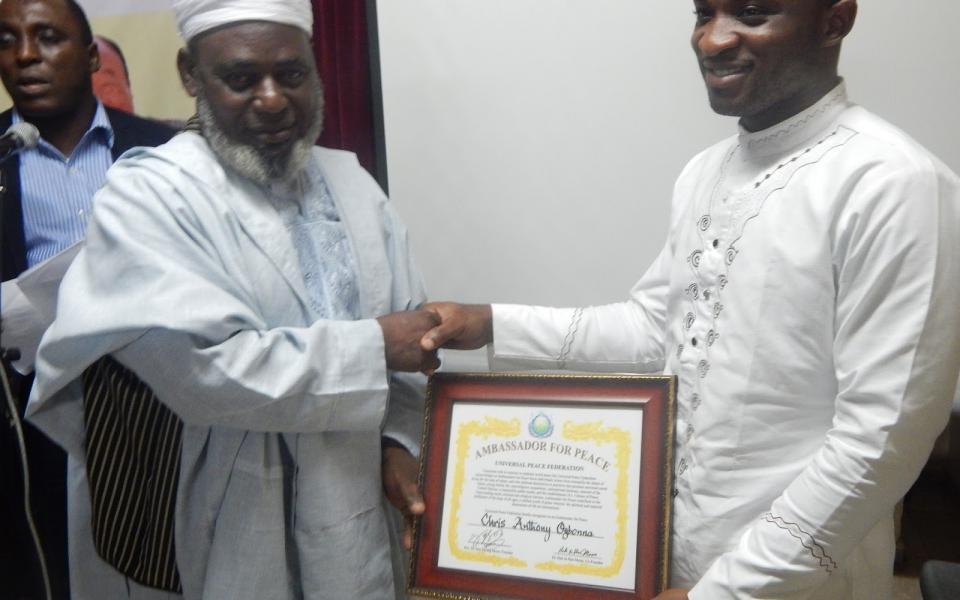 On Sunday 30th, August 2015, the program Manager of Dialogue, Reconciliation and Peace (DREP) Centre, Mr. Chris Ogbonna, was conferred with the Ambassador Of Peace Award by the Universal Peace Federation, (UPF), a Global Network of Peace Builders.
This was in recognition of his outstanding peace practices that manifested in excellent leadership, integrating professional excellence and practical wisdom with moral and spiritual principles. 
This award presentation took place at the Beverly Hills Hotel, Abuja in the presence of participants from government institutions, religious leaders, governmental and non-governmental organizations, corporations, and educational institutions.
This leadership and Good Governance Award recognizes those who have demonstrated outstanding leadership principles, including fairness, honesty, accountability, transparency and universal inclusiveness based on the core values of:
Living for the sake of others in service to God and humanity.
Promoting harmony and cooperation beyond barriers of race, religion, nationality and culture.
Strengthening marriage and the family as a school of love, and
Affirming universal spiritual values.
Chris Ogbonna is the contact person for the United Religions Initiative (URI)'s Cooperation Circle (CC), Dialogue, Reconciliation and Peace Centre (DREP). He has been working to promote regular dialogue and consultation among people of different religious, cultural and ethnic orientation and has set up platforms for grassroots dialogue in different communities in Plateau State.
He is a trauma informed peace practitioner, social and development worker.