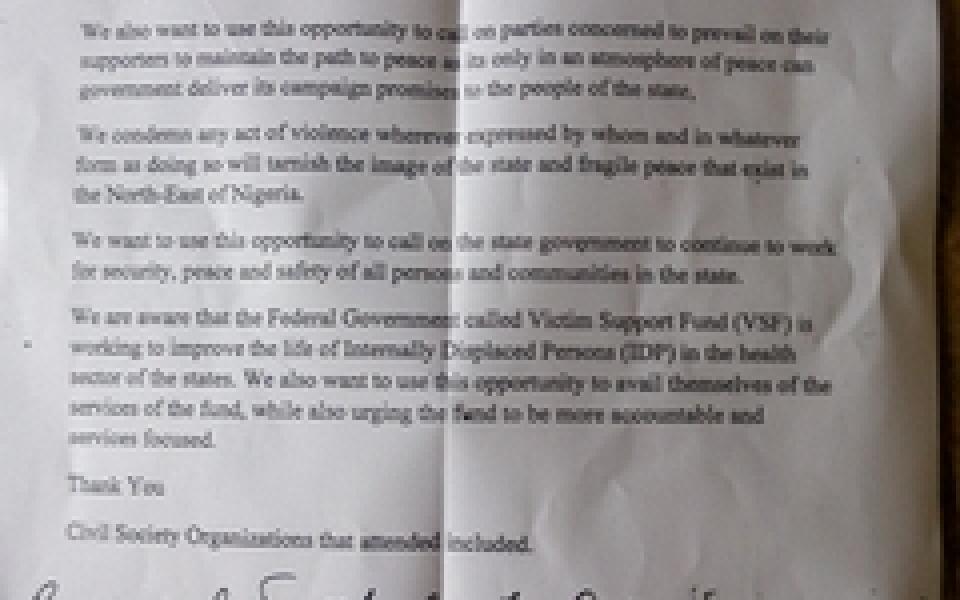 STATEMENT CALLING FOR PEACE DURING THE CIVIL SOCIETY MEDIA BRIEFING AT JALINGO TODAY BEING 9th NOVEMBER, 2015 
Dear Members of the Press,
We are concerned at the turn up of events in the life of the state following the Governorship Petition Tribunal Judgment on the 7th of November, 2015. We members of the Civil Society wish to reiterate our commitment to the path of peace and peaceful co-existence of all communities and people in the state.
Consequently, we hereby wish to use this opportunity to call on people of the state to remain calm and avoid any act that might cause the destruction of life and property.
We also want to use this opportunity to call on parties concerned to prevail on their supporters to maintain the path to peace as its only in an atmosphere of peace can government deliver its campaign promises to the people of the state,
We condemn any act of violence wherever expressed by whom and in whatever form as doing so will tarnish the image of the state and fragile peace that exist in the North-East of Nigeria.
We want to use this opportunity to call on the state government to continue to work for security, peace and safety of all persons and communities in the state.
We are aware that the Federal Government called Victim Support Fund (VSF) is working to improve the life of Internally Displaced Persons (IDP) in the health sector of the states. We also want to use this opportunity to avail themselves of the services of the fund, while also urging the fund to be more accountable and services focused.
Thank You
Civil Society Organizations that attended included.