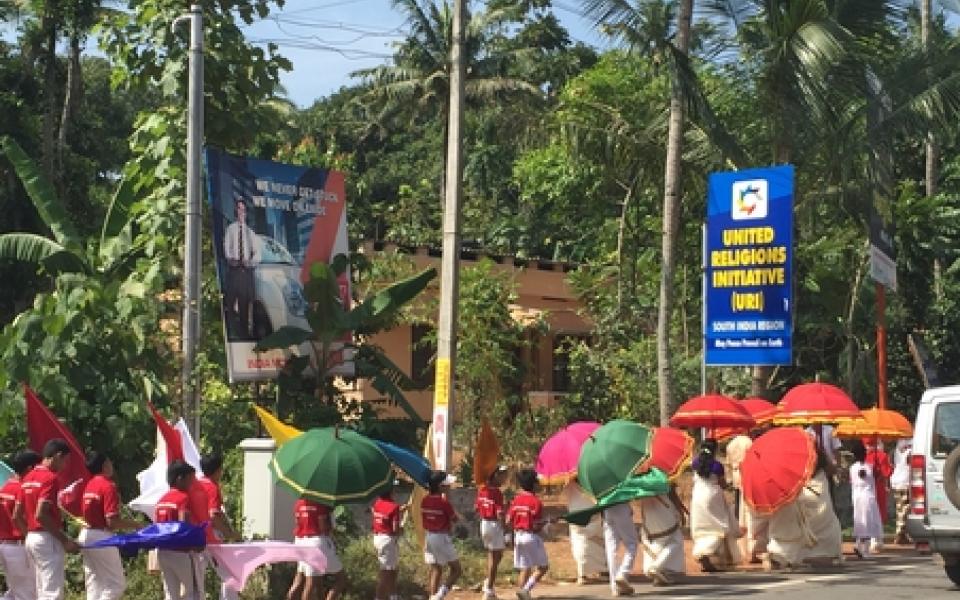 Today, on this year's International Day of Peace, I walked along a dusty road in a long line of children and teachers from the Karickam School, a URI Cooperation Circle in Kerala, India. These young peacebuilders marched through the village chanting "Peace, Peace, Peace - We want peace" and "We want peace - No more war!" Their faces shining with hope and promise of a peaceful future.
Interspersed in the line carried along by the sea of children were the participants in this year's Traveling Peace Academy - forty peacebuilders who spent a week together sharing our stories, learning new tools for engaging conflict, and creating strategies for peace.
Young and old, people of different nationalities, cultures, and religions, we walked side by side connected to one another by our common desire for peace in our lives and in our communities and in our world.
Around the world, in communities large and small, URI peacebuilders march and chant and sing for peace. They hold workshops and forums. They engage in community action projects. The International Day of Peace gives us an opportunity to see and celebrate the global peace movement, and remind ourselves that there are millions upon millions of people working for peace every day in every corner of our world, and that peacebuilders far outnumber those who seek power over others through violence and injustice.
From the southernmost part of India, I wish everyone blessings on this International Day of Peace. May Peace Prevail on Earth.
In peace... Victor
The Rev. Victor H. Kazanjian Jr. 
Executive Director
United Religions Initiative