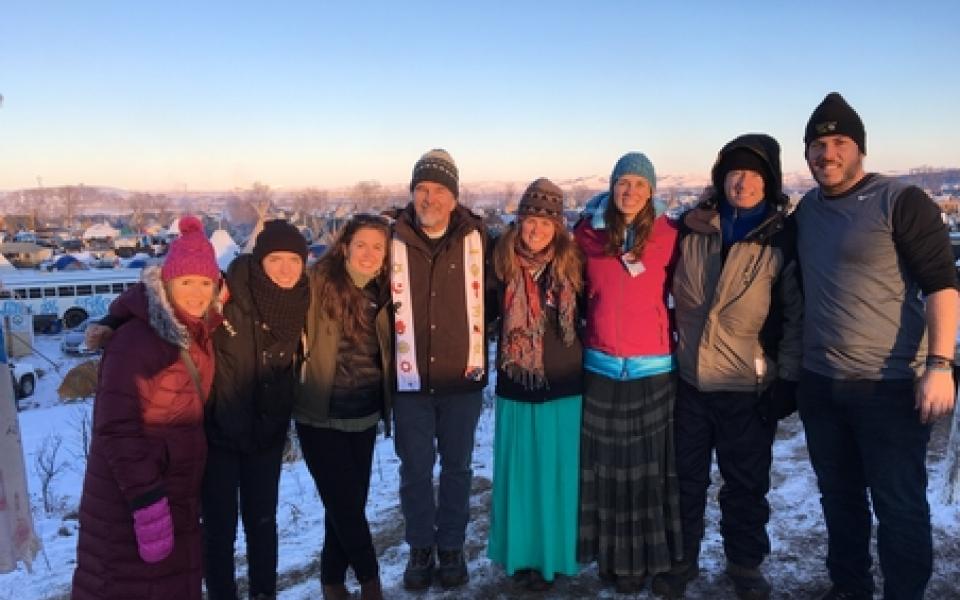 Over the weekend, a URI delegation traveled to the Oceti Sakowin Camp, the largest camp of Water Protectors at Standing Rock, to deliver a collection of prayers and support from the worldwide URI community, and to participate in a Day of Interfaith Prayer on December 4. 
The delegation participated in an Interfaith Prayer Ceremony, where URI Executive Director the Rev. Victor H. Kazanjian, Jr. delivered more than 1,000 prayers from people of 56 countries to the Tribal Council. He also presented a gift of water collected by the URI community from 167 sacred sources around the world, offering this metaphor: "When waters of different sources mingle, they do not separate from each other. One does not stand higher or lower than the other. They come together as one being, as one essence."
Sunday brought additional good news to those gathered at the Standing Rock reservation: The United States Department of the Army announced that it would, in accordance with the wishes of the gathered Indigenous Nations and supporters from around the world, look for alternate routes for the oil pipeline. The victory is one small step in the long journey to protect the Standing Rock Sioux Tribe's water, but it is a positive one. 
See the United Religions Initiative's Facebook and Twitter pages for more photos, and up-to-date coverage on the delegation's experiences from the weekend and Interfaith Day of Prayer.