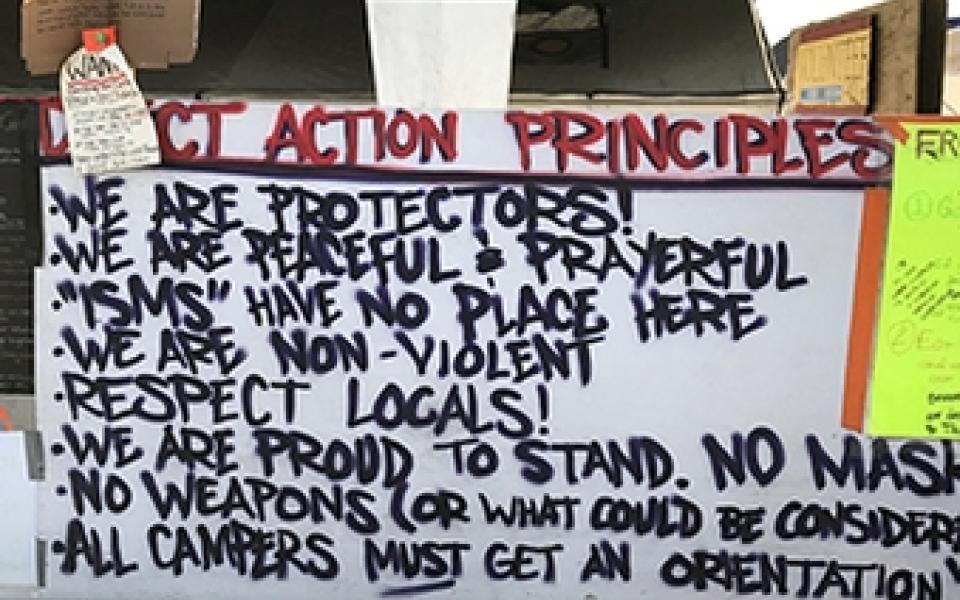 As you drive along Highway 1806 near the Standing Rock Reservation in North Dakota, the Oceti Sakowin Camp comes into view.
It's bigger than I expected and practically takes my breath away — tall tipis and tents covered in snow, banners of support hung along a makeshift fence encircling the camp, over 300 flags lining the road, screaming to the world, "We care about what's happening here. We care about what's happening here."
The Sacred Fire draws you to the center of the camp, reminding you that you are here not as a protestors but as a warrior of prayer and a Water Protector. It is a small but mighty flame that has burned 24 hours a day since the camp was formed this summer. This ceremonial flame continually roots you in the spiritual movement taking place here. It's a grassroots movement, where everyone needs to be grounded because everyone is expected to contribute.
This is a place of incredible grassroots leadership.
It is a place held by the Oceti Sakowin (Sioux) people and, as a visitor to the camp, I am here in service to them. In this place that they have molded, resistance is ceremony and prayer, and everything happens in a circle. It is a place where any voice can speak into the PA system at the Sacred Fire and where willing hands find work.
In this place, it feels like everyone can, and is expected to be, a servant leader. This means that within my first fifteen minutes at camp, my arms were full of medical supplies unloaded from a SUV driven across the country. It means that I was learning the difference between impregnated gauze and packing gauze and sorting it into boxes in the medical supply tent. It means I stepped over to the Herbal Healing Yurt to see if they wanted a can of ointment for cracked hands (they did). It means getting up before the sun to tape strips of orange paper to the front of porta potties so camp residents knew about the Interfaith Day of Prayer happening later.
Being at Oceti Sakowin, also meant letting myself be served.
I was hosted overnight in the Interfaith Living Yurt built by the Unitarian Universalist Church in Bismarck-Mandan. The yurt's host, Terri, guides us to porta potties and dinner served by Rosie. In different places around camp, kitchens have popped up and Rosie's is one of them. Inside the green army tent, she heaps mashed potatoes and gravy onto my plate. The fried chicken is the best I've ever tasted. We all eat without paying a cent and she invites us back for French Toast tomorrow morning.  After dinner, we find our way to the Tea Yurt where we're greeted by floor pillows and masterfully brewed cups of tea. The stove warms us to the core.
And these servant leaders, serve me.
This beautiful dance of giving and receiving — of serving and being served — with such generosity reminds of the balance exhibited in the United Religions Initiative (URI) Charter: "We united to celebrate the joy of blessings and the light of wisdom in both movement and stillness."
This balance is one of the things that sticks with me most from my two days in Oceti Sakowin Camp. This is what grassroots leadership looks like: it's being willing to serve in the most menial and yet significant ways, and it's being willing to humbly receive the gift of service when you're the recipient.
I find myself wondering what grassroots organizers outside of Standing Rock, particularly the 800+ URI member in 96 countries, can learn from one of the largest nonviolent spiritual movements of our time. Staying spiritually grounded and constantly aware of the balance in giving and receive service in our own communities, feels like an important place to start and one way we can each honor the struggle at Standing Rock, wherever we are.
—
Sari Heidenreich is the Regional Coordinator for the United Religions Initiative in North America. She visited the Oceti Sakowin Camp on December 3 and 4 for the Interfaith Day of Prayer at the invitation of Chief Arvol Looking Horse, a longtime member of URI. Follow the links to read more about the Interfaith Day of Prayer at Standing Rock and URI's delegation that attended.