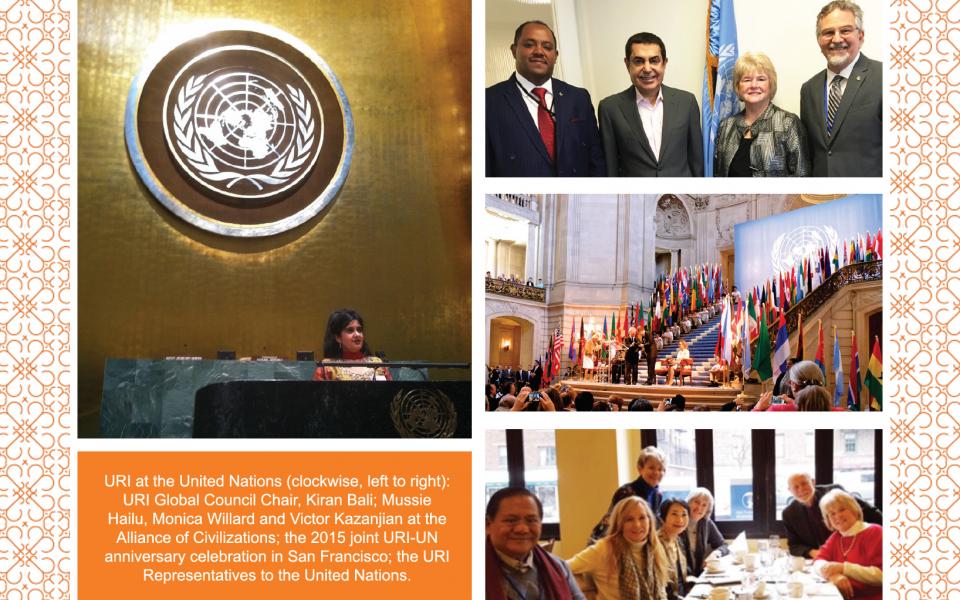 From the very beginning, the United Religions Initiative has taken inspiration from the United Nations. In fact, it was at the UN's 50th anniversary celebration, held in San Francisco's Grace Cathedral in 1995, that the impetus for creating a "United Religions" came to URI president and founder Bishop Swing. "We were intoxicated by a vision," he recalls. "If there was a United Nations, what about creating a United Religions?" On June 26, 2000, URI signed its Charter to link its founding date with that of the United Nations.
Over the decades, the connection between URI and the UN has flourished. All over the world, URI Cooperation Circles celebrate the UN International Day of Peace and World Interfaith Harmony Week. In fact, several URI groups have won the World Interfaith Harmony Week contest, an international honor sponsored by His Majesty King Abdullah II of Jordan. URI delegates regularly take part in UN events, including a yearly youth delegation. In 2015, URI was invited to join the 70th anniversary of the creation of the United Nations.
Today, URI's connection with the UN is stronger than ever. URI Executive Director Victor Kazanjian and URI Representatives to the UN Mussie Hailu and Monica Willard are actively building connections with the UN and related agencies who will have the most direct impact for URI Cooperation Circles. "We hope to build more formal partnerships which allow both our Cooperation Circles and regional offices to be in closer contact with UN agencies," Victor Kazanjian says. "It allows the UN to see us as a partner in distributing materials to the grassroots, and allows us to be a partner in strategic policy work that affects the communities in which we work around the world."
The partnership is especially fruitful because it embraces the specific strengths of each organization. Reaching people on a grassroots level has historically been a challenge for the UN, whereas URI excels at community education. "We can get things into the hands of people at a grassroots level, and translate high-level policy statements into a context they find relevant and useful," says Victor Kazanjian. At the same time, the reach and impact of the UN is a considerable advantage for smaller URI groups whose voices need amplification.
Monica Willard, URI Representative to the United Nations in New York, adds, "The URI presence at the United Nations and our grassroots programs around the world add spirit, focus, prayer, and multi-faith cooperation to help build strong communities and a more caring world."
---
Click below to see a handout and graphic timeline showing URI and the UN's partnership from 1993 to present-day 2018.