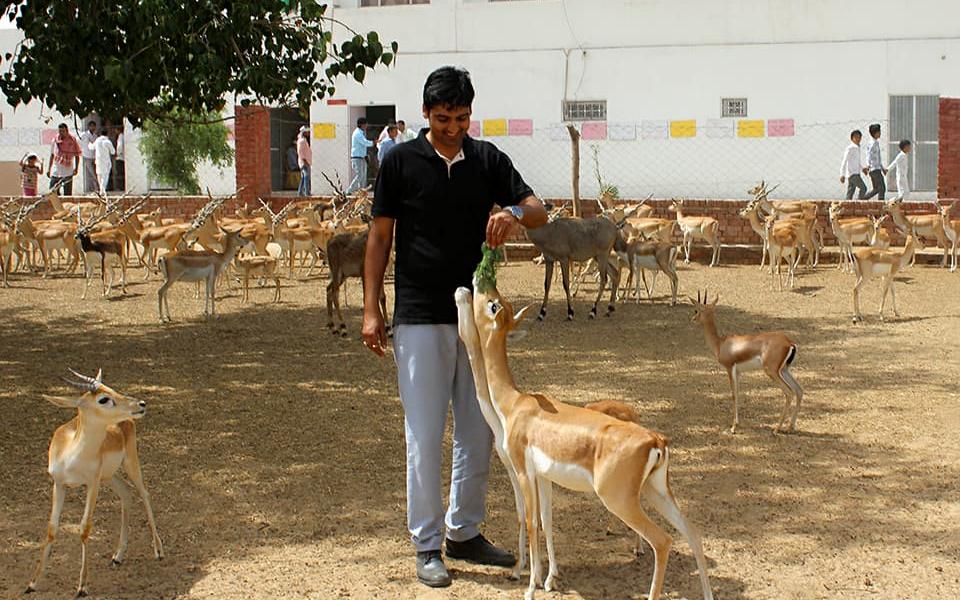 Narender Bishnoi in Delhi, India responds to the following questions: How do you address environmental issues in your community? and How do your values and/or belief systems support your environmental commitments?
The key issue raised in the paper, at the outset, is formulated in the fundamental questions: Whether there should be mutual co-existence of various forms of life inhabiting our ecology? Whether within this space all living being including animals and trees have right to survive? In order to gather traces of evidence in connection of these questions, one may venture into the practices of a small community, namely Bishnoi, spread over the north-western state of India whose belief system has recognized and assimilated the natural co-existence among all the species including flora and fauna. The community's love for plant and animal lives are all too known. They have been conserving the flora and fauna for centuries even at the cost of sacrificing their lives to protect the environment. For these nature loving people, protection of environment, wild life and plants is a part of inherited parcel of their sacred traditions.
Bishnoi is not just a community but it manifests itself in a simple and scientific way of living. Any person who follows 29 rules laid down by revered Guru Jambheshwar is Bishnoi. Out of 29 rules of Bishnoism, 6 rules are dedicated to environment. In this regard, a remarkable historical tale is often told in the folklore of Rajasthan, wherein unimaginable sacrifices were made by brave members of Bishnoi community. Known as the 'Saga of Khejarli', is now recorded as the first event of environmental movement, long before Chipko movement unfolded in India. The tragic event of 1730 saw the massacre of 363 people of this Bishnoi community led by Amrita Devi- they all sacrificed their lives while protecting green khejarli trees. Through this unprecedented sacrifice for nature and ecology, the community perhaps gave the first message for environmental conservation to the world. The immense sacrifice was made by the community members precisely as they firmly believed in the fundamental saying: "If a tree can be saved at the cost of one's head, then this is a good deal and acceptable." 
The saga of Khejarli was neither the first nor the last example of Bishnois' strong advocacy for standing in defense of nature. Even preceding this event in 1600 AD, there were recorded instances of Bishnoi men and women dying for environmental cause. Such an unparalleled commitment for environment is evident also in the widely publicized case involving Bollywood star Salman Khan who hunted an innocent Chnikara (Blackbuck Poaching Case) near Jodhpur, Rajasthan.
In areas where Bishnois inhabit, it is easy to find a variety of animals and birds including peacock, partridges, vultures and the endangered Great Indian Bustard roaming around freely without fear. The Bishnoi allows deer like Blackbuck, Cheetal, Nilgai to graze in their farm land as the community believes firmly that these animals have the first right to hold and use the land. The Bishnoi village like Jajiwal (Jodhpur), Dabla (Sri Ganganagar) and Mehrana dhoran (Abohar) are known as a rescue shelters where deer calves and orphaned ones are taken care of. This eco-friendly community on a number of occasions has attempted to save wild animals, especially deer even at the cost of their life. Some of the known martyrs such as Ganpat Ram Bishnoi, Laxman Bishnoi, Bhanwar Lal Bishnoi and Saitan Singh sacrificed their lives for safeguarding wild life. Moreover, presently, some silent caretakers from the community have shown their exceptional commitment to building and sustaining the wild life and environment. In this connection, notable names standout such as Khamu Ram Bishnoi, who is known as championing the cause of environmentalism; and Anil Bishnoi who is known as deer caretaker and for arrangement of water in the hot desert of Rajasthan.  
Bishnoi might not understand the international jargons such as global warming or climate change, but they do understand the pivotal role nature plays in the subsistence of life on this planet. This remarkable environmental practice on the part of the community is in line with contemporary global demand that urges people to respect environment and all the life forms. Bishnois' idealism and practice in connection of preservation of ecology is worthy of emulation by all communities. In other words, the rest of the communities need to absorb and practice the lessons in environmental commitment as shown by the Bishnois. When this happens the planet will then be truly populated by environmentally conscious people.
---
Dr. Narender Kumar Bishnoi is an Assistant Professor in Law center-1, Faculty of Law at the University of Delhi, India. You can contact him at n.bishnoi84@gmail.