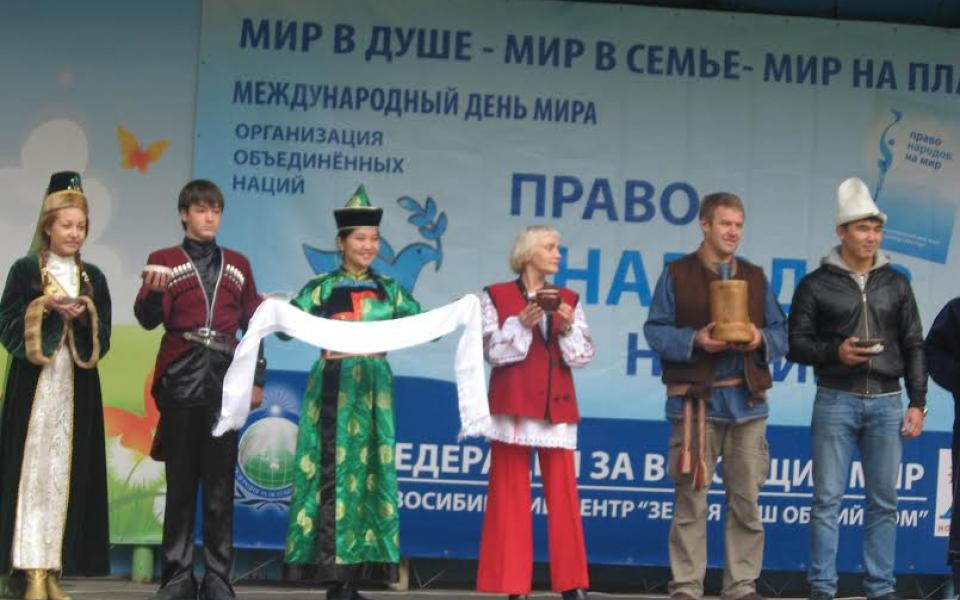 We believe that one of the main principles of peaceful coexistence on the planet is the principle of cooperation. With this in mind, Euro-Asia CC, along with a few NGOs in Novosibirsk, Siberia, decided to celebrate International Day of Peace for our second year in a row.
The leading organizers of the event were: the Siberian Branch of UNF, Novosibirsk Center "Earth is our common home" and Center of Healthy Relaxation."
City administrators granted us permission to hold our event at the Central Park. The day began with rain and dark clouds, but we called all the people present to imagine a sunny day. It was a small miracle when the first songs were heard from the loud speakers-the first rays of the sun broke through the clouds. All day long the weather was changing but it was mostly nice and sunny.
All over the park there were many kiosks and tents where workshops of the City NGOs had their programs. In some kiosks, things with handmade souvenirs and healthy food were on sale.
The main programs took place on the park stages, decorated with flowers, Roerich's Banner of Peace and slogans such as " The Right of people for Peace," "Peace in soul-Peace in family-Peace on the Planet," "May Peace prevail on Earth."
Novosibirsk is a multinational city with many colleges and institutes; most of the participants were young people dressed in traditional costumes of their respective nationalities. All day long, the celebrations were accompanied by music and singing; it was a joyful opportunity for groups to perform in front of a grateful audience.
The Program in the Park: "Birch trees grove" started with a reading the message of the UN Secretary-General Ban Ki-moon on the Day of Peace. It was read by the student from Africa in English with Russian translation. There were no long speeches, just short greetings from the city's NGO representatives. This was followed by a touching ceremony of joining waters in Sacred Chalice of Friendship. Participants were all wearing national costumes and performed the ceremony with great pride and dignity. The chalice stood next to the myrtle flower as the symbol of peace during the entire celebration. A ceremony of international flags followed the chalice ceremony symbolizing that we, people living in Russia, stand for peace all over the planet.
Both amateur singers and dancers were performing on both stages alongside star performers. Concerts on the stage were followed by dance workshops for all those who wished to participate. The celebration ended up with a tree planting ceremony at the Alley of Peace and in the evening there was a fiery salute.